Over two years later, unplanned attendance at a performance transcended the experience to more than a memory as the tragic death of Malcolm McCormick, known to most as Mac Miller, changed my perspective on what it means to be a great musician, performer and human being, and his story continues to influence through advocacy.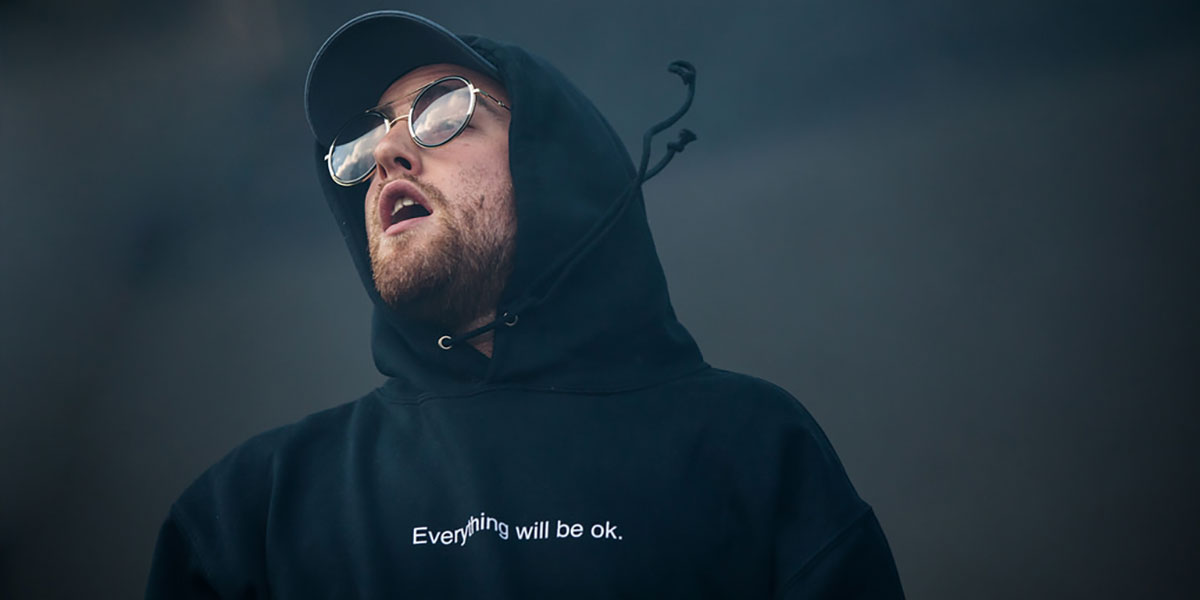 Photos by NRK P3 — courtesy of Flickr
Mac Miller wearing a hoodie quoting good friend G-Eazy's song from his "When It's Dark Out" album. Miller died Sept. 7 of an apparent drug overdose in California.
__________________________________________________
Friday, July 29, 2016, I wound up at a concert I never would have characterized as one of the most memorable shows of my life … until now.
On the second day of the 25th annual Lollapalooza, a music festival held in Grant Park in Chicago, my friends and I left the Future concert early to go see what all the rave was about at the stage next to ours. Turns out it was Mac Miller.
Honestly, at the time I really enjoyed the concert, but never intended on going to see him.
Going to a music festival, decisions have to be made about which artists to see because there are multiple stages playing at the same time. I am so grateful that Mac's concert was right next to a very disappointing Future concert, whose music consisted of mostly short features at the time rather than his own songs.
Now, more than two years later, it suddenly became one of my favorite concert experiences of my life, because now I can reflect on a live experience when I saw one of my favorite artists before he passed away so young.
Miller, born Malcolm James McCormick, died Sept. 7 in Studio City, California, of an apparent drug overdose. He was just 26 years old.
At the time in summer 2016, Miller hadn't released an album in over a year so there wasn't much of a desire to go and see him, but the atmosphere was unreal.
There were hundreds of people there, if not more, and from what I remember it was hard to see anyone who was not totally enveloped in the concert.
Miller had a natural way of matching his unique personality with his music talents while on stage that made every moment enjoyable rather than just every song enjoyable.
If anyone knows much about him, I think they would agree he always seemed to enjoy the moment he was in, whether it was on stage, during interviews or in his own TV show, "Mac Miller and the Most Dope Crew," which aired on MTV 2 from 2013-14.
This joy brought to the stage on that day in Chicago made his lack of new content completely irrelevant.
Since then, Mac Miller had remained quiet in the music scene and had not been the most influential or prominent artist, but now that he has passed away his influence has grown enormously.
Shortly before his passing he released some new content, but prior to that he was pretty quiet in the music world.
Artists such as G-Eazy, Drake, Childish Gambino and Post Malone paid live tributes during concerts for the rapper, and many other friends and stars gave respect through social media, including his ex-girlfriend Ariana Grande, who had received harassment on social media by fans saying their breakup was Miller's reason for relapsing.
Understandably, emotions have been flying during these past few weeks, but fans and friends have been supportive and open about their grieving.
Not only will his unique spin on rap music and his beautiful spirit live on as a memory to all of us who were fans, his tragic death is now being used to promote much-needed conversations about how culture today views addiction and recovery.
According to a study in 2014 by the National Survey on Drug Use and Health, 21.5 million American adults have battled a substance use disorder.
Recovery shouldn't feel like it needs to be a secret, and that is something we can learn from the loss of Miller.
I am so grateful for the memories I have of that summer day in Grant Park and for the music he has blessed this world with.
A beautiful soul was lost, but Mac Miller's memory exceeds what he left in the world of music and will hopefully raise awareness to even more people than he influenced as a musician.