Christmas morning is one of the best mornings of the year to a child, and as a junior in high school, one gift made me fall in love with a place I had never heard of.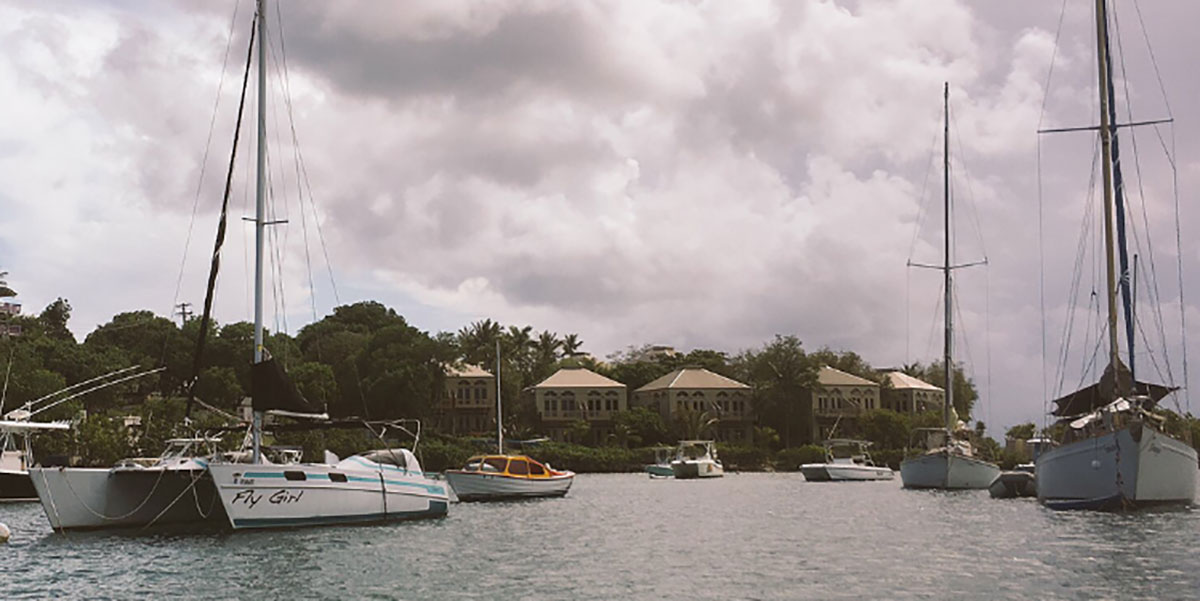 Photos by Madelyn Shotton
"Fly Girl" is written on the side of the boat, which I didn't realize until well after the picture was taken. It has become an inspiration to me after the fact. I took this photo while waiting to dock our rented dinghy boat for the day. 
__________________________________________________
My brother Cale and I have always been good about Christmas, meaning we never hunted around the house for unwrapped gifts. Mom and dad wrapped the gifts throughout the month of December and every day the mountain of wrapped boxes would grow under the tree.
We never snooped, we like the suspense of not knowing what our gifts were until Christmas Day. If mom told us not to look in the trunk of the car, we didn't. We never dug through the closets, looked under the bed or in dad's shop in the back.
I'll admit, once the gifts were wrapped under the tree, we would look at them and try to decipher what the boxes were. When my brother was younger, it was obvious when he had a video game wrapped under the tree, identical shape and size of a video game box, and not very heavy.
In a similar way, I could tell which gifts were shoeboxes, and lately my mom has started to get more creative with her wrapping. It's a little more challenging to tell the shape of the gift nowadays.
My mom assures that my brother and I always have the same amount of gifts to open on Christmas Day. Just about every year, there is one gift addressed to both of us. We've gotten joint gifts like board games, outdoor games, things for our pool, but never a gift like the one we got in 2014.
The box was about the size of a letter-sized piece of paper, pretty light and we could hear and feel things moving around in the box.
The box contained a note explaining that we would be taking a trip to the United States Virgin Island of St. John in June. I had no idea where St. John was, how big it was, or how my parents found this place and kept it a secret.
I immediately broke into tears, in shock, excitement and thankfulness. I knew this was costing a lot of money, and wondered how we were able to afford this. But at the same time, I was so grateful that my parents work hard and budget their spendings so that we are able to experience things like this as a family.
The island itself is located south of Florida next to Puerto Rico and the British Virgin Islands. To get there you must take a plane to the nearest airport, which is the island of St. Thomas, and then take a ferry boat to St. John.
Since that Christmas, we have visited St. John a second time and are visiting a third time soon.
We like visiting this place so much because we are able to do exactly what we want. My mom and I would like to take a cruise, but my dad argues that on a cruise we would be limited by the ship's timing — when it was time for the ship to leave, we would have to get on and leave.
We have visited this island so many times because it is so different compared to the mainland, which is what they call the States.
The beaches and water in St. John are almost unexplainable, clear as a newly built pool, the sand is so soft, free of shells and rocks and it doesn't burn your feet when you're walking.
Sixty percent of the island is made up of National Parks and the island is only 9 miles long and 5 miles wide. It is illegal to remove anything from the beaches for personal use such as a souvenir or decor.
You can taste the salt as soon as the water hits your mouth. The water is warm in the shallow parts and cold in the deeper areas and it's so clear that you can see below yourself when it is nearly 10 feet deep.
When we visit, we rent stand-up paddle boards for the day which, per water patrol, serves as your lifejacket. It is one of my favorite things to do because you feel so free, able to be completely by yourself on the water where the ocean goes for miles and miles.
Due to the expense, we usually rent one SUP for the day and take turns being on it. My brother and I will challenge each other to see who can go the farthest out, and mom and dad will usually stay pretty close to shore because they say they aren't as coordinated or athletic as we are.
In the middle of the island you'll find a few tourist-type stores and restaurants, Mongoose Junction is the closest thing they have to a shopping mall. There we find jewelry, home goods, clothing stores and much more.
It's funny because every time we visit we often recognize the locals. Of course they don't remember us but my dad likes to play along to see if they do. He would often talk with Slim, the guy who owns the paid parking lot downtown.
Slim runs a valet-like parking lot in the heart of the island, he likes to park the cars himself because he will park those cars 3 inches from each other. The more cars in the lot, the more money.
Jeep rentals are popular because the island is extremely hilly and has lots of sharp turns. It is often one of the few cars that are able to survive on the island. You'll never see a minivan, suburban, large truck or SUV.
I think the only large vehicles that have to take on the steep hills and sharp turns are school busses and trash trucks.
Another aspect unique to the island is that there is no residential trash pick-up. Homeowners are responsible for taking their trash to a large Dumpster in the middle of town where the trash truck picks it up and takes it to the landfill. This saves the trash truck from having to drive the route of the narrow and hilly streets.
When we take the trash out daily, it is often my brother's job to get the bag of trash from the trunk and throw it into the Dumpster. Mom says since trash is his job at home, it is here too.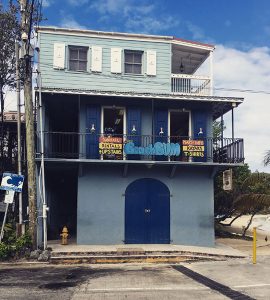 Driving itself is a whole different story. In the states, we drive on the right side of the road, however in St. John you must keep left.
"Keep left" signs are everywhere, think about it, imagine having to completely flip everything you've learned about driving.
My dad is the only one in my family who drives our rented Honda CR-V, (another vehicle that does pretty well) while we are there. The car is included with our vacation rental by owner house that we stay in, which is a blessing because renting a Jeep would be very expensive.
We stay in a VRBO in Coral Bay, a three-level home on the tip top of a large hill. The three levels are split into three separate rentals, one floor for each, and then all three units share a pool. It is very private and we rarely see the other people who are staying there.
After our flight lands in St. Thomas, we take a ferry boat to St. John where our VRBO owner, James, picks us up from the dock. He is very accommodating and always happy to answer questions and make recommendations, but is never too overbearing.
Once we arrive to the house after a very short car ride, he reminds us to stay easy on the water, turn off the shower when shampooing, have limited dishwasher use, and go easy on the electricity.
Both the electricity and water come from the main island of St. Thomas. When the electricity or water runs out for the day, it's out, so it's always a good idea to be conservative with both of these utilities.
I remember the first night we were there, the electricity went out. I was scared, I'll admit. I had no idea what my parents had gotten us into. I was in an unfamiliar place, not in the United States, and I just felt as if we had nothing. No street lights, car lights or lit-up windows. The entire island was pitch black.
Since everything is imported from the mainland of St. Thomas, the prices are what regular Americans would call, ridiculous.
A can of green beans is near $3, a carton of eggs is close to $4 or $5, and fresh fruit is so expensive that we have to consume it sparingly.
We pack as many non-perishable items in a checked suitcase, which saves us a lot of money, but it's hard to plan what we will actually eat the whole week we are there.
Locals have mostly lived their entire lives on the island. They are made up of carpenters, nurses, school teachers, rental guys and restaurant servers.
The people there live on island time, very carefree, no worries and often waking up to the sun.
My parents love this island so much that they joke and say they are going to pack their things and move there after my younger brother graduates high school.
I can't imagine how difficult it would be to move there, so expensive, we would feel as if we were leaving so much behind, and you couldn't take much more than we do when we go vacation there.
It would be crazy expensive to ship your furniture, you'd have to almost start over on everything.
I hope they have a small vacation home there someday, our frequent flyer miles would quickly add up, so it wouldn't be that expensive to get there after awhile.
These are among those dreams to which they aspire, and I really hope it becomes a reality one day, they deserve it.
They'd like to have their own business of a small shop or bakery, my dad could do all the construction and my mom would fill the windows. Maybe their retirement dream will come true one day, and I hope it starts in St. John.
No matter how many stories I tell, photos I show, or explanations of the island itself, no one will ever truly understand and see the beauty of the island until they visit.