Various MBU students give their opinion on what draws them in to watch the Super Bowl.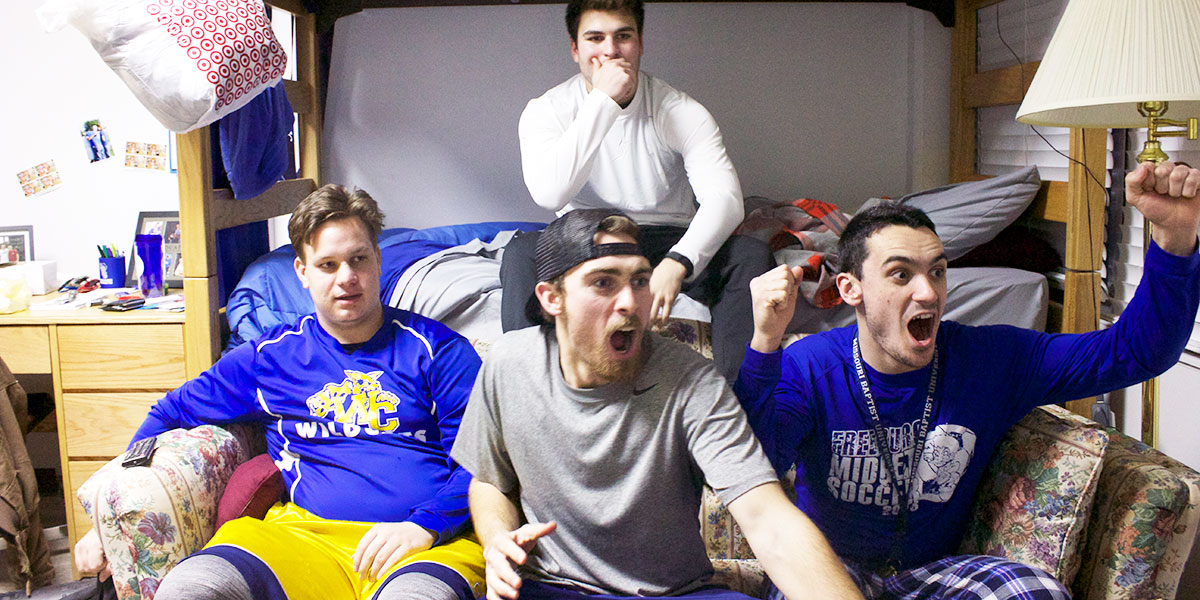 Photo by Jesse Kassebaum
__________________________________________________
Two weeks ago, two different champions were crowned, and now it's time to determine the final victor in the world's most important sporting event. Super Bowl 50.
The Denver Broncos secured a win over the New England Patriots with a late fourth quarter interception off New England's Tom Brady to secure the AFC (American Football Conference) title.
That same day the Carolina Panthers blew away the Arizona Cardinals to take hold of the NFC (National Football Conference).
Now, these two champions will square off in what is arguably the biggest sporting event on Earth.
Seconds after the final whistles for the NFC and AFC Championship games, people's minds have been glued to all the coverage leading up to the Super Bowl and which team will hoist the Lombardi Trophy.
Analysts have been dissecting games from both teams, trying to break down strengths and weaknesses.
Gamblers have long-since begun placing bets on which team will win. Currently, Carolina is a 10-1 favorite to beat Denver.
Family feuds will arise temporarily, as members begin to take sides.  
Nacho bars will be constructed, wing eating contests will commence, and the first of many ice cold Dr Peppers will be consumed.
Ultimately though, every single one of these people will stop what they are doing, sit down and tune in to the Super Bowl.
Whether you love football or hate it, Super Bowl Sunday is something that everyone can look forward to.
Last year, over 114.4 million people tuned in to watch the Super Bowl which, according to the New York Post, broke the record for the most watched television program in U.S. history.
So what makes the Super Bowl so special? Why do people look forward to it?
"Super Bowl to me has always been a fun social gathering," said 20-year-old MBU sophomore Abby Wickham, who is majoring in public relations. "Lots of good food and company. And I look forward to trying new recipes, the commercials, and the half-time show."
Chip Bloch, a 21-year-old junior majoring in ministry, said the Super Bowl did not mean that much to him for a long time, but this year, after participating in his first fantasy football league, he is really looking forward to it.
"This is the first year in recent memory that a team I actually root for is in it," Bloch said. "But the part I look forward to the most is the community, just getting together with friends to eat and drink and watch football."
For 22-year-old junior education major Andrew Kyle, the Super Bowl is everything. "The Super Bowl is the biggest sports day of the year and should be celebrated with close friends and family. I look forward to all the passion of the fans and seeing a team's incredible journey culminating in being crowned champion."  
One common theme shared throughout is that they look forward to celebrating it with friends and family.
Whether you are a die hard football fan or just along for the ride, Super Bowl Sunday gives us a reason to be together.
Eating good food, drinking, cheering and potentially crying, the Super Bowl is meant to be celebrated together.