Chris Nichols and John Yehling have switched places at the head coaching position for the Missouri Baptist University women's volleyball team.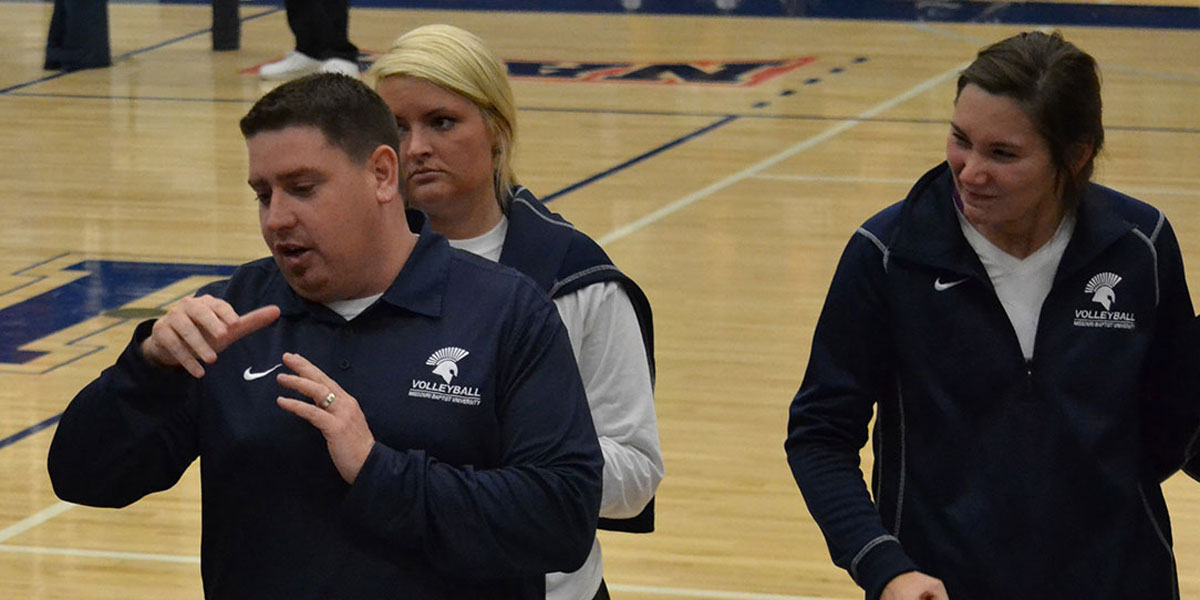 Photo by Ryan Rerich

__________________________________
By Cassie Nesbit
Since 2002, Missouri Baptist University announcers had said, "Now let's present head women's volleyball coach John Yehling and his right hand man, assistant women's volleyball coach Chris Nichols for tonight's game." However, this year "the right hand man" became something more.
Yehling, head men's volleyball coach and assistant athletic director, made Nichols' title as head women's volleyball coach official this past summer. Meanwhile, Yehling added assistant women's volleyball coach to his own list of Athletic Department titles, so the two are essentially switching duties with the women's volleyball team.
"I hired Chris to help coach the women's team and, then again, he kind of started as an assistant and after a couple of years being as assistant became an associate head coach and then this past summer we made him the head coach," Yehling said.
Dr. Tom Smith, director of athletics, helped make the decision.
"Coach Nichols brings a wealth of experience to our volleyball program, as well as being nationally recognized as a premium club coach and recruiter," Smith said in a story posted on the MBU Spartan Athletics website.
Nichols and Yehling both played men's volleyball together at MBU, Nichols as a setter and Yehling as a libero.
"He knew the game really well. He kind of always was the coach/student-coach, kind of helping coach the men as he played," said Yehling.
Nichols had high expectations for the 2013 women's volleyball team, which recently finished the season with a solid 27-7 record after losing in the semi-finals of the American Midwest Conference Tournament.
"This 2013 team might be the most solid team we've ever had top to bottom," Nichols said during an interview with MBU Timeline Broadcast, pointing out that each player has had a role on varsity.
"That goes for the kids that don't get to play a lot, too. Those kids are very important to our success to start getting the starters ready in the practice gym," Nichols said during the broadcast interview. "The two middles we got, Madeline Nesbit and Kayleigh Cox, might be the best middle pairing we've ever had. The same goes for the outside. Maddy Hammack and Taylor Cook might be the best outside (pair), and then we got Ally Krus, who is kind of running the show and she's one of the best in the country at it.
"Those kids, you add in Molly DeClue, (who) has started for us all three years she's been here, (and) Hannah Carey on the right side. It's just a solid group, there's no holes," said Nichols.
A few women's volleyball players also had positive comments about Nichols.
"Nichols, I think he's a great coach, but he tries to play bad cop and he's not bad cop. He always is going to be good cop," said Carey, a sophomore education major.
Krus, a sophomore marketing major, added: "We have a love-hate relationship."
A member of the men's volleyball team, Davardo Rolle, a junior psychology major, weighed in: "He's awesome because he's funny and he knows what he is doing."
With several starters returning next year, the future looks bright for the MBU women's volleyball team and its new head coach.