Many student-athletes at MBU come from their own unique athletic background. One way that seems to be gaining more popularity as the price of college tuition rises is going to junior college first instead of a typical, four-year university.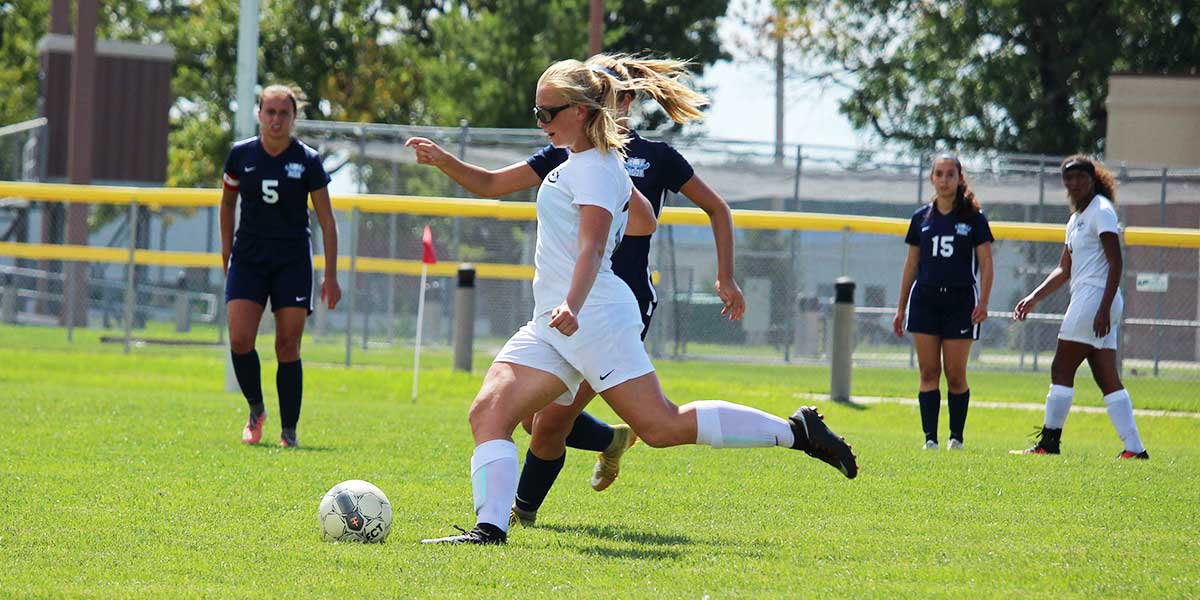 Alisse Koishor, a junior from Highland, Missouri, transferred to MBU from Kaskaskia College in Centralia, Illinois. Koishor, currently a midfielder on the MBU women's soccer team, is among the many junior college transfers who have found that path to MBU sports effective and life-changing.     Photo by Hannah Leahy
__________________________________________________
For those who have been playing a sport their entire lives, dreams of competing at a high level on an athletic scholarship are not uncommon, but the harsh reality is that many athletes may not be totally ready for that right out of high school, and in that case, an extra stop along the way is often necessary. 
The 2019-20 recruiting class at Missouri Baptist University was chock-full of 57 transfer athletes in this situation, who decided to go through a junior college athletic program before heading to a four-year university. 
One of the five JUCO athletes the MBU women's soccer team picked up was junior Alisse Koishor, a fearless midfielder who spent her first two years of school and collegiate soccer at Kaskaskia College in Centralia, Illinois. 
"Kaskaskia is a smaller school in a rural area, but the culture there is indescribable. It was very close knit and everyone cared about each other. The professors and coaches really cared about the success of their students and athletes," Koishor said.
Koishor, a psychology major, found both the academic and athletic aspects of her junior college extremely helpful in terms of individual growth and development. 
"As for soccer, my confidence grew and I was able to play in many different positions. My leadership skills also improved through the two seasons. As for my major and minor, I was extremely prepared after taking the classes I did at KC. My psychology professors also taught part-time at SLU, so I was being taught at a very high level," Koishor said.
Also among these former National Junior College Athletic Association athletes is junior Michael Scanlon, a starting defender on the MBU men's soccer team this year. 
Scanlon, a Francis Howell North High School graduate, had great success at the community college level, being a starting defender during both the 2017 and 2018 seasons at St. Charles Community College, and eventually becoming a captain. 
__________________________________________________________________________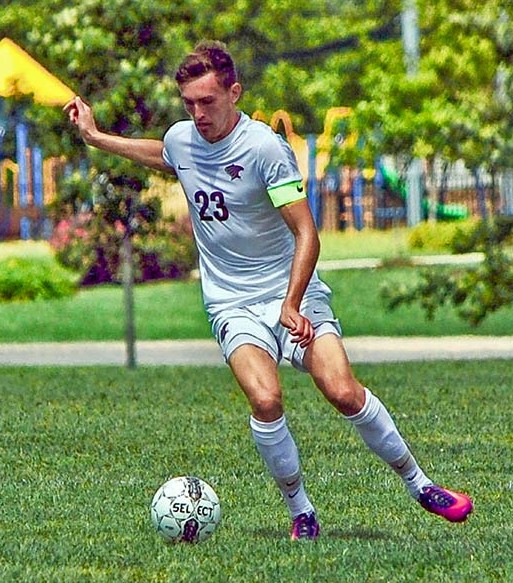 Michael Scanlon, a junior defender from St. Peters, Missouri, dribbles the ball during a game. Photo provided by Michael Scanlon
__________________________________________________________________________
Scanlon continued to see success at MBU, immediately setting the preseason fitness-level standard for his team as a newcomer in 2019. He then went on to start 19 of 19 games, something he attributes to his overall experience as a junior college player.
"Playing JUCO allowed me to get valuable minutes that an underclassman might not get at a university necessarily, and also allowed me to step into a leadership role quickly," Scanlon said. "The level of play I felt was also very similar to the NAIA, which helped make for an easier transition [to MBU]."
Although Scanlon did not take the traditional four-year college path, he didn't feel like he was missing out, despite still living at home during junior college due to lack of campus housing and attending a commuter-only school. 
"I think first starting at a JUCO was definitely the right decision for myself. It allowed me to gradually get the feel of what college was going to be like in terms of playing a sport and getting an education, and it helped me mature as an all-around person," Scanlon said. "Going to SCC first also helped me save a lot of money, and I was able to make some amazing friendships."
Junior college is also a logical option for those who are enduring and healing from long-term sports-related injuries, and this was definitely true for senior Brianna Merchant, a women's soccer player who transferred to MBU after spending two years at Parkland College in Champaign, Illinois. 
Merchant spent her U8-U18 years playing at a high level of club soccer before being plagued by back-to-back serious injuries, including a severe fracture to her foot that occurred right in the prime time of recruitment: senior year of high school. 
"Going to JUCO was not my first choice at all. I actually thought that if I was going to go play JUCO that I shouldn't even play soccer in college," Merchant said.
Although she spent the majority of her two NJCAA years redshirting and recovering at Parkland, Merchant said she believes her decision to attend a junior college during her injury-related hardships was the right move in the end. 
"Besides all this, I would do it again. Going to JUCO was one of the best decisions I made for myself. My coaches and teammates were my biggest support system while going through these hard times of injury after injury," Merchant said. "They were there for me and I don't know if I could've gotten the care and the appreciation from higher-up divisions. JUCO is just different." 
It's no secret attending a junior college can seem like taking a total leap of faith, especially given the stigma that can potentially come with it.
For sophomore quarterback John Lux, this risk was magnified due to the fact that his junior college football team of choice, the Dodge City Conquistadors, was quite far away from everything he knew and grew up around.
Hailing from Shelbyville, Indiana, where he was a three-sport varsity athlete at Shelbyville High School, Lux decided to attend and play football at Dodge City Community College in Dodge City, Kansas, a small town where he knew absolutely no one else. 
___________________________________________________________________________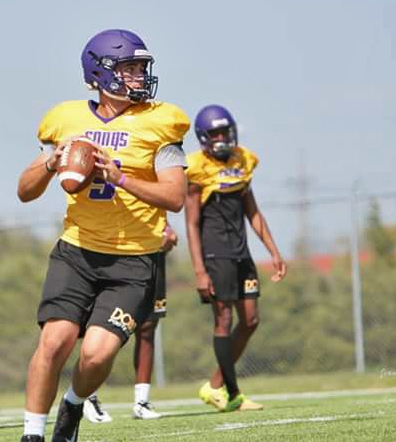 John Lux, former Dodge City Conquistadors quarterback, participates in drills during a team practice. Photo provided by John Lux ___________________________________________________________________________
"JUCO was rough for me because it was 12 hours away from home, but that meant that I spent a lot of time with my teammates and a lot of people that lived in Kansas. I met a lot of people that I would have never got the chance to be friends with," Lux said.
Lux, one of the eight MBU football players who transferred from a JUCO, found himself struggling with certain aspects of the junior college lifestyle, but he took the difficult path regardless, using his passion for football as the main motivation for his decision.
"I was the only person from Indiana, I had no friends, I knew no one. But, I loved playing football, and I knew I would be a better person for doing it," Lux said. 
Some possible stereotypes of junior college students may be they aren't smart enough for a four-year university, or they're washed-up as athletes, or they aren't good enough to go somewhere better. 
Senior pitcher and San Joaquin Delta College alum Matt Huss would challenge one to look past any assumptions about junior colleges or the caliber of players the JUCO teams regularly pick up.
Located in Stockton, California, Huss' former school, DC, is one of the top junior college programs in the state, which says a lot considering the proficiency and high level of baseball that exists in California.
___________________________________________________________________________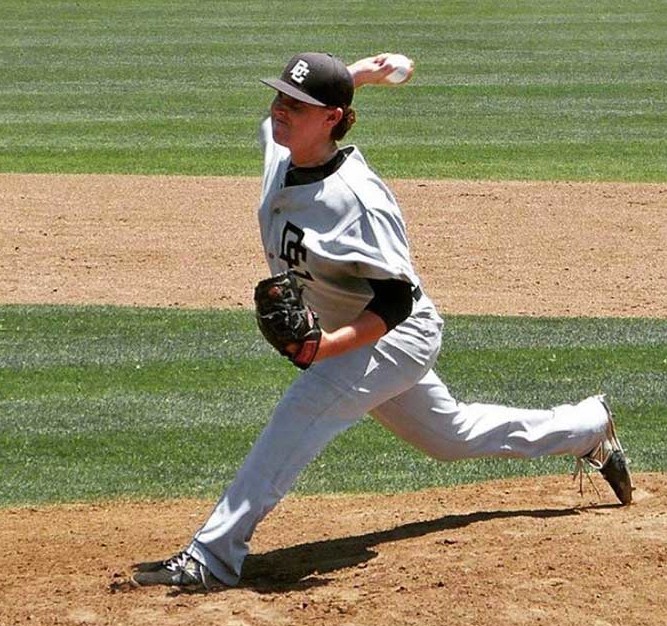 Matt Huss, a senior pitcher from Ione, California, formerly played for the Delta College Mustangs. Photo provided by Matt Huss ___________________________________________________________________________
"JUCO baseball was the best three years of my baseball experience, hands down. I met guys that I'll always be friends with, I got major schools looking at me when I was healthy, and even some pro scouts at one point," said Huss, who suffered a bone spur in his shoulder during his first year at DC, then had UCL reconstruction surgery, or Tommy John's, during his next year. "The team I played on during my first year really exposed me to high level baseball. Six guys from that team are currently playing professionally."
Despite any possible negative thoughts or opinions about taking a junior college route instead of a traditional, four-year path, in many cases junior college is full of positive outcomes, which is something Huss, Koishor, Lux, Scanlon, Merchant and many other junior college transfers can agree on.
"I would 100 percent recommend JUCO to young ball players. Any time a younger player asks me about it, I always tell them that if they're not getting a full scholarship from their dream school, then they should take the JUCO route. It helps you grow not only as a player, but as a student and young adult as well," Huss said.