The holidays are quickly approaching, meaning families are breaking out their favorite holiday-themed movies to play in the background while decking the halls and making festive cookies. A quick, easy alternative to dusting off your old DVD cases is the Hallmark Channel, which plays a constant stream of Christmas movies for the two months leading up to Christmas.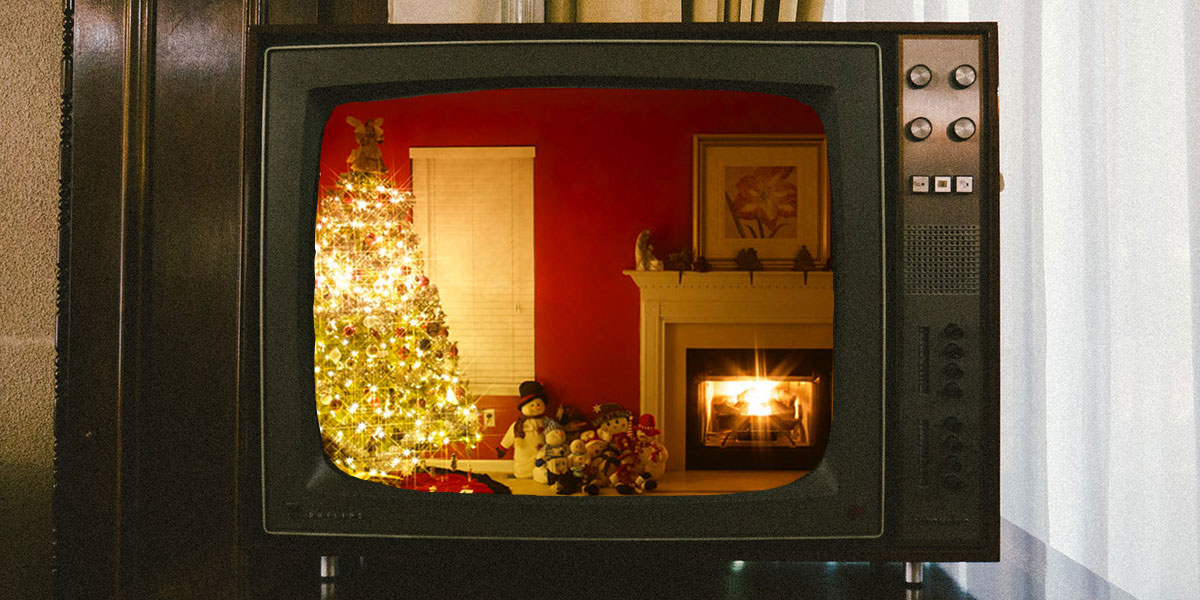 Is there a better way to get into the holiday spirit than playing a Christmas movie, with perhaps your fireplace roaring in the background, as you decorate your home in shades of red and green? Graphic by Isabel Rinkenberger with photos by Lori Tippett and PJ Gal-Szabo
__________________________________________________
It's right around the corner. I bet you can feel it. The jingling of bells and decking of halls are, in fact, in the near future. For many of us, it is already here.
Christmas is a time dedicated to finding increasingly interesting ways to spend time with one another as a family (and friends). Coincidentally, a great way to spend time together that does not require a whole lot of effort or specified "togetherness" is watching a movie.
I am willing to wager a bet that at some point in your life, you walked into an extravagantly decorated home, store or public space where a nearly muted television played a movie with eerily familiar actors dressed in varying shades of red and green winter wear gallivanting through the snow-dusted rows of a Christmas tree farm.
I would also wager a bet that at some point, these movies caused you to roll your eyes. 
The illustrious and ever-consistent Hallmark Channel has been proudly playing 10 trillion variations (a personal estimate) of the same festive storyline since 2001.
If the channel manages to be one thing, it is consistent. 
While they continue to play movies year-round, their claim to fame has to be their extensive conglomerate of holiday-themed movies that promote Christmas cheer and the true meaning of the holiday season. 
Hallmark's "Countdown to Christmas" usually begins around mid-October and lasts, you guessed it, through Christmas. It is a nonstop marathon of holiday-themed movies that will carry the most festive of individuals through the season.
Now, I know you are thinking: That sounds pretty great! Who doesn't love some non-stop festivities?
Let me explain.
In 2019, the Hallmark Channel and their sister network – Hallmark Movies and Mysteries – produced 103 original movies. Unsurprisingly, 40 of these movies were Christmas themed. 
The channel's particular penchant for staging small-town snowball fights, Christmas cookie bake-offs and the ever-present – and arguably wildly unrealistic – town-wide Christmas caroling creates an atmosphere that one would assume would be perfect for getting into the spirit of the season.
But there is a glaringly apparent issue with the Hallmark Cinematic Universe that I feel we should discuss: the repetitiveness.
The movies seem to consist of the same story, actors, sets, props and many, many other noticeable components.
It seems inevitable that a channel producing so many movies centered around the same topic would reuse some content, but the level of recycling that Hallmark is doing might just single-handedly save the planet.
For example, Candace Cameron Bure, a frequent star of the Hallmark Christmas genre, has been in 30 total Hallmark movies. Ten of these movies were Christmas themed, meaning an entire third of her involvement in the Hallmark Cinematic Universe is centered around the holidays.
This situation is not unique to this specific actress. Lacey Chabert, famously known for her role in the early 2000s hit "Mean Girls," is regularly referred to as the "Queen of Hallmark Christmas movies." Chabert has also been in 10 Hallmark Christmas movies, frequently portraying a hopeful, holiday-loving optimist who takes on the task of reforming the grumpy outsider who has a perpetual disdain for the holidays.
Don't worry, she gets the job done and achieves a Christmas miracle by convincing the outsider to love Christmas. Every. Single. Time.
The cliches certainly don't stop there. The small-town locations of the movies are conveniently named things like "Garland" and "Evergreen" – perfect (albeit mildly unrealistic) locations for a Christmas miracle to occur.
The storylines are infested with well-known tropes and crawling with cliches. 
Enemies snowed into a secluded cabin together to wait out a freak snowstorm – they fall in love. 
Big-city hotshot resigned to live in a small town that is thrilled to welcome her and runs head first into the broody fire chief – they fall in love. 
The Christmas tree farm owner welcomes the out-of-towner to stay at his or her home while they are stranded in their small town – they fall in love. 
Every citizen in the festively-named town becoming concerningly invested in hurrying along a relationship just in time for them to – you guessed it – fall in love and kiss under the mistletoe.
Are you sensing a theme? I'm sensing a theme.
The number of times that there is a white-bearded, bespectacled man who is suspiciously jolly, has a "mysterious" job, loves Christmas cookies and sporadically sprinkles the phrase "Ho, Ho, Ho," into conversation is profoundly exasperating. It is like Hallmark's own personal version of "Where's Waldo."
As a genre, Hallmark Christmas movies are deeply cliche, trope-filled and people-pleasing plots that lack the realism and conviction that causes fiction to feel authentic. 
This lack of realism is not necessarily a bad thing. The guilty-pleasure-ridden plots make for a great way of establishing a form of escapism. 
The movies are not deeply thought-provoking, which can be considered a positive thing, as they do not require a lot of critical thinking. An individual is able to simply watch and enjoy, without having to analyze the film for underlying meaning or overarching themes. 
What you see is, in fact, what you get. 
So if you have been tirelessly searching for a guaranteed happy ending, I have just the channel for you. 
The Hallmark Channel will give you all the warm and fuzzy holiday-centered feelings that will put you in the right headspace to decorate some festively shaped cookies and trim a tree. It never fails to provide a beautifully predictable ending to a simplistic, repetitive storyline.
The lack of variation in their cinematography appeals to audiences far and wide, making them a holiday staple in many households. These movies are warm and comfortable, like your favorite worn-out blanket on the couch.
These movies would never be mistaken for high-brow art, and I am not encouraging you to watch every single Hallmark Christmas movie in existence. I think there is such a thing as enough times to witness a grown version of a '90s sitcom actress falling in love with the local handyman who is (surprise!) actually Santa Claus's son. 
Perhaps there should be a limit to how many times a production company is allowed to rent out a Christmas tree farm to use as their set, or how many times they can use the same fly-over footage of what must be Vermont in their opening scene. Or how many times they can keep rolling out that same old red pickup truck.
Or, maybe I'm just a Grinch. After all, Hallmark must be doing something right as these ad nauseum Christmas marathon movies generate about one-third of the network's entire advertising revenue for the year.
No matter what, if you are looking for a way to elevate your holiday spirit, no one does Christmas quite like the Hallmark Channel. Or you could watch an authentic Christmas movie. Like "Die Hard."