Inspired by complexity and possibility, John Wood spends hours pursuing his passion to create abstract string art with big aspirations for the future.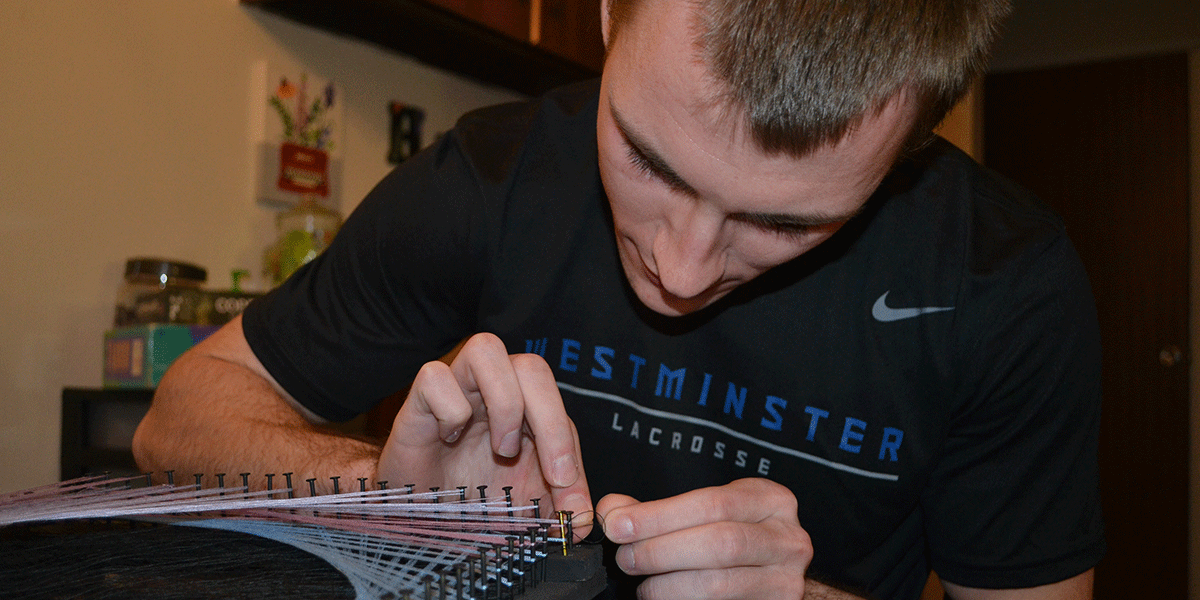 Photos by Stacy Rohan
John Wood carefully attaches a piece of thread to a nail anchor while working on one of his thread art designs, which he hopes to continue on even larger scales as he moves forward.
__________________________________________________
Art comes in many forms, and Missouri Baptist University junior John Wood has chosen to use thread to express his creative talent.
Although the level of complexity determines the exact materials needed, most of Wood's projects require the same base materials: anchors, such as nails or hooks, something to attach those anchors to, such as strips of wood, and either thread or yarn.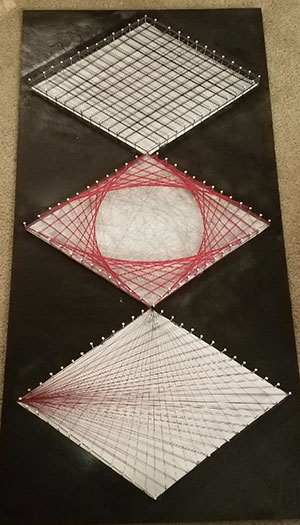 "The more creative you are, the more things you can use as anchors. Obviously it can be more complex based on what you want to do, but the standard rules don't change," Wood said.
After witnessing a thread installation for the first time, Wood was inspired by its uniqueness.
"Art tends to be solid, still and unchanging. I really liked how, through using thread, all the pieces looked solid but transparent at the same time," Wood said. "You can't really capture what a thread sculpture looks like in a photo because of how they're constructed. I also liked how any project is possible if you're willing to take the time. You're never limited."
Wood has attempted six projects so far, three of them ending successfully.
"The first one I ever made is still up on my apartment wall. It fell off the wall halfway through because I didn't nail the wood into a wall stud, so the whole project took probably nine hours," Wood said. "The second project that survived was a really simple design on another wall where I used nine command hooks and athletic tape to create a triangle. Each triangle point had three anchors and I used grey and orange yarn to create a really cool symbol."
The third project Wood completed was designed on a 2-by-4 foot piece of plywood, rather than directly onto a wall.
This project was not for himself, but rather given as a gift to his girlfriend and her roommate, Meramec Community College sophomore Haley Johns, to hang in their apartment living room.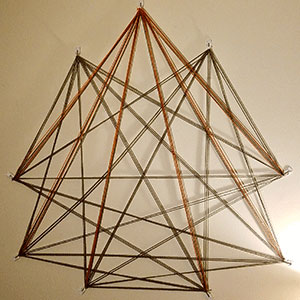 "I was super impressed when I found out he made it with his own two hands," Johns said. "He used different shades of red and gray thread to match our living room and did a really cool pattern. I don't think I'd have the patience to do what he does."
As he experiences a trend of trial and error, Wood learns a new strategy with every project he attempts.
"I've learned that some things never change and some things never work. In contrast, some things always work, and those are the things that have to be constant from one project to the next," Wood said.
Wood said he genuinely enjoys spending his time on projects, and he finds that the difficulties don't set him back, but rather make him eager to try new ones.
"It is addictive and challenging, but both in healthy ways," Wood said. "If I had one end goal it would be to create something that has never been done before, and I already have a few ideas in mind for that."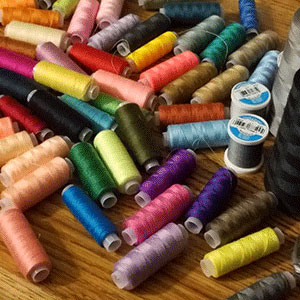 With endless project opportunities in his future, Wood plans to create a sculpture outdoors, and he hopes for a chance to make one on the MBU campus.
"The balcony railing in the SRC lobby and the courtyard between the SRC and Muncy would be great places to install a thread canopy or panel," Wood said. "Another thing I'd really like to do is use trees as anchors. I think it would be really cool to wrap them in thousands of yards of thread to make a multicolor wall, and then paint a message on it."