Bruce Springsteen released his 19th studio record in June 2019 at age 70. The album, "Western Stars," gives listeners insight on the state of reflection and self-evaluation "The Boss" has come to as he's gotten older. Although this record doesn't break new musical ground, it's an unfamiliar sound for Springsteen fans and ultimately enjoyable. As Springsteen prepares to release his next album, "Letter to You," next month, this music review will get you tuned up for the next phase of his 50-year career.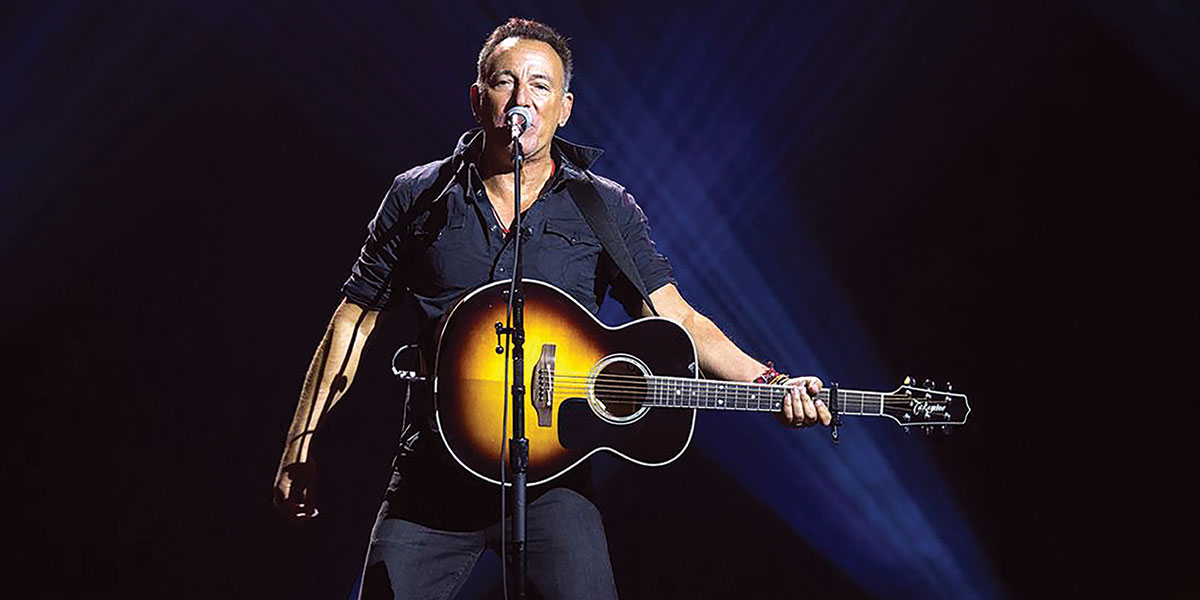 Copyright-free image from Google
__________________________________________________
At an age when many performers and musicians begin to slow down and bend to the limitations of their bodies, Bruce Springsteen is showing he has many years to go and plenty of gas in the tank before allowing himself to suffer the same fate. 
Ending his one-year residency on Broadway 12 months prior, Springsteen released  "Western Stars," in June 2019. Accompanying the album is a film of the same name, released in October 2019, which shows Springsteen performing the entire set in a barn on his property in Colts Neck, New Jersey, and a cover of "Rhinestone Cowboy."
"Greetings from Asbury Park, N.J.," Springsteen's first studio release nearly five decades ago in 1973, revealed his growing pains as an artist. Although filled with songs that retrospectively showed great promise, Springsteen's musical chops were underdeveloped and couldn't yet catapult the E Street Band to the next level. 
Since then, Springsteen has produced 11 No. 1 albums, starting with "The River" in 1982, after the critical success and acclaim of 1975's "Born to Run" and "Darkness on the Edge of Town" in 1978.
Until "Stars" Springsteen had not released a record in five years; his last venture was 2014's "High Hopes," a No. 1 album that met with mixed critical reviews citing its rehashing of b-sides and rejects from past albums instead of fresh, new songs as its downfall.
Springsteen leaves no room for the same criticism in "Western Stars" as he completely changes the feel and sound that makes his music a genre of its own. This record sees Springsteen trade in his iconic butterscotch blonde Telecaster for an acoustic guitar and a stringed orchestra to back his trademark gravelly voice.
The heartland rock Springsteen's name is synonymous with won't be found on this release; instead, he fully commits to a folksy, country sound that cements the elements of Bob Dylan lurking in the shadows of much of his other work.
Throughout the album, keeping his famous perspective of a blue-collar worker, Springsteen presents a much more reflective, contemplative tone compared to the youthful and lively songs of his past. Despite dialing back the intensity of the music itself, Springsteen never loses the heart of the message he's trying to convey and waxes soulful poetic, showing he's not lost his step quite yet.
On the first track, "Hitch Hikin'," Springsteen tells the story of someone discontent with their surroundings, dripping with an ache for days gone by and new horizons. It serves as a great example of how the rest of the album sounds, as Springsteen's guitar is the only instrumentation and the string orchestra behind him rises and falls appropriately to create drama and emotion.
In the lyrics, "Maps don't do much for me, friend / I follow the weather and the wind," the theme of the album becomes evident: finding yourself and your place in the world. The characters Springsteen describes in the 12 tracks that follow are searching to find their place in the world, reflecting on their lives and decisions.
In "The Wayfarer," Springsteen's underlying youth and vitality make an appearance early, with the jaunt and energy of his voice echoing "Tenth Avenue Freeze Out" in the initial verses. However, unlike in the "Born to Run" single, Springsteen never lets loose in a satisfying way, a recurring shortcoming throughout the first half of this album.
"Tucson Train" bears the closest resemblance to Springsteen's normal body of work in energy and composition but wears the clothing of a country song. A harsh, train-like knocking begins and ends the track, and the blue-collar elements of Springsteen's songwriting shine through as he sings, "Now I carry my operator's license / And spend my days just running this crane." Meanwhile a twanging guitar plays the main melody between verses and the stringed orchestra delivers a unique but pleasant cinematic complement to the song.
__________________________________________________________________________

__________________________________________________________________________
The title track, "Western Stars," is ironically one of the weaker contributions to the record, leaving listeners anticipating Springsteen to take command of the story he's telling and communicate his emotions far more forcefully than in the limited vocal range he uses. Ultimately, Springsteen allows the orchestra to complete the task for him, and it doesn't pay off in the way he intends, feeling more tacky and inauthentic than graceful or elegant. 
"Sleepy Joe's Cafe" follows and is a heavy outlier from the rest of the record since it's an uninspired song that would fill out a poor quality album, making its inclusion in the album all the more puzzling. 
Mariachi trumpets, giving the song a Spanish flair, back Springsteen's vocals, echoing the jive of "Working on the Highway" during the verses as he sings about a cafe "across the San Bernardino line" which serves as a gathering place for a motley group of people. 
The upbeat nature of the song isn't what makes it a poor fit for the album, but rather the track's subject matter. On an album dedicated to reminiscing on the past and searching for freedom, "Sleepy Joe's Cafe" doesn't touch on any of these themes and is not welcome on an album with such serious undertones, especially since "Western Stars" seems to represent a large tonal shift for Springsteen.
The second half of the record contains the heavy-hitters and is more than enough to make up for the first five tracks' shortcomings, which lacked the requisite force expected for Springsteen's first release in five years.
"Drive Fast" is a return to form thematically and musically, bearing the message of pursuing the dreams, goals and people you have in life relentlessly despite the consequences. Springsteen urges during the choruses, "Don't worry about tomorrow, don't mind the scars / Just drive fast, fall hard."
Listeners begin to hear much more of the folk and country influences integrate themselves as the album progresses, and in this track, Springsteen uses a minimalist set of instruments to create a captivating song that encourages self-examination and reflection.

__________________________________________________________________________
Following is "Chasin' Wild Horses," one of Springsteen's most mournful and somber compositions on this release which focuses on lost time and discovering what really matters in life far too late. Backed by a steel guitar, the chorus hums, "You lose track of time / It's all just storms blowin' through," and Springsteen expresses the heartache loud and clear while still remaining intimate, creating the feeling of a song the listener was never meant to hear.
"Sundown" is a refreshing, upbeat track that succeeds where earlier attempts in the record missed the mark, maintaining a thematic continuity. In the first two seconds, the piano vaguely echoes "Jungleland" before the stringed orchestra propels listeners into the piece, resembling a modern spaghetti western theme but with Springsteen's trademark key changes in the bridges between choruses and verses. 
The shortest track on the record, "Somewhere North of Nashville," clocks in at 1 minute, 52 seconds and adds a touch of the grit of "Atlantic City" to an album already comparable to 1982's "Nebraska."
"Stones" is a slow, somber reflection of mistakes made. Springsteen continually repeats the line, "Those are only the lies you've told me," which holds different meanings during the track as he comes to terms with owning up to those he has hurt.
Springsteen saves the best tracks for last on "Western Stars," as each of the final three songs is capable of being a breakthrough single as Springsteen finally reaches his fullest stride and settles in comfortably with the record's new style.
The opening of "There Goes My Miracle" is carried by a drum kit and backbeat tinged slightly with Linkin Park before transitioning into the first verse. Although this track is not as lyrically deep as a typical Springsteen song, it is enjoyable and the chorus opens up beautifully in a way listeners have been longing for the entire album, making it well worth the wait.
"Hello Sunshine" presents the darkest, most heartfelt lyrics on the record, backed by a lone acoustic guitar, piano and a brushed drum rhythm that would make Johnny Cash smile. Springsteen laments, "You know I always loved a lonely town / Those empty streets, no one around / You fall in love with lonely, you end up that way," and the listener can feel the depression and nihilism is his voice as he begs the sunshine, his only ray of hope, to stay with him when everything else has left.
Closing out "Western Stars" is "Moonlight Motel," a haunting song remembering youth, places and people who no longer exist, seeming to come from the perspective of someone who needs the closure the "Moonlight Motel" provides after a loss. 
Springsteen becomes his most vulnerable self on this record, creating a memorable experience that both troubles and fulfills listeners. The orchestration is so subtle you hardly realize it's there unless you specifically listen for it, and nothing seems out of place but is rather a natural progression coming from the words and story told. 
The story-telling creates a vivid picture with painstaking attention to detail. This song feels like it is a continuity of the person's thoughts that listeners hear in the timeless classics of "Thunder Road," "Born to Run" and "The River."
Near the conclusion of the track, Springsteen provides a melancholic description that captures the emptiness and sorrow he tries to convey: "I woke to something you said / That it's better to have loved, yeah it's better to have loved / As I drove, there was a chill in the breeze / And leaves tumbled from the sky and fell / Onto a road so black as I backtracked / To the Moonlight Motel."
Simply put, "Moonlight Motel" is the best song on the record and leaves listeners thinking about its possible interpretations long after it is finished.
"Western Stars" is an album that will catch listeners off-guard if they purchase it expecting to hear the Springsteen they have come to know and love. 
He shows he hasn't run out of ideas or material yet, a concern that became evident given recent releases consisting of old material simply reworked; instead, Springsteen seizes his opportunity to expand his repertoire and break into another genre niche in a way he has never tried before.
On the appropriately titled album, Springsteen shows us how life is as wild and unpredictable as the West, with endless opportunities to chase in an unexplored land.
Springsteen does an excellent job of sewing all the tracks together as virtually every song on this album, outside of "Sleepy Joe's Cafe," flows together almost seamlessly, creating a natural progression of thought and musical composition.
Although no longer backed by the E Street Band, Springsteen uses the stringed orchestra to its fullest advantage to help fill the role of creating energy in the pieces. The orchestra proves necessary to create the tone the songs intend to convey and serves them justice in a way the E Street Band simply wouldn't be able to. 
In most instances, the stringed instruments are effectively used to support Springsteen, but there are some moments when they appear to be doing the work for him and are out of place. 
Thematically, listeners see Springsteen acknowledge he is no longer the same person he was in his 20s and 30s, bearing his soul to those who have been with him for all or most of his career and giving those who haven't followed him a reason to start. 
The weakest songs on this album are "Sleepy Joe's Cafe," "The Wayfarer" and "Somewhere North of Nashville," while the strongest are the final three tracks, each better than the one before. 
"Western Stars" is a record that becomes more captivating each time you listen as new details and nuances make themselves clear, a testament to the strength of Springsteen's songwriting ability remaining in its prime although his body is reaching its limit. 
In this release, Springsteen shows that, despite his age, he can still make music that is ageless. He creates a beautiful tapestry that seamlessly blends the old he is known for with the new he is beginning to explore.