The R&B singer's latest release is a true work of art with jazz, hip-hop, R&B and Latin influences forming a unique platform to pour her heart out about the struggles and challenges many people experience but won't dare speak of.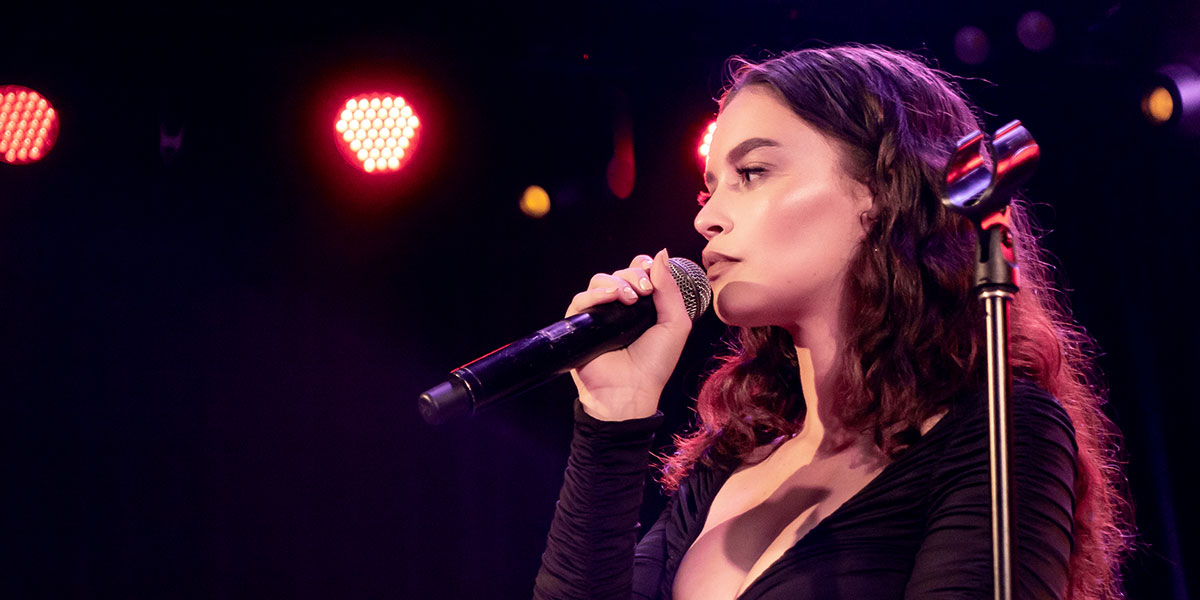 Sabrina Claudio performs live at The Roxy theatre in West Hollywood, Los Angeles, California, on Monday, Aug. 27, 2018.     Photo by Justin Higuchi

__________________________________________________
For the fourth time in her young career 23-year-old R&B artist
Sabrina Claudio
delivers a fresh sound with a Latin flair for the R&B music community on her latest album, "Truth Is." 
Her Puerto Rican and Cuban heritage is laced into the notes and rhythm of each album she has crafted, beginning with her work and covers released on SoundCloud just five short years ago prior to her debut EP, "Confidently Lost," released in 2016 and quickly reaching millions, peaking at No. 18 on the Billboard charts on March 24, 2017. 
Claudio grew up in Fort Lauderdale, Florida, and later moved to Los Angeles to pursue a career in music after posting covers on YouTube for years, her first cover at just 14 years old. 
Populated with 10 flavorful tracks and a bonus track, each song on "Truth" fluently transfers into the next.
Claudio is not known to collaborate often with other artists on her previous records, but the album's first single, "Rumors," is an exception to the rule featuring ZAYN, a former member of the boy band One Direction. 
This first single is pleasantly surprising by the more upbeat tempo, uniquely colorful music video, unexpected collaboration and new hip-hop taste to offset the usual ballads and chill vibes Claudio permeates. 
Most artists have several years or albums of experimenting prior to finding their signature sound, but this has not been the case with Claudio. 
From the launch of her first EP to this new release, which is only her second studio album, the maturity in each lyric and intentional note produce a deep soulful quality that is beyond her years. 
"Truth" is the ideal work of art to wind down to after a hard workday with a long, hot bath, lights dimmed, mind shut off and your favorite drink or snack.
Claudio, like in her former projects, writes with vulnerability and confidence through her insecurities despite how exposing each word may be. 
The theme is like a storybook delving into the deep, sometimes dark, thoughts that arise in relationships or simply the battlefield of one's own mind in tracks such as "Take One to the Head." 
The darkness twists into heartbreak in what seems to be past relationships in songs like "I Don't Mean To" and "Me in Her."
A jazz interpretation brightens the mix with "As Long as You're Asleep," a more youthful variation describing her internalized pain of a past relationship.
"Problem With You" has become my favorite song in the collection because of the build of dynamics in each note and finishing with multiple harmonies singing two separate lines of lyrics. 
Many songs can be interpreted in different ways such as "Holding the Gun," which is about unwavering loyalty in either a friendship or a romantic relationship.
Claudio hints at her Latin roots for the last time by concluding the album with the second track, "Truth Is," but this time sung in Spanish.
As always expected with her effortless creativity, this work is a piece of art and sophisticated heart cry to which anyone can find a relation.