Music ministry has been an important outreach tool at Missouri Baptist University for nearly four decades. As the different groups have come and gone, the longest lasting group is Spirit Wing, which strives to lead the campus and community in worship. The group began in the 1980s with an undergraduate student who is now the university's president.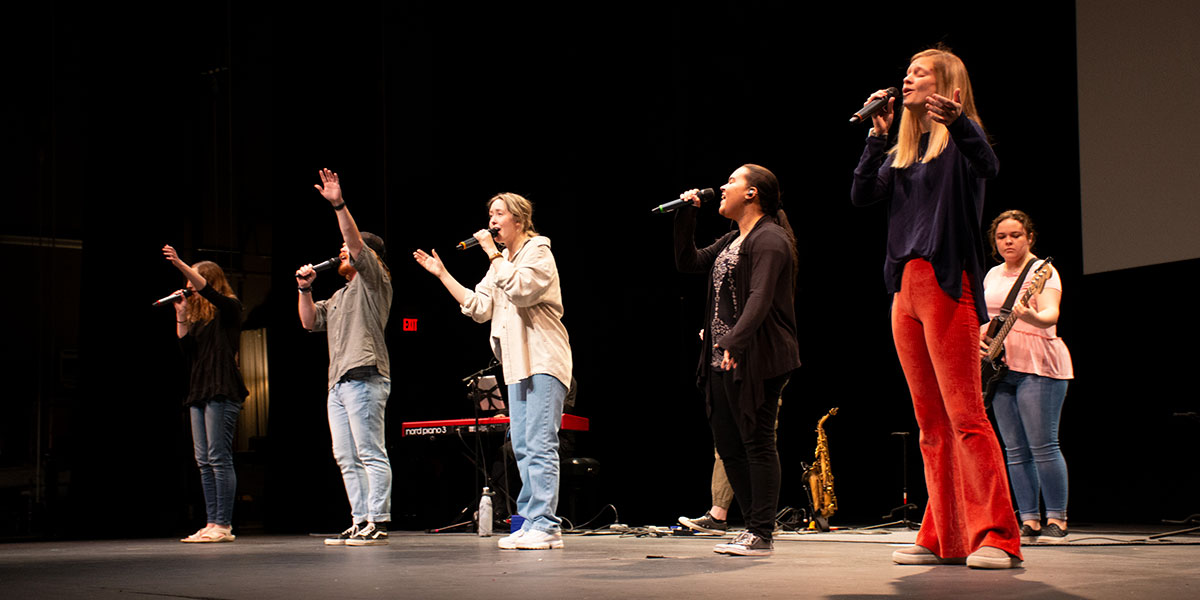 Members of Spirit Wing Blue Team lead MBU students in worship during Chapel. Pictured (left to right) are Myranda Kenshalo, Krew Taylor, Rachel Harrah, Katie Thomspon, Madison Vierling and Savannah Cox.     Photos by Emily Heflin
__________________________________________________
It's Thursday at 11 a.m. Students at Missouri Baptist University are filing into the Pillsbury Chapel and Dale Williams Fine Arts Center. After the weekly MBU Timeline Broadcast plays on the screens, the lights in the room go dim.
The little light that is left is focused on a group of students on the stage. This music ministry group, Spirit Wing, leads the campus in collective musical praise. They prepare the hearts and minds of those in the room for a worship experience with music and a Biblical message.
Among the raised hands and cries of joy and pain during the songs lies a rich history of MBU's focus to reach the campus and the community in worship.
This mission of reaching the community through worship began when Missouri Baptist University was still known as Missouri Baptist College, nearly four decades ago.
Dr. Keith Ross, president of MBU, was an undergraduate student at Missouri Baptist College when the group began forming in 1983.
Ross was a member of Craig Road Baptist Church in St. Louis when he was in high school. The music minister of the church put the 17-year-old and a few friends together in a musical ensemble called Reflections.
As the group members prepared to graduate high school, they became interested in starting their higher education journeys at Missouri Baptist College.
"A few of us had decided we were going to go to Missouri Baptist University, so a couple administrators here got the idea, 'Well why don't we start a group at MBU?' – back then Missouri Baptist College," said Ross. "So the base of that group came from a church ensemble and we were all here at the same time. Maybe half of the people came from Reflections and then we added a few more to form Spirit Wing."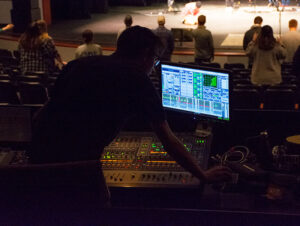 When Spirit Wing was first formed, the college focused on using the group to spread awareness about Missouri Baptist College and to recruit future students to the school.
However, Missouri Baptist College hadn't formed any other music ministry groups before, since Spirit Wing was the first.
"The original plan for Spirit Wing was a recruitment tool to churches. I liked that. It was great to share MBU with people and be in local and state churches. It was the first year and uncharted territory," said David Blazer, a 1987 Missouri Baptist College alum and one of the other original Spirit Wing singers.
Using Spirit Wing as a recruitment tool was an effective strategy, as the group has brought several talented musicians to MBU. One of those students was Dr. Jordan Cox.
"We had a lot of really amazing musicians come to school because of Spirit Wing. That was true for me being recruited in 2005. One of the reasons I came was because of Spirit Wing," said Cox, the Fine Arts Division chair, assistant professor of music and director of choral activities and music education at MBU. "They were known and that's how a lot of people found out about Missouri Baptist because Missouri Baptist was young. Usually that was often how people found out about the university because, 'Oh, they came and sang in my church.' So they would come and check out the college."
Unlike today, when Spirit Wing sang at churches in the area when they were a new group, they wore matching outfits and sang with tracks. The group not only sang at churches but at summer camps and other events that required the group to travel.
During the school year, the group would regularly perform on weekends in the area. In the summer, Ross traveled to Ohio, Tennessee and Florida with the group.
"One specific thing we got to do was go to Nashville, Tennessee, when it was my second year. We did a recording of an album," Ross said. "It's very different back then than it is now. For us it was really cool. We thought we were big time by getting to do that. There were no such things as CDs so we got this cassette tape that we had. That was a lot of fun being able to do that."
Music ministry groups have risen and fallen at MBU over the years depending on the needs of the students, the university and the community.
In the early 2000s Spirit Wing started to focus more on becoming a worship band. Around the same time, a southern gospel quartet called Closer, a girls' group called Faithful and an acoustic girls' group called Shelter were formed. After changes in leadership, Faithful and Shelter were disbanded and were replaced with Abide, a co-ed acoustic group. Soon thereafter, Chapel Band was formed, followed by Gospel Choir.
As of the fall 2021 semester, the ministry groups reevaluated their efforts and all moved under the same name, the original name that started it all, Spirit Wing.
"We thought what if we helped bring focus to all this to help to pool the resources, pool the marketing resources, recruitment efforts, spiritual discipleship, all the things. We could just bring all of these resources together and make a greater impact by having these all under the one umbrella," Cox said. "So now you have the Green Team, which is Spirit Wing, what we know it to be. Red Team is the acoustic team. And Blue Team is the on-campus team, what we had called Chapel Band."
"Last year, when we brought the groups together, we said the mission was to lead campus and community in musical praise and proclamation to God. So the group is there for us to tell people about Missouri Baptist University – to get out in the community, to let local churches know what's going on at the university," Cox said. "It's also for recruitment, 'Come be a part of what's going on at Missouri Baptist University.'"
While recruitment is a valuable aspect, Cox also emphasized the importance of Spirit Wing for current MBU students.
"It's also for the students too. Particularly now, we've had church degrees for awhile. Now there's a bigger emphasis on training worship leaders and worship arts technicians. It also gives them a practical place to put into practice what they're learning in the classroom," Cox said. "These students can go out and minister to these churches and these people. It's also a training route for future worship leaders and other leaders in the church who may be part of music ministry at some point in their lives. They're learning about technology and how to travel with a worship team. Some of our team have written songs in the past. Some of our team have produced CDs."
Many of them have led Disciple Nows, which is a weekend youth retreat for local churches, "so it's getting them an opportunity to minister to high school students and youth," Cox said.
Because of the recent merging of groups, Spirit Wing is now an ensemble within the music and worship departments at MBU. Students don't need to major in music or ministry to join the group. One of those members is Christian Akridge.
Akridge, a senior broadcast media major from St. Louis, joined Abide during the spring 2019 semester. Akridge has gained valuable experience while serving as the audio engineer for Abide, now Spirit Wing Red Team.
"Being able to go into different churches and different buildings and being able to hear the differences. Not all buildings sound the same. I'm able to get a sense of, OK, this worked in this building, but the same technique doesn't necessarily work in this building," Akridge said.
Members of Spirit Wing have not only been able to gain experience in music ministry, performance and their majors, but they have also been able to express their faith and worship through the truth that lies in the songs they play.
"It's a way to share the gospel in a way that people can connect to at their own pace, in their own stage of faith," said Maggie Ralls, a junior accounting major from St. Louis who is a keyboardist and vocalist for Spirit Wing Green Team. "The truth in a song is consistent, but the believing that comes out through worship looks different for everyone."
The most important aspect of Spirit Wing, as mentioned in their mission statement, is praising God. As leader of a Christian university, this is especially important to Ross.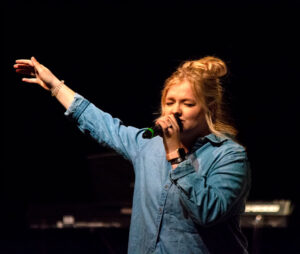 "It's our way to worship God and to give Him His glory and to celebrate the Lord. It's a reflection of our one way we can all do that. It's a way to bring the church together collectively through worship," Ross said. "From that perspective, I think it's really really important for us to do that as God's creation. It's an extension of who we are as people to worship our Lord."
One of the joys of worshiping with other team members of Spirit Wing has been the fellowship with other believers. For both Akridge and Ralls, traveling to Disciple Nows with their teams has provided some of their favorite memories and bonding moments.
"We had a two day D-Now recently that was so much fun and we were able to really connect with the students and each other," Ralls said.
The importance of the friendships is valued by former members of Spirit Wing as well.
"The friendships and comradery that we built among others — I'm still friends with people that I was in the group with way back when," Ross said. "They're all very successful and doing really neat things. Some of them are working in church, some in business, some of them in the entertainment industry. And we still get together from time to time."
As members of Spirit Wing have moved on after leaving the university, Spirit Wing as a whole continues to leave a legacy of ministering to MBU and the community.
"I think Spirit Wing has been a phenomenal extension of the ministry of Missouri Baptist University and it continues to be," Ross said. "There's not very many music groups on college campuses that have been around as long as Spirit Wing has. It's very different now than when we first started because things have changed in music ministry over the years, but still, Spirit Wing has been able to change with the times. I think it has even become stronger in ways. I'm proud of having been in the group and it's fun just to watch them now after having started over 30 years ago."
Spirit Wing Photo Gallery