The Spartan women's volleyball team has had a large amount of success since the 2005 season, as they have become a pillar of consistency at Missouri Baptist University.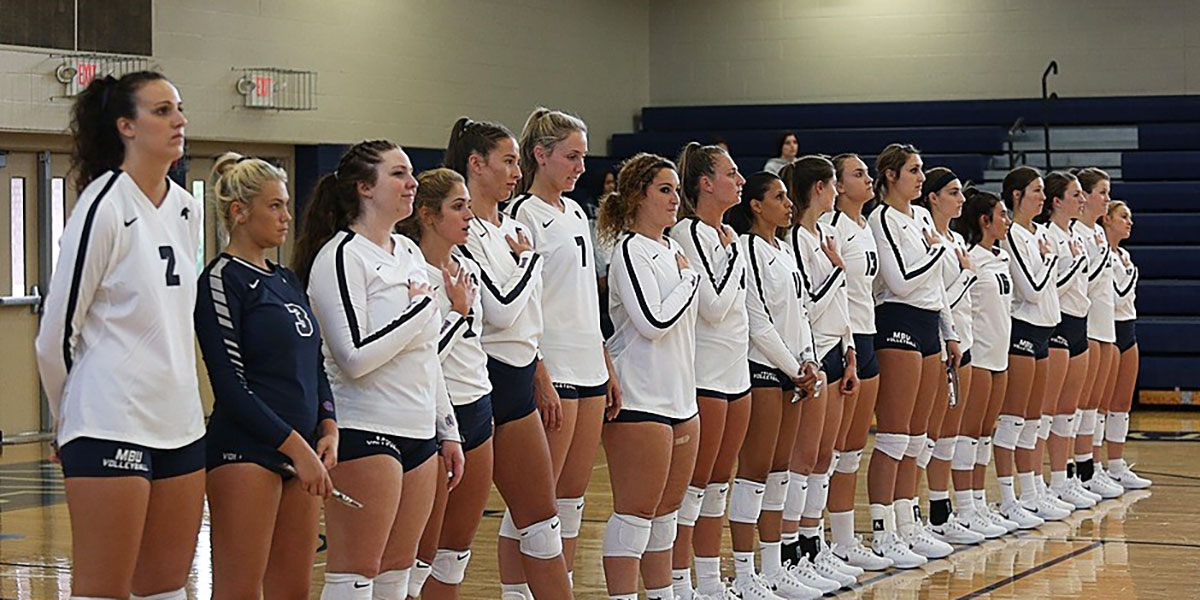 Photos courtesy of University Communications
The Missouri Baptist University women's volleyball team stands for the singing of the national anthem before their season home opener. The Spartans are currently enjoying a 14-game winning streak.
__________________________________________________
When it comes to anything happening in sports, history shows the Missouri Baptist University women's volleyball team finishing with a losing record is not likely.
In fact, since stats started being recorded in 2005, the Spartans, currently 15-2 overall and 4-0 in the American Midwest Conference, have won 417 games and lost just 130, a winning percentage of 76.23. That year also happens to be the first season for now-head coach Chris Nichols, who came on as an assistant when he first joined MBU in 2005.
After taking over for former coach John Yehling in 2013, Nichols has led the Spartans to a 182-38 cumulative record and four straight NAIA National Tournament appearances spanning from 2014-17 with their 2015 appearance ending in a runner-up finish.
The Spartans fell just short last year in the semi-final game even though they defeated Dordt College earlier in the tournament during pool play, who then went on to lose in the National Championship game to Lindsey Wilson College.
Nichols said he believes all the success the team has had since 2005 is due to all the players who have donned the navy blue and white colors of MBU.
"You gotta be able to recruit the players," Nichols said. "We have done a really good job I think of building a culture and structure here. You gotta have the talented players. Being able to make this a good environment that players want to come play in and be able to compete for national championships."
Nichols places significant emphasis on recruiting as many talented players as possible.
"The local kids in the area, some of those kids have bought into it and have made this into a place they wanted to be, so being able to recruit talented kids I think is the most important thing."
One of those recruits is freshman setter Nicole Bott. With 325 assists, Bott leads the team. Behind Bott is senior Aubrey Wilson with 189. Bott also won AMC Volleyball Setter of the Week honors back in late August.
Originally born in Brazil, Bott came to the United States before her junior year of high school. After playing in a tournament in St. Louis, Bott was discovered and approached by Nichols. After a tryout for MBU, Bott was set to become a Spartan.
Playing at such a high level as a freshman, Bott said she feels some pressure in being in the starting lineup.
"Yeah, there is (pressure)," Bott said. "I didn't expect to play and [expected] to stay on the bench, learn with the seniors, but it's been a good experience to play and start."
Despite being shy about starting Bott at first, Nichols has been happy with the freshman's play this season.
"It's huge for our team," Nichols said. "That was probably the biggest question mark coming into this season. We graduated a senior setter that was very good, and we knew we would have some turnover.
Nichols was referring to Rachel Pool, who finished her collegiate career last season ranked No. 9 in total assists with 1,556.
"Having a freshman setter coming in makes you a little nervous always because your setter is your quarterback or point guard or whatever you want to say, but that position is touching the ball more than anybody, and it's probably the most important position on the court."
But Nichols added that Bott is playing beyond her years.
"Nicole has come in and she's done an excellent job, and she hasn't played like a freshman," Nichols said. "She's played like a veteran for us."
During the four-year span the Spartans have qualified for nationals, Nichols said the team looks different each season.
"Believe it or not, there's been a lot of turnover in those four years," Nichols said. "In 2014 and 2015, those teams were pretty much identical; we didn't graduate much. That team was good. In 2016, we had five new starters on the team. Some of those kids were new kids, transfers in and some of those kids were kids that were sitting on the bench."
Once again in 2017, the Spartans dealt with more turnover.
"Then in 2017 last year again, we had four new starters," Nichols said. "I think it more says something about the program of being able to recruit top-notch kids, and their expectations coming in here is that we want to win a national championship. That's what we want. We want top-level players that their goal is to get better as a team and try to win a national championship."
With a new batch of players on the team this season, one of them stands out from the bunch, senior attacker Mallory Moran.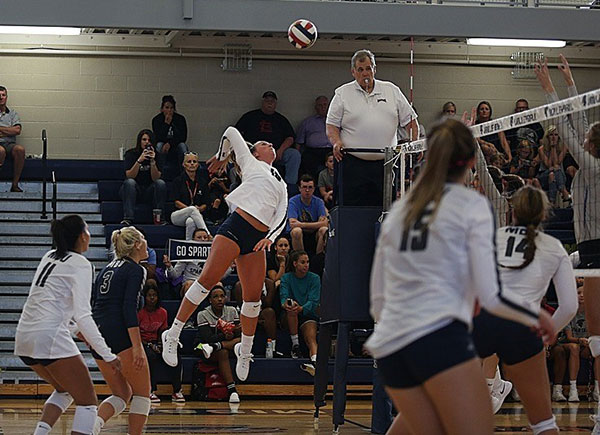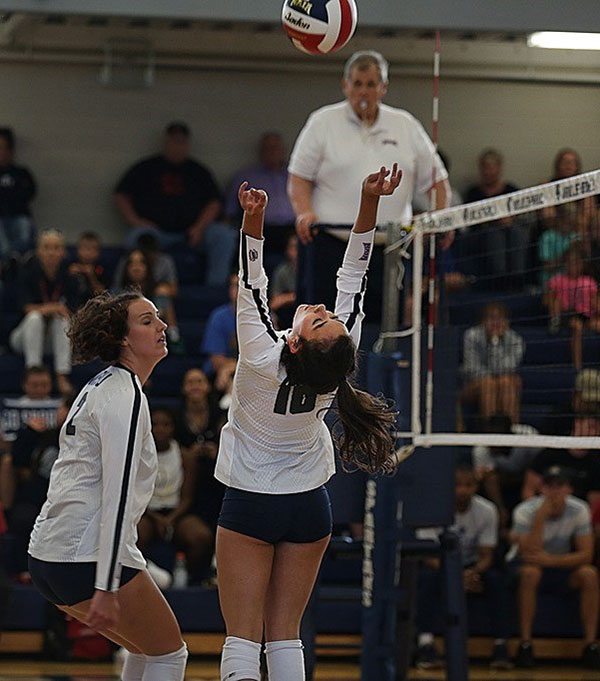 A transfer from Texas A&M University-Corpus Christi, a Division I school, Moran has been an offensive juggernaut for the Spartans, leading the team with 196 kills, 505 total attempts and a kill-per-game ratio of 3.63. Moran also hails from St. Louis, making her transfer to MBU a bit of a homecoming.
With MBU being as successful as it has over the years, it was enough to influence Moran to come back home to St. Louis.
"I have a lot of friends here, and I knew them before I came," Moran said. "I always had them texting me, telling me stuff like, 'Please come back home.' I always had it in the back of my mind because I'm from here and my family's all here. I had a couple of issues at Corpus with my coach and stuff, so I gave Chris (Nichols) a call and I was like, 'I'm ready to come home,' and he was like, 'OK, come home.'"
With friends already on the team, Moran said the chemistry has always been there and has been a major factor in the team's success.
"Last year, I knew at the end they tried to have great team chemistry, and it showed at the end," Moran said. "They killed it. We've gotta have good team chemistry to be successful, and it's been working so far."
Staying involved in the local volleyball scene is important, according to Nichols, as he tries to build links with players such as Moran and senior outside hitter Maggie Sorensen before they choose where they want to play in college.
"I try to stay as much as I can in the club scene around St. Louis so I get to know most of these kids when they're in high school," Nichols said. "When they go away, I have that relationship with them to where if things don't work out wherever they are, then they're able to call me and see if there's an opportunity here. Sometimes there is, sometimes there isn't, but in Mallory's case and Maggie Sorensen, who are two local products that are very good players for us here, they went away and their circumstances brought them back. Because I had that relationship with them before they left, this is where they wanted to be, so that's huge for us."
The Spartans are currently ranked third in the AMC Conference and eighth in the Coaches Top 25 Poll. Ahead of them in the AMC is No. 2 Columbia College (16-1, 4-0) and No. 1 Park University (15-0, 3-0). Columbia is also ranked third in the nation while Park sits on top of the entire NAIA standings.
With such a stacked conference, Nichols thinks it is important for his team to play against teams like Columbia and Park.
"The AMC is the toughest conference in the NAIA by far," Nichols said. "Park was the 2014 national champion, where we got top five. Then in 2015, we lost to Columbia in the finals. That is two years in a row right there where two teams won the national championship and three teams were in the nationals."
With the AMC being so competitive, the process of recruiting players also becomes tougher.
"In 2016, Park went to the final four, and in 2017, we went to the final four," Nichols said. "If you can compete in this conference, you can win a national championship. That's how tough this is. Having the three of us always in top 10 in the country, then yeah, when you're out recruiting, that makes this conference that much better and makes your job that much harder. You gotta recruit a really good recruiting class every single year if you wanna compete. If not, you won't be able to keep up in the AMC."
After coming so close to winning it all each season under Nichols, he has confidence it's just a matter of time before they finally win it all.
"There's about 290 volleyball teams in the NAIA; I think we've been good enough to win it any of those years," Nichols said. "It's one of those things where it's really hard to win with that many teams. There's some really good teams. You gotta get hot, you gotta get lucky and you gotta be playing really well at the right time. We've come close, we haven't been able to get over that edge, but I don't think it's anything that our kids haven't left out on the floor. We just came up a little short sometimes."
Nichols keeps things simple for his players without changing up what they're doing.
"I like to just tell our kids that we're close, just keep doing what we're doing," Nichols said. "When you think about Missouri Baptist volleyball in the NAIA, it's a power, and everyone in the country knows that. We just gotta keep doing what we're doing and our time will come."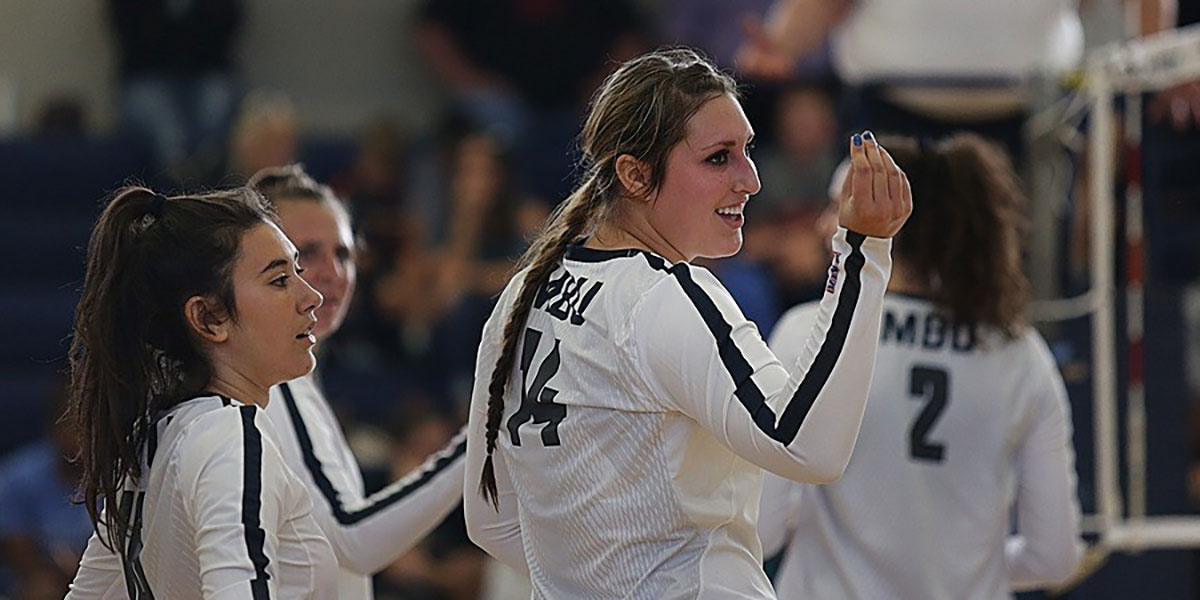 Senior setter Aubrey Wilson (right) and Bott (left) celebrate during the Spartans' home opener. The Spartans are sitting at third place in the American Midwest Conference, which means they are among the best volleyball teams in the nation as the AMC is known as the strongest NAIA conference in America.