Overcoming a key injury and flight delays that meant they arrived in Daytona, Florida, with just a few minutes before competition time, the Missouri Baptist University competitive cheerleading team still pulled off perfect routines on their way to high rankings.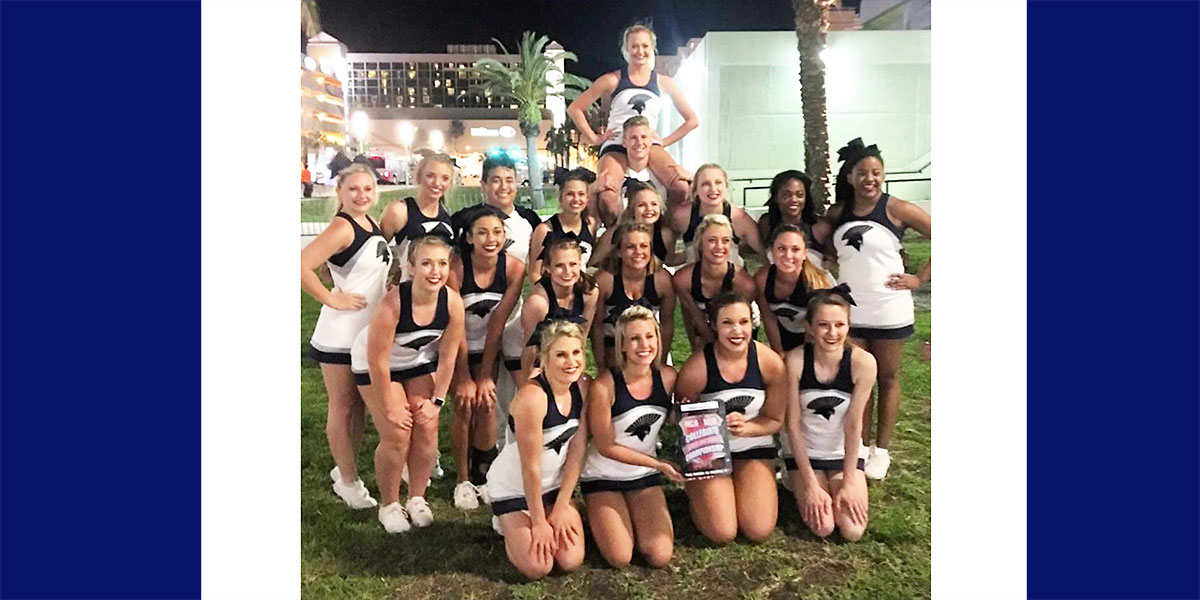 __________________________________________________
By ELIZABETH HON
For some, cheerleading is thought to be girls in short skirts waving their pompoms around on the sidelines of a football game, while talking about the latest gossip.
For a competitive cheerleader, it is tumbling, throwing people in the air, jumping with precision, and getting only two minutes to perform a routine you've spent months on.
Missouri Baptist University's competitive cheerleading squad competed at the NCA Collegiate Cheerleading Nationals in Daytona, Florida, April 6, where they finished 12 out of a field of 19 collegiate teams.
The top nine teams made it to the final rounds, and the rest of the teams moved on to the Challenge Cup.
Not only did the Spartans perform in front of hundreds of people, they also got to perform at the Ocean Center and on the bandshell at the beach.
Although the athletes spent months preparing, they had to rework the entire routine just weeks before due to an injury.
"I blew out my ACL while basing at practice three weeks before Nationals working out stunt sequences, said Co-Captain Madi Crawlfield
In cheerleading, when one person goes out, the entire routine must be reworked.
Persevering through injury, the team competed in the Small-Coed Division II, placing third in the Challenge Cup in spite of the last-minute changes.
"As a captain being injured is very difficult," Crawfield said. "I really focused on still putting in everything I have towards the team, from helping the coaches in the background with fixing the routine and getting it ready for nationals, to showing up at every practice, praying for my team and encouraging my teammates."
Through this challenge, the team stayed hopeful going into the competition.
"My expectations moving into nationals were that we would hit a zero deduction routine, making a name for Missouri Baptist University in their versatility," Co-Captain Sam Robb said.
A zero deduction routine means the cheer team had no points taken off the overall score of the routine, which is achieved by having no one step off the mat, drop a stunt, or fail to land a tumbling pass.
Video by Garret Lawson
____________________________________________________________________________
"We were forced to build a new routine three weeks before we went into the NCA competition," Robb said. "Even with the brand new routine I knew we would do very well for our school."
Just when the team thought they were back on track, they faced more adversity upon traveling.
When the team left St. Louis Lambert International Airport on Wednesday, April 5, and got to Atlanta, they were confronted with heavy storms canceling their flight to Florida.
Huge storms sat over Atlanta, producing tornadic winds and shutting down the Hartsfield–Jackson Atlanta International Airport, forcing the MBU team to charter a bus to Daytona, leaving all supplies, props and mascot costume behind on a grounded plane in Atlanta.
"When we got to Daytona 30 minutes before we performed we were forced to borrow poms, flags and a mascot from another team so we could still compete," Robb said.
Nevertheless, MBU placed third in the Challenge Cup in the Small Co-Ed Division II, hitting two separate zero deduction routines, which means they hit every stunt and tumbling pass.
Throughout injury and travel malfunctions Missouri Baptist stayed positive and represented the school well.