Reason to Venture
The Missouri Baptist University golf team consists of golfers from near and far, but the reasoning to travel to the university is similar throughout the foreigners.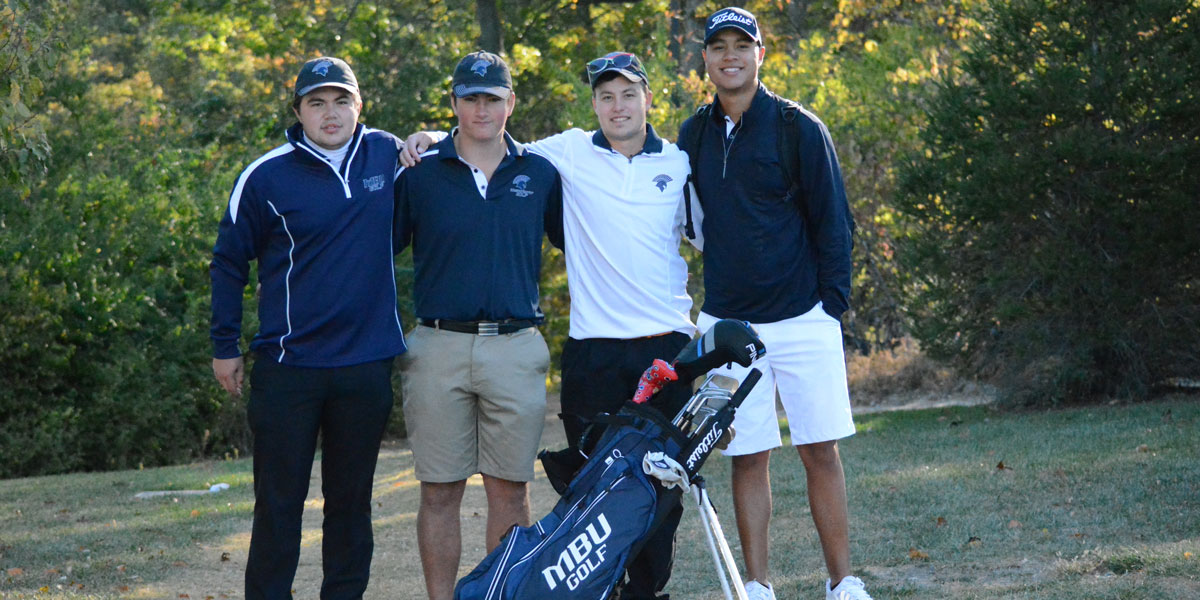 Photo by Ryan Rerich
Pictured (from left) are MBU golfers Curtis Brokenbrow, Charlie Doran, Jan-Henry Jordaan and Victor Baños.
__________________________________________________
How did an athlete from afar end up at MBU is a question that pops into the head of many individuals who see students and student-athletes from all over the world stroll the grounds of main campus each week.
This stays true for the golf team, which recruits throughout the nation and worldwide almost every year.
For a team of its stature, only 12 players, the team consists of five players from nowhere near the Arch, three who are from overseas.
From the spring of 2013 to the fall of 2015, the traveling team of five golfers has included no more than one Missouri native at any time of the year.
So how did the young men on the current team get to this small private Baptist university in the Midwest?
Charlie Doran, freshman biochemistry major, has made his way from the province of Nova Scotia, Canada.
"Coach Justin Hoagland seemed like a nice guy and I put my trust in him," said Doran. "I came to an American university to play golf and receive a quality education. It was kind of a lucky find, but it seemed to work out in the end for both of us."
And after arriving to MBU, he's on his way in the right direction.
"Confidence is my strong suit. Nothing in life comes easy, but I hope to work my way up on the team," said Doran.
Another freshman has joined the squad this year and has a promising future in the game of golf at MBU.
Curtis Brokenbrow, freshman sport management major, came across the pond from Manchester, England, the place he has called home for the past 19 years.
"Coach called me in May and was asking about my game. I gave him a video of my golf swing and he was impressed," said Brokenbrow. "A month and a half later I was sure of my decision to become a Spartan."
Coach Hoagland does not find all these players out of the clear blue, but there is a system to finding recruits far from the Arch.
"International players are often recruited through online web-based recruiting agencies who email the players' profiles out to college coaches across the country," said Hoagland. "These profiles include swing video footage, tournament history, experience and all academic information needed."
The main reason for the international athletes coming to MBU appears to be the scholarship money. Brokenbrow was no exception.
"Without a good scholarship I would not be here. This was the cheapest route for me, so I took advantage of the opportunity," said Brokenbrow.
Victor Baños, redshirt freshman criminal justice major, has made the 22-hour drive from "Sin City," Las Vegas, to park his car in the Creve Couer city limits.
His connection was different from the others, and is unique from most athletes at MBU.
"My high school golf coach went to MBU back in the '90s. He told me that back then it was a decent environment and that I should give golf a shot at the university," said Baños.
A scholarship always makes the financial situation significantly easier in the life of the student-athlete.
"Coach Hoagland gave me a solid scholarship and I was willing to give it a chance," said Baños.
Jan-Henry Jordaan, senior marketing major, is in his fourth and final year of flying back and forth from MBU across the Atlantic to De Doorns, South Africa.
"It looked like a nice campus even though I had yet to visit the states. It was a long shot but one of my friends played golf at Lee University in Tennessee and I thought to myself, 'If he could do it, I could too,'" said Jordaan.
Jordaan has made a significant impact at MBU over the years and has enjoyed his time here.
"I am glad I made the decision to come to MoBap. I have made a ton of friends over the years, and the relationships I have made will have a lasting impact on my life," Jordaan said.
Coach Hoagland has had success in the past with recruiting internationals and student-athletes far from home, and the trend continues each year as more and more make their way to St. Louis.
"International players are often seen as hardworking athletes and well-committed to the program once they are here," said Hoagland. "The great majority of international players will also stay until they graduate, so the yearly retention rate is very high."
Tags: Charlie Doran, Curtis Brokenbrow, Jan-Henry Jordaan, MBU, MBU golf, MBU Timeline, Ryan Rerich, Victor Banos

Ryan Rerich
Ryan Rerich, Editor of MBU Timeline, is a senior pursuing a double degree in journalism and communication studies with minors in sport management and public relations. Rerich, from Weimar, Texas, is a member of the golf team and was on the national qualifying team in 2013. Rerich engages himself in the photography aspect of sports, as well as writing and editing stories for the student website in a multitude of topics. In the past, Rerich was an intern at the Press Club of Metropolitan St. Louis, as well as an intern at the Schulenburg Sticker, a weekly newspaper in South Central Texas. He is currently working in the MBU Writing Lab tutoring students during the school year. When he is not involved in those various activities, he can be found playing intramurals on Wednesdays or possibly playing catch outside of the apartments.