Missouri Baptist University is a unique school for a number of reasons, and one of those has to do with track and field, specifically the event called race walking, in which MBU's team includes some of the best walkers in the nation.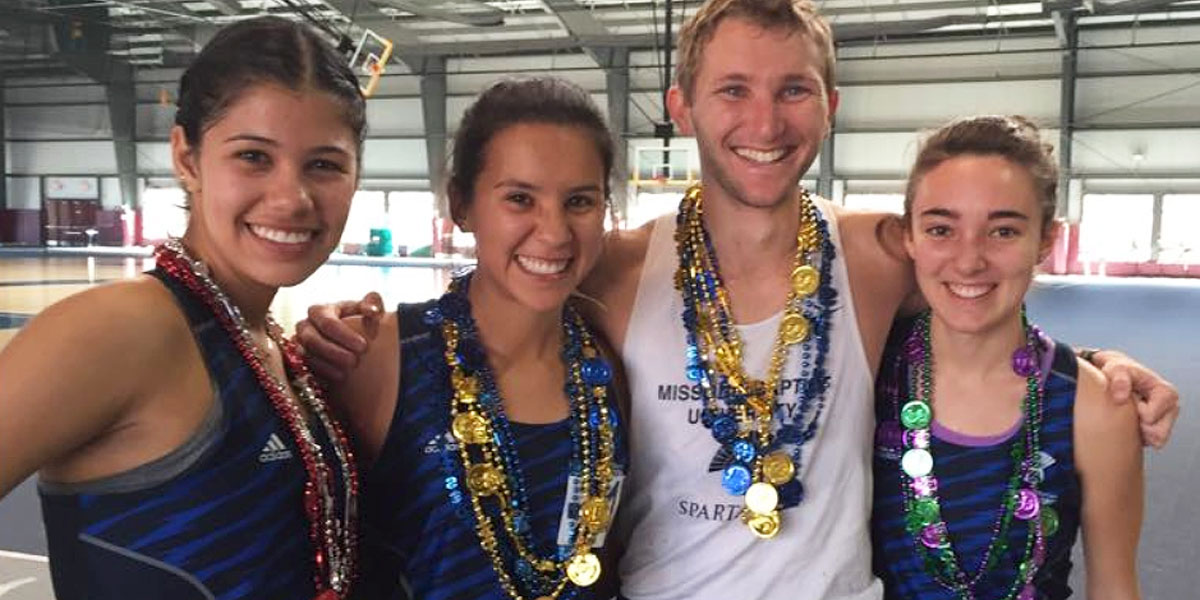 Photo by: Miles Chase
__________________________________________________
By MILES CHASE
Missouri Baptist University has been blessed with some of the best race walkers in the nation during the past few years, including one of the most talented race walkers from Venezuela, a seasoned youth champion with natural talent.
Race walking is a long-distance foot race that differs from running in that one foot must be in contact with the ground at all times, therefore stride length is reduced, according to Wikipedia.
Coach Tish Hannah's knowledge of race walking allowed MBU to build a successful and talented race walking team.
The team consists of athletes from around the country and the world. Hannah has since left the program and moved on to coach elsewhere, but not until leaving her positive mark on MBU track.
"We all came here because Coach Tish scouted us to this program," said Molly Josephs, a junior at Missouri Baptist.
For the indoor 2014 season every member on the race walking team qualified for the NAIA indoor national competition.
Those from MBU who qualified are Natalia Alfonzo, Nick Christie, Alex Chavez, Josephs and Nirvana Zalba.
Winning nationals is quite a challenge as athletes must have strategy and endurance.
"You have to be smart," Josephs said. "A lot of people go out too hard, so you have to not get caught up and race smart and slow and steady instead."
They all qualified for the highest level competition of track and field in the NAIA.
Indoor Nationals was held March 2-7 in Geneva, Ohio, and those who qualified traveled by bus to the meet.
Missouri Baptist took a promising outlook to Nationals, projecting themselves to finish strong as a team.
"I think we're going to finish better than last year because we have more possibilites of people qualifying," Zalba said before the competition.
Alfonzo has qualified for NAIA Indoor Nationals for both 2014 and 2015 seasons.
Alfonzo reiterated how the importance of Nationals reflects in other goals.
"It's one small goal that helps me reach my main goal of the Olympics," she said.
Alfonzo viewed the competition as a stepping stone in her ultimate plan. Setting the bar high is part of what drives her success.
Regarding her training for national qualification Alfonzo discussed her strategy for training for the competition.
"Just get up and train every day, stay mentally strong and fight back laziness," Alfonzo said. "Having a healthy life and keeping the routine."
Her attitude is one sculpted by tenacious training regimens. She has the mental endurance needed for a long distance sport.
"We have high expectations this year, and Molly, Nirvana and I are aiming for first, second and third in nationals. We want to dominate indoors and outdoors," Alfonzo said.
Missouri Baptist has a successful race walking program, with Zalba taking home national championships in both indoors and outdoors last year.
Zalba's journey is not over after her collegiate race walking career.
"I want to keep race walking until I go to the Olympics," she said, adding that, like Alfonzo, she uses her dream to motivate her forward in her career.
Alfonzo said of her teammate, Zalba, that "Nirvana's success is a motivation to train harder. Also to train with her is encouraging."