When Kimberly Seabaugh arrived on campus from Lindenwood University, she knew cheerleading would be in her future, but she's also added track and field to her college experience.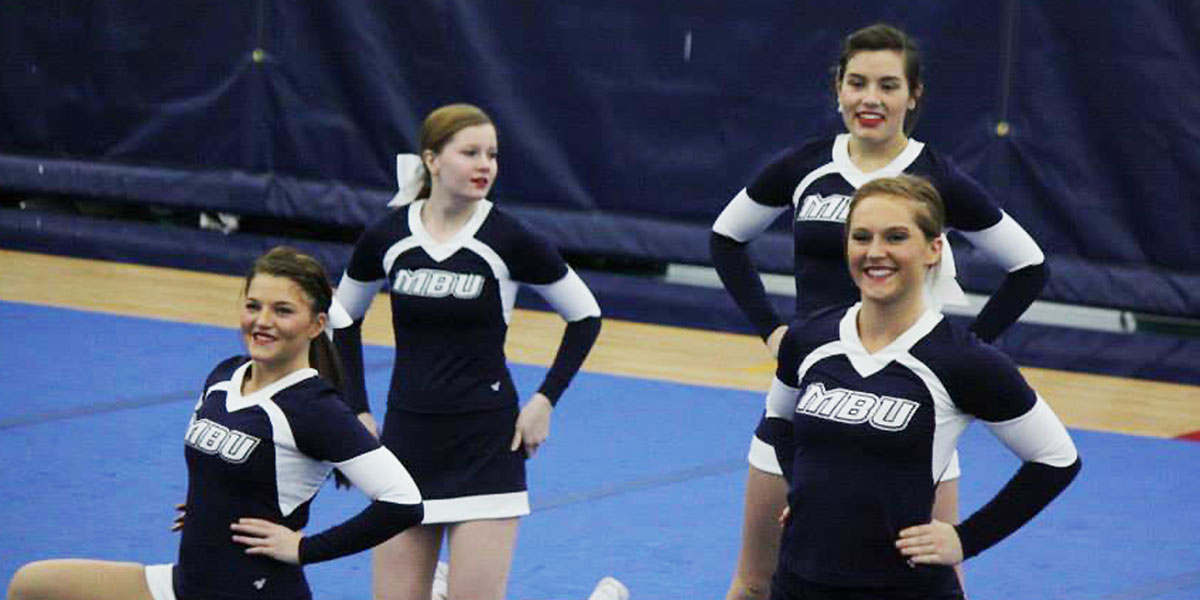 Photo by: Bill Myers
Kimberly Seabaugh (front row-right), has fit right in at MBU since transferring last fall, competing with the Spartan cheer squad.
__________________________________________________
By LYNN TYLER
Becoming a collegiate cheerleader is the desire of many high school cheerleaders.
Kimberly Seabaugh, a sophomore from Marble Hill, Mo., who is majoring in psychology, has lived the cheerleading dream.
Seabaugh started her cheerleading career in junior high and continued in high school at Woodland High School in Marble Hill her freshman year and has been cheerleading ever since.
She also joined SEMO Elite All-Star for two years and went on to be a Universal Cheerleaders Association staffer for three years.
Seabaugh started her college cheerleading career at Lindenwood University-St. Charles.
Her tumbling and basing skills landed her a spot on the mat and took her to Nationals in Daytona, Fla., where her All-Girl team earned third place.
Seabaugh met her soon-to-be husband Ricky Jenkins her freshman year while attending LU.
She transferred to Missouri Baptist University her sophomore year and joined the MBU cheerleading family.
Her strong work ethic, sweet spirit and skills have proven to be a great addition to the MBU cheerleading squad.
"Kim has been a great addition to our team this year," Coach Jessica Johnson said. "She has an amazing 'can do' attitude and has stepped up as one of our main flyers."
As a cheerleader, one must be versatile and be competent in new positions.
Seabaugh can not only base and support the girl from underneath, but she also flies and backspots by supporting the ankles of the flyer while in the air.
Along with cheerleading, Seabaugh participates in women's track and field on campus.
Though she never pursued track and field before, Seabaugh has picked up the sport with a natural talent.
"I was pretty concerned at first. However, Kimberly has a great work ethic, is very determined, and didn't have any fear about trying it out," Coach Katie Cline, women's track and field coach, said in an email. "I'm very impressed with how well she's picked up on it in such a short amount of time, she has done a great job. I'm looking forward to seeing her improve throughout the rest of the season."
Seabaugh, who also works as a barista in the Perk between cheerleading, track and homework, reflected back on one of the most pivotal influences in her athletic life.
"My all-star coach Matt Harris, who is the Missouri State cheer coach," said Seabaugh, "he's probably the one who taught me the most."