"Saving Mr. Banks" is a rousing tribute to Walt Disney and P.L. Travers.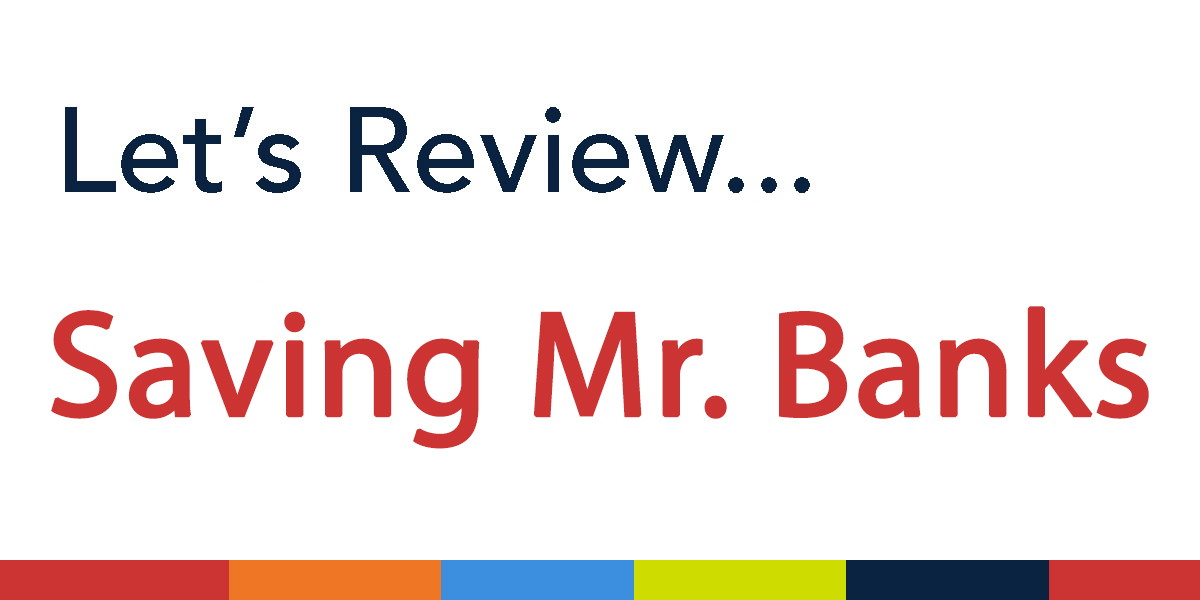 __________________________________________________
The film, "Saving Mr. Banks," succeeds thanks to the terrific performances from the lead duo of Tom Hanks and Emma Thompson.
Set in the '60s, the plot is about Walt Disney (Hanks) trying to persuade P.L. Travers (Thompson) to give him the rights to turn her loveable Mary Poppins books into a big screen adaption.
Yes, "Saving Mr. Banks" is undoubtedly likeable and sentimental to a fault, but it works.
Director John Lee Hancock ("The Blind Side") carefully shares this charming story of Disney's beloved icon.
Hanks not only looks and sounds like Disney, he captures the personality and spirit of the imaginative businessman.
Throughout the film, Hanks puts heart into his character and shows us that there is more to Disney than just his creative cartoon drawings.
Thompson is marvelous as Mrs. Travers and shows everyone in Hollywood who is boss. Even though the Academy snubbed Thompson from a nomination, her performance is worthy of an Oscar.
When Travers leaves her charming English cottage for the strange and sunny world of Hollywood, she continues struggling with the thought of her beloved Mary Poppins being turned into a musical. While she allows her treasured nanny to sing, she is firm that her story must not contain animation.
There are many conflicts in the film with Travers and Disney's team trying to agree on how to translate Mary Poppins to film.
Script writers Kelly Marcel ("Terra Nova") and first-timer Sue Smith carefully place the flashbacks of Travers' childhood to show us why she is so concerned about Mary Poppins and Mr. Banks.
In Travers' flashbacks, we see her being raised in Australia with her mom, sister and beloved workaholic father, played by an outstanding Colin Farrell.
Sadly, Farrell's character battles against alcoholism, but he still makes an effort to not let it affect him and his family.
Farrell's charm helps the film reach new highs and charisma. We later find out that much of Travers' work on Poppins came from her beloved childhood.
Other great performances in the film come from the wonderful Paul Giamatti and the musically talented Jason Schwartzman and B.J. Novak.
Also, some of the original musical numbers make a special appearance in the film, including "Chim Chim Cher-ee," "Supercalifragilisticexpialidocious" and "Let's Go Fly a Kite."
Overall, "Saving Mr. Banks" is the feel-good movie of the year thanks to Hanks and Thompson's performances. Their chemistry is executed perfectly and helps uphold the film.
If you were a fan of the classic "Mary Poppins," then I would advise you to go see this film.
"In every job that must be done, there is an element of fun. You find the fun and snap! The job's a game." – Mary Poppins.
I give "Saving Mr. Banks" three and a half stars of five.
* * * ½