Combining his love of basketball and his faith in Christ, an MBU basketball coach has spent the last seven years deeply affecting his students and players.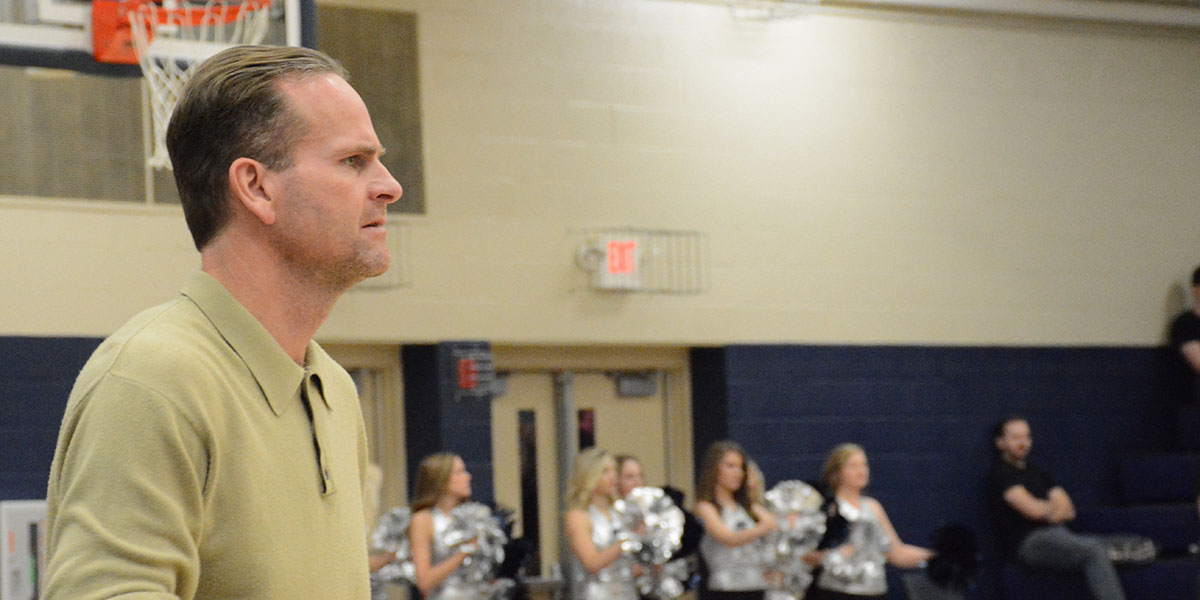 Photo by: Ryan Rerich
MBU head men's basketball coach Ray Farrell has been roaming the sidelines for the Spartans for the past seven years, but he brings more than coaching prowess to his game plan, he brings a focus on Jesus Christ being in the lives of his players.
___________________________________________________
By JAMES KING
Coach Ray Farrell, the guy from Philadelphia, and also a husband, devoted father of three, and a coach of 15 guys on the men's basketball team.

"My coaching days all started as a high school player enjoying my coach and just the passion to help others," Farrell said recently. "I was going to be a social worker and switched to teaching because of coaching."
Who is Ray Farrell?
"Just an average guy trying to lead others to higher levels in life," Farrell said.
Players on the team always feel comfortable talking to Farrell about anything as he is quick to bring Bible scripture into his advice.
"I am a basketball coach trying to impact lives," Farrell said.
Farrell has 15 players this basketball season whose lives he has affected with his encouraging words, his Bible scriptures and just being an encouraging mentor.
"The years that I have been coached by Coach Farrell, he has always been a great guy, telling us more about God each day, giving us so many Bible scriptures to read each day," said Adrian Kuyinu, a senior at MBU, three-year starter, and also the team captain.
Whether a long-time starter or new addition to the team, it doesn't take long for Coach Farrell to leave a lasting impression.
"I haven't been here long at MBU but I have seen the way Coach Farrell could be a mentor. He helps us out on the court and off the court," said Chance Welch, a freshman at MBU.
Farrell has been the head coach at MBU for seven years and the team has had its up and downs.
His team's best finish came in the 2012-13 season when the Spartans finished at 18-13.
Prior to coaching at MBU, Farrell has had coaching positions at multiple schools.
Farrell was a head coach at the University of Texas-Dallas and McLennan Community College in Waco, Texas, an assistant coach at SMU, UNLV, Cleveland State, The Masters College, University of Rochester, Collin Community College, St. Lawrence University, University of Dallas, Philadelphia University and also a grad assistant at East Texas State University, which is now Texas A&M-Commerce.
What brought Farrell to MBU "was the opportunity to work at a Christian college," he said.
Farrell doesn't just coach at MBU, he also teaches two classes, Health and Wellness and Weight Training, a course that many athletes take.
Farrell said his highest goal is simply "being a coach that wants to glorify God through my skills and my coaching position."
Not every coach is unique like Coach Farrell. He is one of a kind in that he keeps God first and keeps his players close to God.