The Missouri Baptist University basketball team has developed a connection to Houston over the years, and several players on this year's team discuss their adjustment to the Midwest.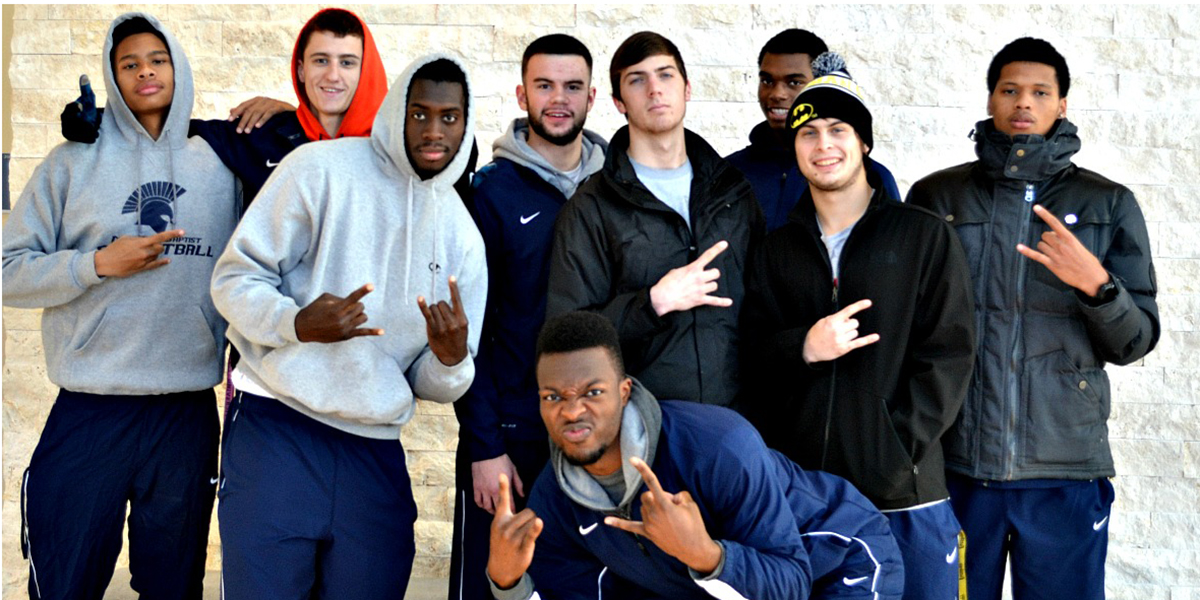 Photo by: Brittany Gammon
__________________________________________________
By JAMES KING
The MBU men's basketball team knows where to get its players from, as more than half of the team's roster are from Houston.
There are eight players from Houston and they all have different views on St. Louis.
So how do these Houstonians like the Midwest? How about the weather? The food? Do they miss their families? Friends? Girlfriends? How are they adjusting to St. Louis?
Jeremy Mattox, a 6-foot-2 freshman guard from Houston, said scouts from MBU approached him with a scholarship offer.
 "MBU found me by hearing scouts elaborate on my skill set and they also heard Houston is where the real basketball is," Mattox said. "I like the Midwest, but I don't like the cold weather. I hate it."
 While he appreciates the opportunities to go to college and play basketball in the Midwest, he can't help but miss his hometown.
 "Yes, I would rather be back at home playing college ball because my family would be able to see me play," Mattox said, but he added, "Even though I miss my family I have had a great time at MBU and having fun with my friends and going to the mall."
Adrian Kuyinu, a 6-foot-3 senior guard from Missouri City, a suburb just southwest of Houston, said Coach Ray Farrell found him at a summer showcase in Texas.
"I came to MBU for basketball but also because of the academics this school provides and how they provide it to the students," Kuyinu said, but he agreed with Mattox that there "ain't no place like home."
When Josh Davis, a 6-foot-7 freshman forward from Houston, was asked if he preferred St. Louis or Houston, he said neither.
"I'd rather be in California than to be back home or in St. Louis," Davis said, but he added, "Even though I would like to go to California, I would learn more here at MBU and learn more about God than I knew before."
Stanley Eboh, a 6-foot-6 sophomore forward from Houston, said, "It's pretty dry out here," but he acknowledged that he would rather be right where he is, at MBU in St. Louis, "because at least I'm being productive with my life. … This is my second year at MBU and I enjoy this environment and the people here."
However, he added: "It's a lot warmer in Houston than in St. Louis."
Jake Burnett, a 5-foot-11 freshman guard from Houston, agreed.
"It is way colder out here," Burnett said, adding that he prefers the food back in his home state. "Houston food is way better."
Jahmari Gordon, a 6-foot-4 sophomore guard from Houston, added, "The food here doesn't even compare to Houston."
While he noted it is far hotter and more humid in Houston than St. Louis, he's learning to adjust to his new city.
"It's all right here, a little boring compared to Houston," Gordon said.
These six players seem to have some similarities about their different views on St. Louis, agreeing it's much hotter back home, but the food is better there.