Katie Cline, recently hired to coach the Missouri Baptist University women's cross country and track and field team, brings what she learned as an MBU graduate into her new position in athletics.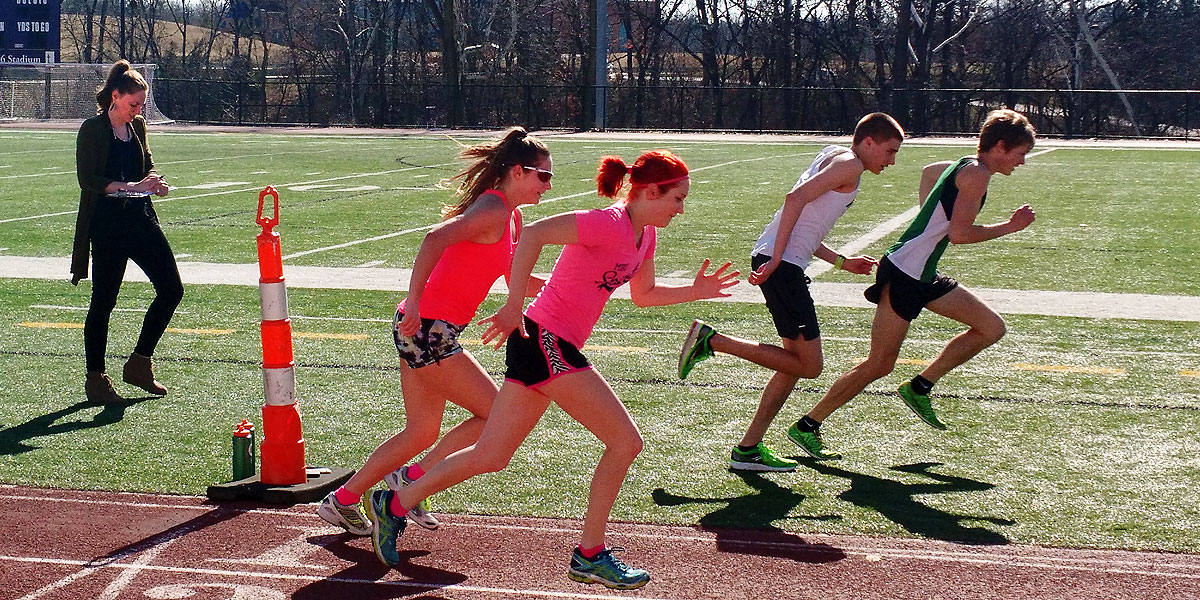 Photo by: Joshua Daugette
__________________________________________________
How many times do we fall into a job that we never really planned on having?
For Katie Cline, newly appointed head coach for Missouri Baptist University's women's cross country and track and field team, that is exactly what happened.
"For a lot of people who are head coaches, that's been their dream since the time they were little … but for me it wasn't," she said.
Born in Columbia, Mo., raised in Mineola, Cline ran cross country and track during high school in Montgomery City, Mo., before she attended Missouri Baptist University herself in 2007.
"For high school, it was very easy, I wanted to go to state every year."
Cline earned a state trip for the 5 kilometer in cross country in 2003, 2005 and 2006; for track, she specialized in the mile and 800-meter run, and made it to the sectional meet in both 2006 and 2007.
Though she had run both cross country and track in high school, Cline thought college athletics were for more elite competitors, so she hesitated to maintain her running career at MBU.
"I had decided not to participate in college because I didn't think I could handle it at the college level," she recalled.
Cline walked on to the MBU cross country and track teams as a freshman in 2007 and found that collegiate competition was not as unattainable as she first thought.
Keeping true to her high school events at MBU, she competed in the 5 kilometer for cross country, and the 1500 meter (college level mile) and the 800 meter in track.
While Cline originally thought she was not skilled enough to compete at a collegiate level, she went on to secure the No. 2 spot on the distance team.
"I didn't think I was a good enough athlete to compete at the college level 'cause I thought everybody were top-notch athletes and that's not really the case," she said.
After completing her undergraduate studies in 2010, Cline immediately went into a master's program with Missouri Baptist University in 2011.
Cline earned her master's degree in school counseling in 2014, during which she was a graduate assistant for the cross country and track teams from 2011 until 2013 as well as fulfilling counseling internships between 2013 and 2014.
However, Cline will be the first one to say that she did not take the GA position just because of the love of the sport.
"Even as a [graduate] assistant I loved that opportunity, but I was using it as a way to pay for my school," Cline said. "I wasn't using it because I thought I wanted to be a head coach someday."
Now as a head coach, Cline strives to live and coach her girls along the advice she always received from her father.
"My dad always had these two rules for my family growing up: the first is remember your name and the second is if you fall down get back up."
Connecting coaching to her counseling background, Cline has already begun to make the team her own.
"I want to make [the team] more like a mentoring program that builds on girls' strengths and helps them meet their goals for when they leave here," she said.
For the athletes, Cline's changes are already being noticed.
"[Cline] doesn't let you slack," said Kaitlyn Winter, cross country national qualifier. "To her you're not just another person, you are her athlete. She doesn't look over you."
Kelly Barns, a junior on the MBU track and field team, added: "She is a coach that cares and wants to see the team do better, but also our spiritual life, continue to grow closer to God while our times continue to go down on the track."
The No. 1 runner on the men's cross country team agrees with this assessment.
"I like that she is here, I can already see positive changes in the girls program just because of how Coach Cline does things," said Jacob Pinkley.
While Cline does enjoy coaching, she indicated how she does eventually want to move into counseling as she had originally planned, but doesn't know how long she will coach before leaving.
"I can see myself doing this for at least a few more years and just seeing what happens," Cline said.
Whether she coaches for one year or 20 years, it is clear that she will have an impact on her athletes.