Students from all majors gear up for an opportunity to peer into the professional world with Media Talk speaker Jack Feivou.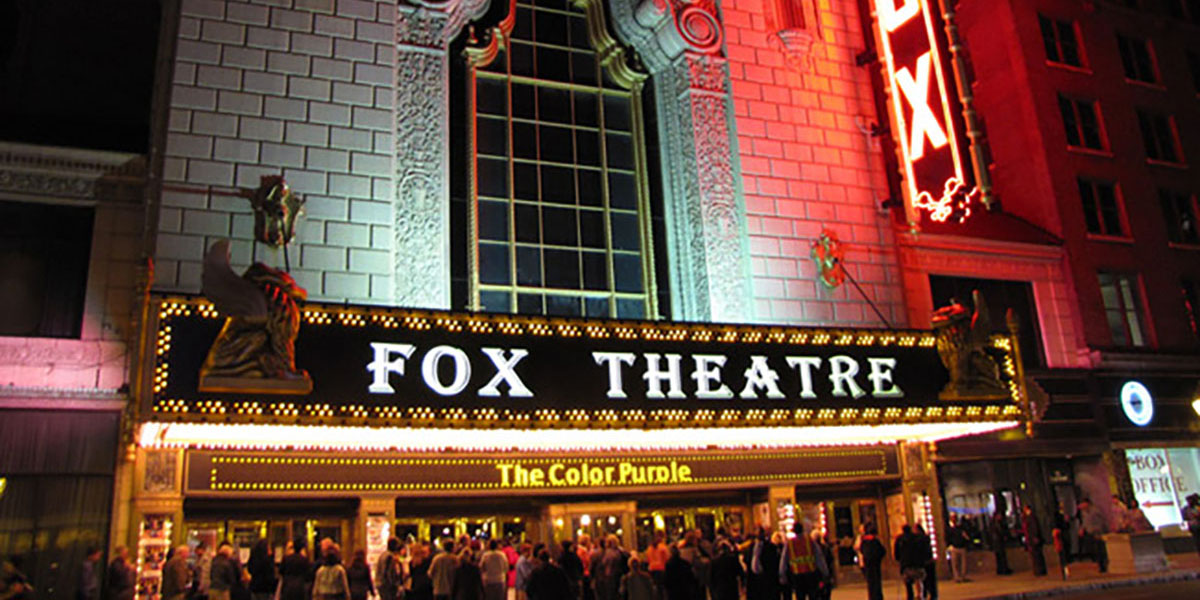 Photo courtesy of Fox Theatre

__________________________________________________
The Missouri Baptist University Media Talk series will continue at noon Tuesday, March 21, introducing guest speaker Jack Feivou, president and CEO of Fox Associates.
The free speaker series will take place in the Don and Mary Pillsbury Wainwright Performance Hall of MBU's Pillsbury Chapel and Dale Williams Fine Arts Center.
According to Missouri Baptist University communications, as the president and CEO of Fox Associates LLC, Feivou leads multiple business units including the operation of the Fabulous Fox Theatre in St. Louis, Fox Theatricals, which produces Broadway shows and has garnered 150 Tony nominations and won 48 Tony Awards, Fox Concerts, Metrotix and Parking Management Services.
Amanda Staggenborg, MBU assistant professor of public relations and communications, coordinator of the Media Talk series, is excited to be bringing in Feivou.
"This year we wanted to focus on the arts and there was really no better focus on the arts in St. Louis than at the Fox Theatre," she said. "Everyone recognizes the Fox Theatre."
Feivou, who came to Fox Associates LLC from Disney, has an extensive background in operational management and with that comes a heavy dose of communication, so it was "just a natural fit on how we communicate the arts in St. Louis, but also how very specifically they focus in strategic communications," said Staggenborg.
The sixth year Communications Department faculty member views this Media Talk as a learning opportunity for students, but said she gains knowledge from these talks as well.
"It is a learning experience for me in terms of what the Media Talk was and how it's taking effect in what it's developed into. So before … we weren't sure how the format was. So now we really have it down to student interviews. It's something that has been recognized not just at the university level but also other schools in the St. Louis area," said Staggenborg, who joined the MBU in 2011. "So it's a learning experience for me every time we do it because every time is like the first time … in terms of excitement and enthusiasm, but we get our groove and our rhythm and our pattern and it's just something that we enjoy."
Of course, student learning is the most important part of every Media Talk.
"It's multifaceted. So the students in communications can get obvious knowledge from what they hear from me in the classroom every day and they can hear from somebody that lives and breathes and writes this stuff every single day," Staggenborg said. "As far as other majors and other schools, it's important because people can know they can apply what they are learning and what they hear and what they see to any other industry … PR is very interdisciplinary. We apply a little bit of everything in every field so you can almost tailor this to anyone."
Like many of the previous Media Talks, this is an opportunity for students to network and put their names out there in the real world.
"Usually what happens after the Media Talk is over is there is a line of students that come up and they introduce themselves to the speaker. They give their card or the speaker gives them his or her business card. They keep in contact for internships, for advice, for possible job opportunities. I welcome that," Staggenborg said.
This Media Talk is an event for many to enjoy.
"I think this is going to be our most … culturally diverse Media Talk because we are focusing on the arts but we're also focusing on communications and that goes into business a little bit," Staggenborg said. "We've got so many theatre people that are interested in attending but at the same time people from business and communications are excited too in their own little ways. I'm interested in seeing how the turnout is going to be. I think it's going to be very cool."
The last three Media Talk events have been standing room only and with growing interest, this next event may prove to be even bigger.