Local band Bleach has come into the spotlight recently. The band is featured in multiple venues around St. Louis and Kansas City, opening for more seasoned bands as well as releasing their original music.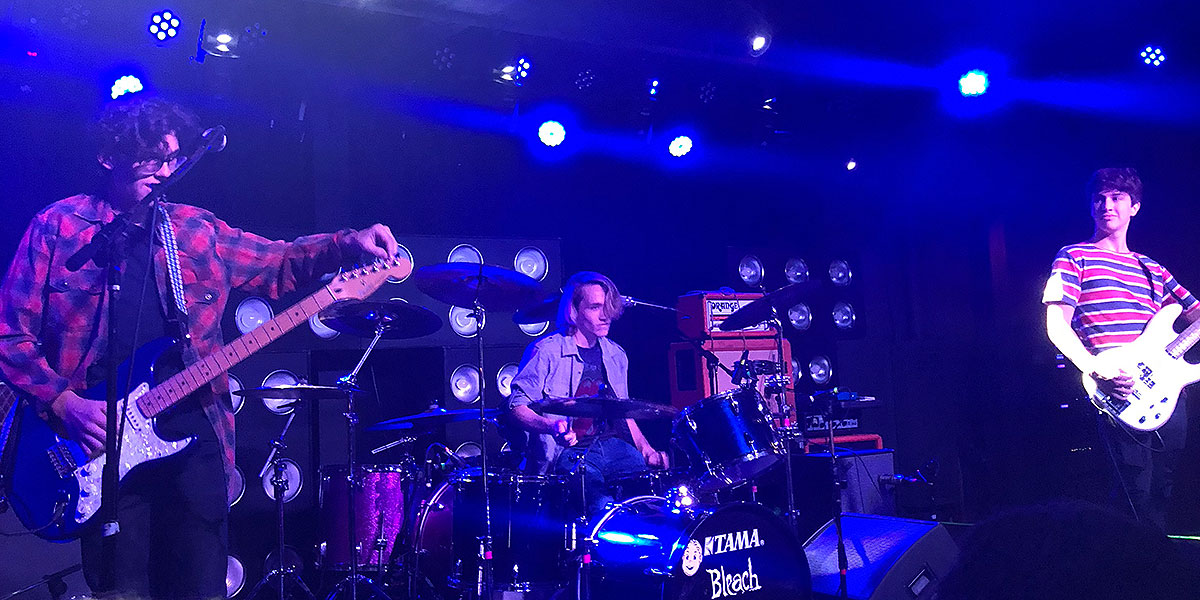 Photos by Sarah Broyles
Members of the band, Bleach (left to right), Jackson Steevens, Kaleb Mylenbusch and Lance Johnson, play a recent show in St. Louis. The band has been playing shows at several area venues recently, including opening this summer for Badflower at The Ready Room.
__________________________________________________
Local band Bleach is cleaning the floor with the talent they are bringing to the stage.
Lance Johnson, 17, lead guitarist and singer, a junior at Westminster Christian Academy, formed the band in the summer of 2016 during their time at Mozingo's Rock University.
"At the start we only played cover songs," Johnson said, "but then we branched out to mostly playing and writing original songs."
Other band members, Jackson Steevens, 17, a junior at Fort Zumwalt West, and Kaleb Mylenbusch, 17, a junior at Fort Zumwalt West, play guitar and drums.
"Not only are we bandmates, but we are best friends too," Johnson said.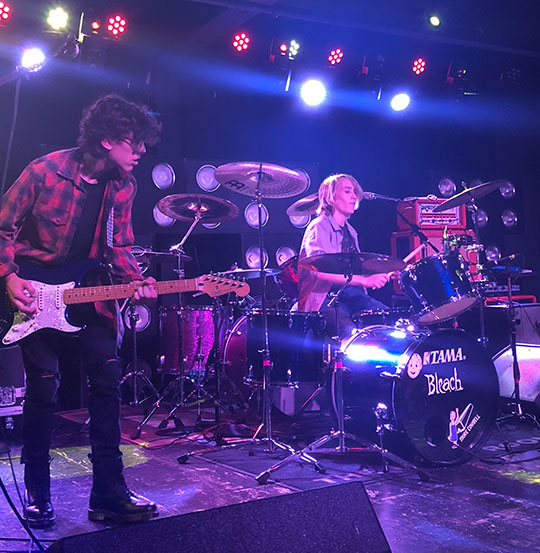 The three-piece rock band plays shows in the St. Louis and Kansas City areas, writing original music and performing covers.
The band has come a long way since its start in June of 2016, playing at venues like Cicero's (before it closed last June), Firebird, Sky Music Lounge, Just Bill's, Blueberry Hill, The Ready Room, Delmar Hall and The Rhino in Kansas City, said Johnson.
"We thought that we could be the best band at covering Blink 182 songs," said Steevens. "Now, I think you could find us doing this in 10 years."
Kati Brummet, 17, a junior homeschool student from St. Charles, is one of their most dedicated fans.
"I heard them at Picasso's and everyone they played for loved them," Brummet said. "Then me and my friends all listen to them on Spotify."
Bleach has become a favorite group at their local private high school, Westminster Christian Academy.
"Every time I go to a Bleach concert I have a blast because it is so fun to see my friends performing on stage," said Maggie Ellis, 16, a junior at Westminster. "I love the song 'Elizabeth' because they always play it last and it is something to look forward to. Their rock style music is fun to dance to and see performed live."
"I listen to Bleach on my ride back to school during breaks and long weekends," Natalie Bunton, alumni to Westminster and current freshman marketing major at Auburn University, said in a text message.
Bleach's name is inspired from Nirvana's 1989 album titled, "Bleach," but it is much deeper than that.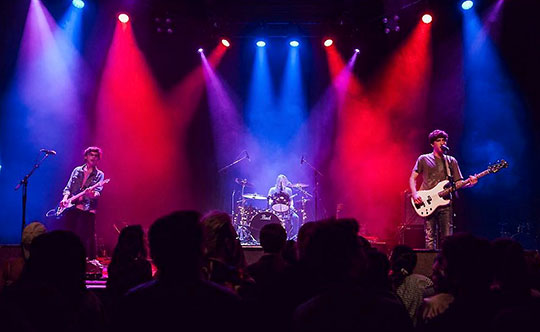 To find their music, go to their Instagram or Facebook page. There is a link in the bio that takes you to their music.
"That's where we got the idea," Johnson said about the Nirvana album, "but it wasn't official until I bleached my hair before our show at Mozingo's. That's when we decided that our name would be Bleach."
Erica Ridenhour, 19, a sophomore nursing student at Samford University,  has seen the band at The Firebird during summer breaks.
"I don't usually listen to rock music, but they are natural entertainers. I really enjoyed watching them, and actually found myself singing along," Ridenhour said in an email.
Their love for music has bonded the band, but they have created memories to last a lifetime.
"We are lucky that our job is our passion," Mylenbusch said after a set this fall where the band performed at The Ready Room in Grove City.
"We get in the car after shows and practices and we just drive around to really random places and jam out to music," Johnson said.
Bleach has even caught the eye of well-seasoned musicians.
"We played a show with them and their mom literally dropped them off to play the venue. Those little dudes are incredible musicians and even better performers," said Daniel Schick, singer and guitarist of The Schick Brothers Band. "They have something really special and I wouldn't be surprised if they made it big."
The Schick Brothers Band are a locally formed band that has moved and played across the country, coming back to St. Louis occasionally to play. Bleach has opened for them at The Firebird in downtown St. Louis.
Since Bleach's start their goals have changed and grown.
"Our ultimate goal is to make a living as musicians and be able to do what we love to do and have the ability to keep doing it," Johnson said. "Right now we just want to grow our following and get more people to listen to our music."
Over the summer, Bleach had big plans for their growth, playing shows in Kansas City and St. Louis, but their biggest accomplishment was releasing a six-song EP at the start of the season with four new songs.
Regarding their future, Bleach will continue paying venues around St. Louis, and are expecting to record a new EP this fall. Their hope is to continue to expand their fan base and achieve their dream of supporting themselves through lucrative music careers, and hopefully perform at the Pageant, as it is their favorite music venue in St. Louis.