As there is more going on during the news than the audience sees, there is also more to the teachers at Missouri Baptist University than we might acknowledge. Getting to know Paula Bennett about her time in the news industry, academia and her farewell to MBU.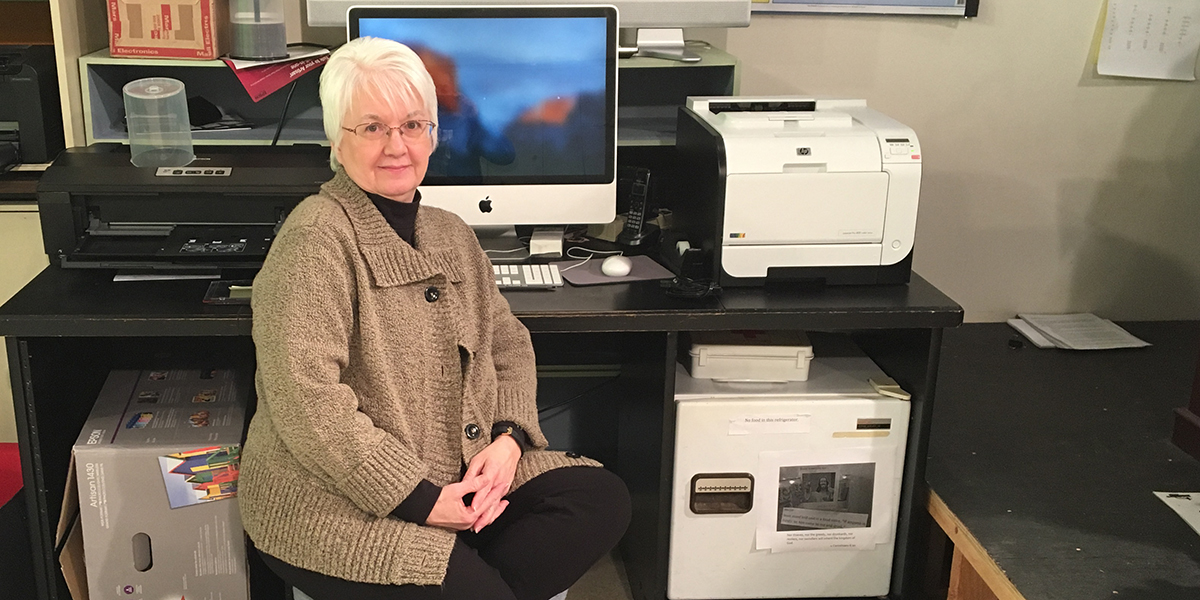 Photo by Chris Hodges
Paula Bennett, associate professor of broadcast media and communications, can often be found in the Broadcast Studio on the first floor of the Fine Arts Center.
__________________________________________________
Ever been to a play and the lights start to dim?
The play has come to a vital scene where an actor is performing a monologue.
You are perched on the edge of your seat absorbing every word and emotion the actor expresses.
Well, this is the type of feeling you get when you walk into the room of Paula Bennett, an associate professor of broadcasting at Missouri Baptist University who has a passion for video, film and television directory.
Bennett, who was born in Baton Rouge, Louisiana, and has lived in multiple towns throughout the state, attended Bolton High School, then LSU for her undergraduate degree, and the University of Southern Mississippi for her master's degree.
So how did Bennett become such a prominent professor at MBU?
The answer can be found in her previous profession as an engineer for KSDK Channel 5.
"I was an engineer, which means I pushed the buttons and made TV happen. I worked in all of the positions inside the studio. I did not go out as a photographer but I worked all the different jobs inside the studio," said Bennett.
Bennett, who worked 26 years as a TV engineer, was an adjunct at MBU for seven years before becoming a full-time professor for 11 years. In 2013 she won the MBU Distinguished Teaching Award.
Bennett said she believes a job dealing with news is the best job anyone can have due to the variety of information one can discover.
"Someone who wants to know what's going on, what's happening next, what's in the works, what did people do, a news job, that's what you do. [In] a news job you find all those things out," Bennett said.
With Bennett's phenomenal resume as an engineer and professor, some may find it bad news that she is retiring.
But even going into retirement, Bennett believes MBU broadcasting will be left in good hands.
"I'm leaving the program in very good hands. We have already selected a person to come in after me and I think he is going to really strengthen the program even more," Bennett said. "We're going to make some changes in the curriculum taught in some of the classes."
For most, there are good and bad parts about a job.
In Bennett's case, while she absolutely loathes doing paperwork and grading papers, the students are what drives Bennett to do her best work.
"Students, I really like students. I really like talking to them, I really like hearing their ideas. I like it when students have that light that goes on that says, 'I understand now.' That's one of the best moments of the day. When I see students get something," said Bennett.
Just like more goes on behind the scenes during a news broadcast, there is much more to Bennett than just dealing with video and news.
Bennett has had the luxury of visiting three countries, which include England, Scotland and Wales.
"I spent 21 days touring around. It was wonderful," said Bennett.
In July 2016, Bennett spent four days with her sister in London planning their next destination and how they would get around.
So what exactly stood out to Bennett when she chose to work at MBU?
Bennett said the core values are what separates MBU from other universities.
"The Christian ethic behind those values makes us different," said Bennett.
So just how much has being a Christian influenced Bennett?
Bennett said that since working at MBU, her relationship with Christ hasn't changed but is intact.
"Changed? Not really, but people will tell you that working here is a mission and it is a mission, opportunity. And so I think by helping students live up to those core values, helping students understand ethics and the fact that you do things even though nobody's looking has helped make me stronger," said Bennett.
Bennett said that if she could tell her past self something, it would be to try new things and believe in herself.
It would appear as though she has given this advice to her students as well.
Katie Attaway, a senior who majors in broadcast media from St. Clair, Missouri, said the most important piece of advice Bennett has given her was, "Not to be so hard on myself. Nobody's ever going to be happy with the work that they put out and at some point I just have to let it go and be."
Haley Sandvoss, a junior at MBU who majors in public relations and minors in broadcast media, said Bennett has told her "to always strive to learn new things."
While Bennett reaches out to students at MBU, she also has a way of influencing other professors.
Kasey Cox, an assistant professor of communications and theatre at MBU, from Salem, Illinois, said, "The remarkable thing about Mrs. Bennett is the way in which she inspires greatness from those around her simply by expecting it."
After hearing how Bennett reaches out to so many at MBU, surely there must be someone who she finds inspirational.
While picking one person to sit down and have a conversation over lunch with could prove to be a challenge for Bennett, she said William Shakespeare would be her choice.
"There's way too many. It would have to be a very large crowd at lunch. I want to talk to William Shakespeare and find out if he really did write those plays," Bennett said.
Even though it appears that some of MBU's great teachers will move on, Bennett believes the university will shine on forever.