Earlier in the semester eight vehicles were broken into in C Lot, but it appears the burglar has moved on to greener pastures after Public Safety stepped up their patrols of the lot.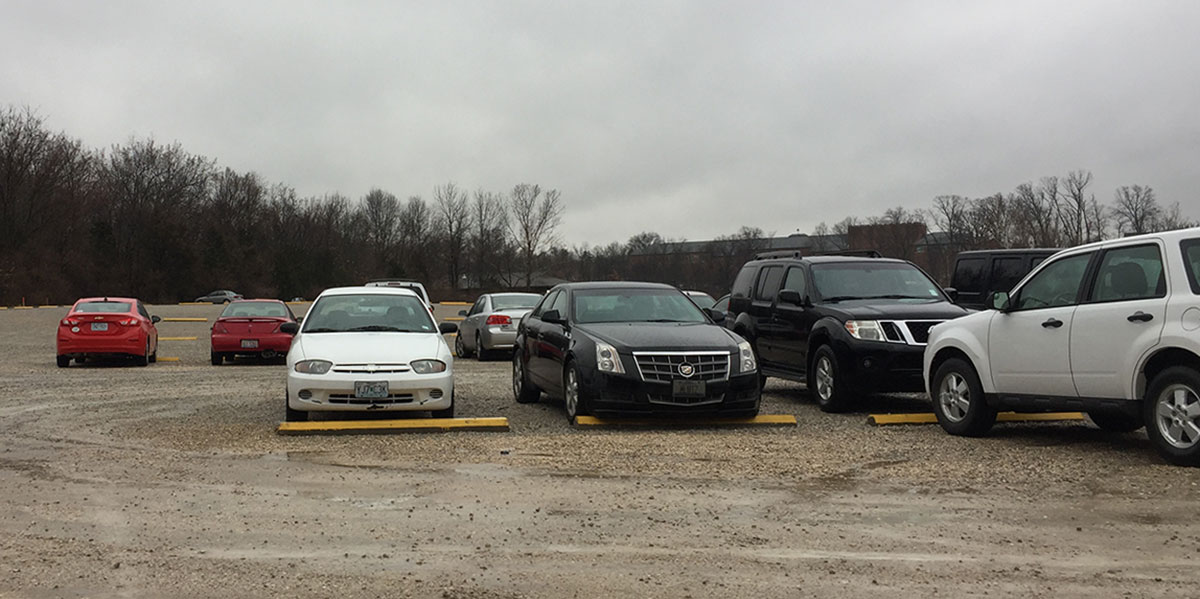 Photo by Stacy Rohan
Several vehicle break-ins were reported throughout the month of January by commuting MBU students who park in C Lot, sparking concern across campus.
__________________________________________________
As the semester began, a total of eight vehicles parked in C Lot were broken into and reported to Public Safety as several students were robbed of valuables, but no additional break-ins have been reported in the past three weeks as the offender has apparently moved on down the road.
Director of Public Safety Steve Heidke, who sent out a mass email on Jan. 17 warning the student body of these robberies, said a total of eight break-ins were reported over a four- or five-day period.
The suspect is not a student, but rather has been described by a witness as an African American male in his mid- to late-20s with long dreadlocks.
"All we know about the suspect is that he had a fake license plate on his car. The only description we got was a plain black Chevy Malibu with a fake paper license plate," Heidke said. "We don't know for sure it's him, but we know it was not a student, and he was parked in a parking spot amongst the cars that were broken into."
According to Heidke, each break-in has been a result of "students leaving stuff sitting on their seats," including cash, change cups and an iPhone.
Dr. Andy Chambers, senior vice president for student development and professor of Bible, wants to advise students to lock their cars, cover their valuables and always know where the blue light phones are on campus.
Emergency Blue Light Phones are strategically placed throughout campus, allowing students an outlet to resort to when in need of assistance of any kind.
According to police reports, the suspect breaks into cars strategically, knowing exactly how to pop the lock.
Based on this method, Heidke concludes the man has experience with car-clouting, which is stealing from a locked vehicle.
Among the victims is senior Justin Schuttenberg, who was robbed of a change cup that was sitting visibly in the cup holder of his vehicle, parked in the third row of the C Lot gravel.
Schuttenberg did not see the suspect, and he reported the break-in to Officer Jim Reynolds as soon as he noticed the car lock had been broken and his change was missing.
Officer Reynolds did spot the suspect at one point and was able to take a photo for evidence.
"You can see that the suspect had his license plate covered, so that tells me that this guy knew what he was doing and was definitely targeting our students. That's why I started telling students to please not try to engage this guy," Chambers said.
The day he sent out the email, Heidke said, there were multiple reports of break-ins, and Public Safety almost caught the suspect, but he drove off once he saw them approaching from the gravel.
Since this pattern of break-ins, Public Safety has stepped up its patrol, and the Creve Coeur police have agreed to patrol campus much more regularly, especially C Lot, officials said.
"We're trying to find him," Heidke said. "Creve Coeur is just as interested in finding him because he could just as well go up and down Conway Road and do this, so we're working hand-in-hand with the Creve Coeur Police Department, but we have very little information."
Chambers is encouraging students to report any suspicions to Public Safety because those reports are the primary source in helping officers notice patterns and ultimately put a stop to this sort of behavior.
"I don't think students are fully aware of how vital of a role they play in stopping crime," Chambers said. "Administrators often don't find out about things happening unless students let us know, and when we know, we jump on it. Students truly are the most important link in that chain of protecting each other, protecting this campus, keeping themselves and their friends safe."
In his experience, Chambers said it's an abnormality that there's this much crime in C Lot. In his 17 years at MBU, he has only heard of a maximum of one or two auto break-ins a year.
MBU is hoping to pave all of C Lot this summer, installing cameras in order to make the lot as secure as any other place on the university campus.
"For several years, we've planned to pave that lot. I think in the summer we'll finally be able to do it but it's a matter of balancing and trying to keep tuition cost from going up as much as we can," Chambers said. "When they build the new lot, they're going to build the infrastructure for the cameras. … It's in the works but it's not a done deal."
Heidke said recently there have been no additional break-ins since the last report in January.