Perhaps recognized by his long locks and Zumba graces, Dr. David Bailey, professor of psychology at Missouri Baptist University, shares his honest words and hand gestures that reveal a new understanding for who this Renaissance man really is.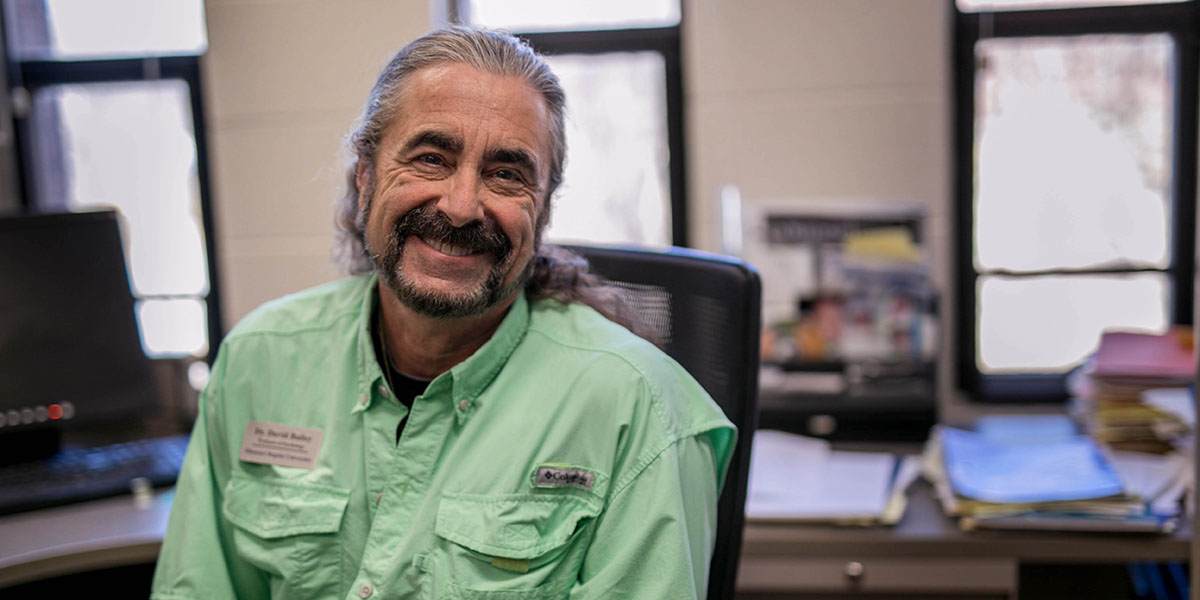 Photo by Abigail Scanio
__________________________________________________
With a Nike gym bag on his office floor, Dr. David Bailey, faculty at MBU since 2009, licensed psychologist, certified personal trainer and ordained minister, had just arrived from the cold outdoors moments before.
His second-story office windows in the Administration Building overlook the walk in front of MBU's Field Building and his desk is scattered with papers, psychology textbooks and works of theology.
Bailey had just returned from StarBridge House, part of a nonprofit Christian organization in Wildwood, Missouri, of which he is the founder and president. StarBridge House is dedicated to prayer, spiritual formation and helping the poor and needy.
"I did yoga today, step class, and will be teaching Zumba today at 4:30. Will you be there?" asking over his shoulder as he put away his jacket and gloves.
Illinois-born professor, high school trumpet player, licensed psychologist and therapist, Bailey grew up in Peoria, Illinois. He has three siblings and was raised by what he described as "good and Godly" Southern Baptist parents.
"I left home in high school," he said thoughtfully. "Before I was saved, I was selling drugs and things like that. In my late teen years I got in a little trouble and was placed in jail. Also around that time I was given what was called then a draft number because the draft was going on. My number was 11. So, I was given an option of going to court and possible jail time, or joining the Army."
He laughed at such an option and said with brevity. "So, I went into the Army with that in mind."
So choosing between standing on trial with an unknown sentence to follow and serving in the United States Army, he chose the latter.
As the Vietnam War was going on, Bailey was stationed in Schweinfurt, Germany in the 3rd infantry division from 1972-73. He was trained for combat with specialized training as a red-eye gunner to shoot down airplanes with a ground-to-air missile launcher.
His focused eyes showed careful selection of his words and his hand gestures mimicked ocean waves as he went on.
"But, I got saved in the Army. The Army wasn't a real good fit for me, but looking back I see God's hand in it," he said. "I was stationed overseas, and far away from all of my friends and family, people I knew."
Bailey went on to say, "I think that even helped my soul searching. Just truly being on my own, and you know, trying to explore the meaning of life. I really was serious about the meaning of life and what is truth since I was very young. Deep inside there was a lot of soul searching going on."
While in Germany, Bailey said he experimented with drugs a lot.
"I can remember one day there was a needle in my arm and I was going to inject morphine, which was what I was doing at the time," he said. "I can remember how time just stopped. And it was kind of like, 'Whoa, what are you doing?' I had crossed that line and I kinda knew it. But, I just kept going in that direction."
Bailey also remembered being introduced to the idea of exploring a rather famous red-light district in Germany one night. He remembered thinking, "Well, if I'm gonna go down this path I might as well do it right, and just see what all this stuff is about."
However, while walking the dusky streets waiting for the sun to fully set, Bailey was approached by street witnesses known as "long hairs," or "hippies," who drove him to their community in Munich, Germany. Bailey thought he was going to a party, but found out it was a Christian commune.
"I had never experienced love like that," Bailey recalled. "No drugs. It was just very clean, nobody was using people, no game-playing, and they were just sharing the Bible, scriptures from the Word. I can't put it into words."
That night and for nearly a month after that, he chose to stay in their community.
"They laid hands on me, and I don't remember all the words, but I got saved. It was like everything was new, like seeing everything for the first time, even the trees and the sun," Bailey said. "I stayed there quite a while, longer than I was supposed to as you are AWOL after 30 days. I was pushing the limits before I went back to the base. But, I quit drugs, just quit everything and was born again. I even went to the commander of the post and I told him I quit, was saved and I wasn't going to carry a rifle anymore."
But, of course, it wasn't that easy.
Bailey laughed, "Then I found out you don't quit the Army. I'm just sure they thought I'd just gone nuts."
But Bailey stayed in the military and fulfilled his commitment of two years, and "they could really see a change, a positive change in me in so many ways. I have a feeling some good came of it at the time."
After his two years in his Army service were complete, he moved back to Peoria, Illinois, where he connected with a street witnessing community much like the one he met in Germany.
He made this group his home family, passing out Gospel and information pamphlets, now known as "tracks." This was during what he called the "Jesus movement. … We lived in a Jesus commune."
"Truly, people were getting saved if not every day, every week — into the night, young people were witnessing for Lord Jesus and people were getting saved. God really blessed this street witnessing and communal living. It got pretty big in a good way," Bailey said.
With his passion for the human mind and truth, after earning his master's and doctorate degrees in psychology from Biola University in southern California, in 1984, Dr. Bailey was licensed as a marriage, family and child counselor, and became a licensed psychologist in 1985.
Bailey is currently licensed in both California and Missouri. While living and working in California, Bailey worked with some large Christian organizations including Focus on the Family, Chuck Swindoll's church, and the  New Port Mesa Christian Center.
Bailey and his family moved to St. Louis in 1994 where he has worked as a consultant with the state and federal government, was regional director of the Meir Clinics overseeing clinics throughout Missouri and southern Illinois. He was president and founder of Bailey and Associates Psychological Health Services and is currently president of StarBridge Ministries.
Bailey, who has taught at the graduate and undergraduate levels since the early 1980s, has taught at both secular and Christian institutions in California and Missouri.
Besides working as a clinical psychologist and marriage and family therapist, Bailey is now in his fourth decade of teaching the integration of psychology and theology, which was his specialty while studying at Biola University.
With all of Dr. Bailey's experiences, one of his most rewarding currently is teaching the General Psychology course at Missouri Baptist University.
"There's just something about that class where people are very open. They're at an age and place where they're open to new things and finding out who and what they are," Bailey said. "Maybe one of the reasons I like working with that age group is because that's the time when I was saved.
"I know people make major life changes at that time, and I feel like I can relate very well with them even though, chronologically, there's a big spread. Spiritually, I just feel like I'm in the right place there, that class in particular."
Dr. Janet Puls, MBU's Social and Behavioral Sciences Division chair, said in an email, "Dr. Bailey is dedicated to his students and their success. He is a very positive role model for them in and outside of the classroom. Dr. Bailey naturally integrates his faith with learning every day as he interacts with students and colleagues."
Living uniquely, Bailey continues to make a stand-out first impression with those who meet him.
"I knew the moment I saw Dr. Bailey drive onto campus in a red convertible while sporting a ponytail, the students were going to love him," Dr. Holly Brand, professor of psychology, said in an email. "And I was right. But, not just because he has a 'cool' aura about him. Dr. David Bailey makes his classes fun and interesting.
"Students have consistently been very complimentary regarding how much they enjoy interacting with him in class. As one who teaches upper-level courses in psychology, I am grateful for this because Dr. Bailey's general psychology courses set the tone for our Psychology Department. The characteristic that I most appreciate about Dr. Bailey is that he exudes the spiritual gift of faith. His rock-solid assurance of, and faith in, the Lord is refreshing, encouraging and inspiring. He is a blessing to his students, his colleagues and the MBU community."
To Bailey, the names on his class roster are not mere numbers to count, but societal members worthy of hearing life-impacting truth.
"They're adults. They're not naive anymore, most of them are very mature and conscientious," Bailey said. "Here are my three things: Know who you are, Whose you are — that's the God part — and then what He wants you to do.
He continued: "Those are the main things. I don't care if you're 16, 26, 60 or 106, but constantly know, 'Who am I, Lord, what do you want me to do?' and then do it out of love. The love of God is the strongest force in the universe. It never ends, and it never fails. It's more true than we can comprehend."
As for his home life, he described it as "spiritual, real and always changing. … Anything real is spiritual," said Bailey, who has been married for over 38 years, with two grown sons and five grandchildren.
Bailey also explained a few of his personal life choices, such as his grown-out hair, which he sometimes pulls back into a ponytail and never cuts.
"I used to, and still do, pray and fast quite a bit on a regular basis. A few years ago I was wrapping up a 40-day prayer and fasting, and I felt inspired of the Lord to enter into a Nazarite vow," he said. "It's where you don't cut you hair, you don't drink alcohol and you don't touch dead things, dead bodies in particular. There's a separating to the Lord. And I've fasted from other things in my lifestyle. For example, I have no TV. So, I don't drink and I have no TV. My private life is rather monastic."
Bailey mentioned his back yard having a prayer labyrinth and other spaces specifically designed for prayer and meditation. "I have opened it up to missionaries and others seeking to deepen their walk with God." One thing he has been meditating on in the past year has been Psalm 46:10 which says, "Be still and know that I am God."
Bailey explained, "The path of peace and the walk of the spirit is somehow entailed in 'be still and know that I am God.' I'm still experiencing that, and growing in that. It has been very healing for me, very meaningful and very wise."
A perhaps surprising part of Bailey's personal life is his love for yoga and a yogic lifestyle.
"My yogic practices help me to be centered," he said. "I integrate my lifestyle with what I call 'yogic concepts' or traditions. My personal practice, and that which I teach is always Christ-centered and Biblically based.
"The yogic practices, and other habits I have included in my lifestyle, are more oriental as opposed to occidental, which is really just a direction of simplicity and balance I hope to include in creating a personally relevant Biblical and spiritual lifestyle as I do my best to hear from God and be directed by the Holy Spirit."
But, when experiencing the home he created in his campus office with bookshelves, photos and MBU mementos, his first love pointing others to a relationship with Jesus shone through.
"I really like this place," Bailey said. "I have a great peace that MBU is an important ministry place for me. I could really get a job, like anybody, at lots of different places, but to have a sense of a calling and a ministry gives greater meaning to life, period.
"In some ways, even though I've got 'doctor' in front of my name right now and I'm a psychologist and professor, I'm really still just a street witnesser at heart. I just feel led to tell people about the Lord and the power of God.
"A lot of people in the classes I teach aren't Christians, or all they know about Christianity is church. I think that somehow the Lord uses me along with a lot of other people on this campus to bring them closer to Him. I just like being someone … that explicitly promotes kingdom-building work. I just like it. I like being a part of that movement."