When it comes to fine-tuning the art of pitching, Spartan hurlers know that honing their form is crucial in the process.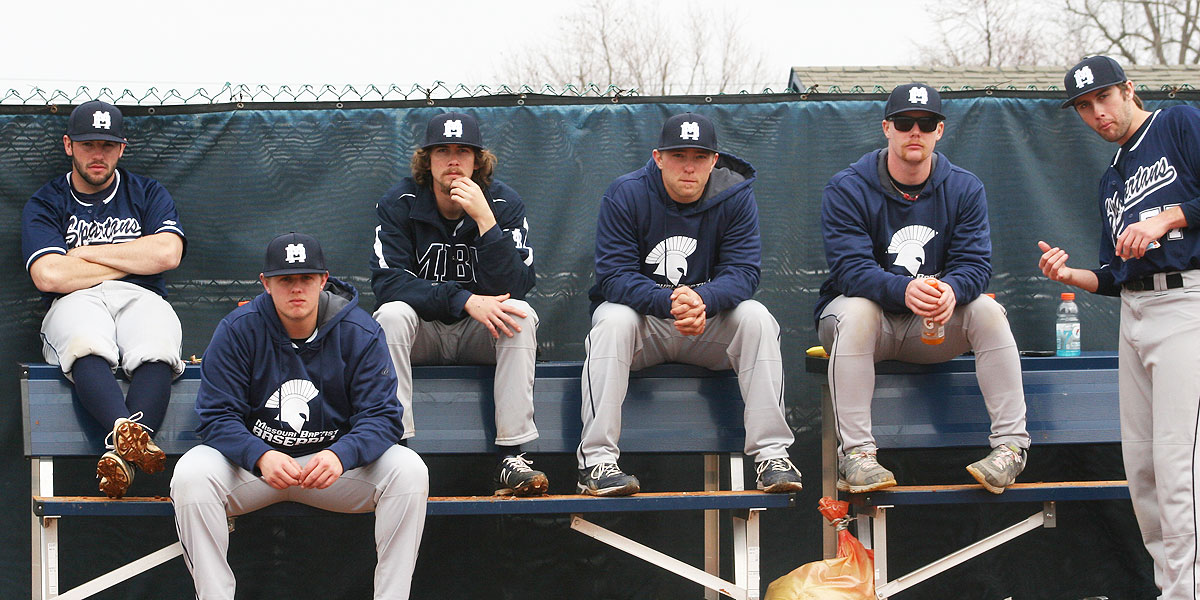 Photo by: Colby Duncan
__________________________________________________
What is perfection? How much do MBU pitchers practice their mechanics?
100 times? 1,000 times? How about 10,000 times?
A Major League pitcher has to do around 1,000 repetitions to learn something new or to try something different before it starts to become habit, or a mindless act.
That is why Major League pitchers get paid the big bucks; they practice, practice and practice till they have nearly perfected the right mechanic they are wishing to obtain.
Now being at an NAIA school our pitchers are not Major League pitchers, but they are not far from it.
MBU's baseball team has won its conference for over 10 years and has been ranked within the top 20 teams in the nation for the last five years.
MBU's baseball team has even had players sign contracts with Major League organizations.
Josh Fuentes, MBU's shortstop last year, is the most recent MBU player to sign a Major League contract, playing with the Colorado Rockies.
Also last year's team had two All-American honors on the team, one being left fielder Orlando Olivera and the other pitcher Brandon Zywicki.
Olivera also earned the AMC Triple Crown with a batting average of .445, 11 home runs and 64 RBIs. Olivera also set the new Spartan season record in hits with 101.
MBU's starting pitcher Zywicki went 11-1 last year with 97 innings pitched with 66 strikeouts and only 22 walks.
In fact, earning All-Conference Awards and Academic All-Conference Awards were Eddie Uschold (Coach), Michael Yarborough (P), Josh Fuentes (SS), Brandon Zywicki (P), Erik Garcia (C) Dan Harper (1B), Jeff Smith (2B), Brent Zimmerman (3B), Eli Roundtree (OF), Trevin Craig (OF), Ryan Clarke (OF), Joe Stropp (C), Dave Mullins (P), Curtis Sawchuk (P), Michael Murano (P), Ryan Clarke (OF), Vincenzo Fresquez (1B), Tyler Greminger (OF), Paul Hrvol (P), Chris Kenney (P), Max Osnowitz (P), Ed Pilgrim (OF), Dustin Raney (P), and Chris Romano (P).
So how hard do the MBU baseball pitchers work to obtain perfection within their mechanics?
Well, with me being one of the pitching staff, I can tell you first hand that every pitcher on our staff works as hard as possible to have the best possible mechanics as their bodies will allow them to have.
The pitching staff works on their mechanics six days a week, using beneficial throwing mechanics with a number of repetitions every single practice.
Five days a week MBU pitchers run off of a throwing schedule, and the sixth day pitchers get to throw in an intrasquad game against live hitters to see how effective they are against live hitting.
Every single day except for the intrasquad game the pitchers are on a set schedule for how much they are supposed to throw every day.
The first day of the throwing program begins the day after the pitcher has pitched live, this being in an intrasquad game.
The MBU baseball team doesn't play any games against other teams in the fall as MBU's baseball season is in spring and that is when they face other opponents.
The first day of throwing is called the recovery day, the long day. This is where the pitcher will throw long toss, which is anywhere from 200 feet to 280 feet depending on the strength of the pitcher.
After the throwing, the pitcher has a choice of a couple of different long-distance runs to get the blood pumping.
This helps to break up lactic acid that forms within the pitcher's arm that was created by pitching the day before.
Lactic acid is an organic acid that is produced within the muscle tissue after strenuous exercise.
After running, the player has a series of band exercises to help with small muscular strength and flexibility.
Bands are rubber strings that are used as a resistance against muscles.
The second day is called midday, where the pitcher throws 120 feet to 180 feet and then throws a flat ground.
A flat ground is simply a flat bullpen, where the pitcher tries to spot up different spots on the plate with their throwing partner while only throwing about 75 percent.
A bullpen is pitching off of a pitcher's mound but not against any batters, and the pitcher will throw anywhere from 20 to 80 pitches depending on the pitcher's role; being a starter, reliever or a closer.
After the throwing is done the pitcher is given a fast twitch exercise to help express the muscles used while pitching.
An example of a fast twitch exercise is something along the lines of sprints; fast twitches are fast movements within the muscles, or short bursts.
After the exercise the player is to do a kettlebell workout. A kettlebell workout is a strength exercise with hybrid weights.
The third day pitchers have a bullpen day, which is where pitchers warm up throwing at about 120 feet until the pitcher feels comfortable to throw a bullpen.
After throwing the pitcher does a run that contains a mixture of slow twitch and fast twitch exercises.
After the running the pitcher does a series of band exercises.
The next day is brief day, which is where the pitcher throws in between 90 feet and 120 feet and throws an extended flat ground.
The pitcher's exercise afterword is another fast twitch exercise.
After the exercise is a kettlebell workout.
The last day of the program is game day and this is where the pitcher gets to pitch in the game against different batters. The job the pitcher has dictates how long the pitcher will stay in the game.
The exercise after this is a brief long distance run to keep the blood flowing after the pitcher's appearance.
Every day of throwing, no matter what distance, also has a routine with about seven different build-up throwing techniques before being allowed to do a full motion of an actual throw.
The pitchers also do another type of band exercise two times a week on their own time in the trainer's room.
Pitchers also have weight room workouts in MBU's old gym called Muncy, four times a week after the pitchers practice.
The MBU pitchers work hard along with the rest of the MBU baseball team and the team is committed to being first in the nation, to being the best baseball team in the NAIA.
With pitchers' incredibly detailed attention to mechanics and training, this very well might be the year the Spartans take it all.