Following beloved fairytale characters like Cinderella, Rapunzel and Little Red Riding Hood, "Into the Woods" is a fun, fast-paced musical that challenges the audience to consider moral questions about good and evil as small, hidden elements of the Gospel message propel the story.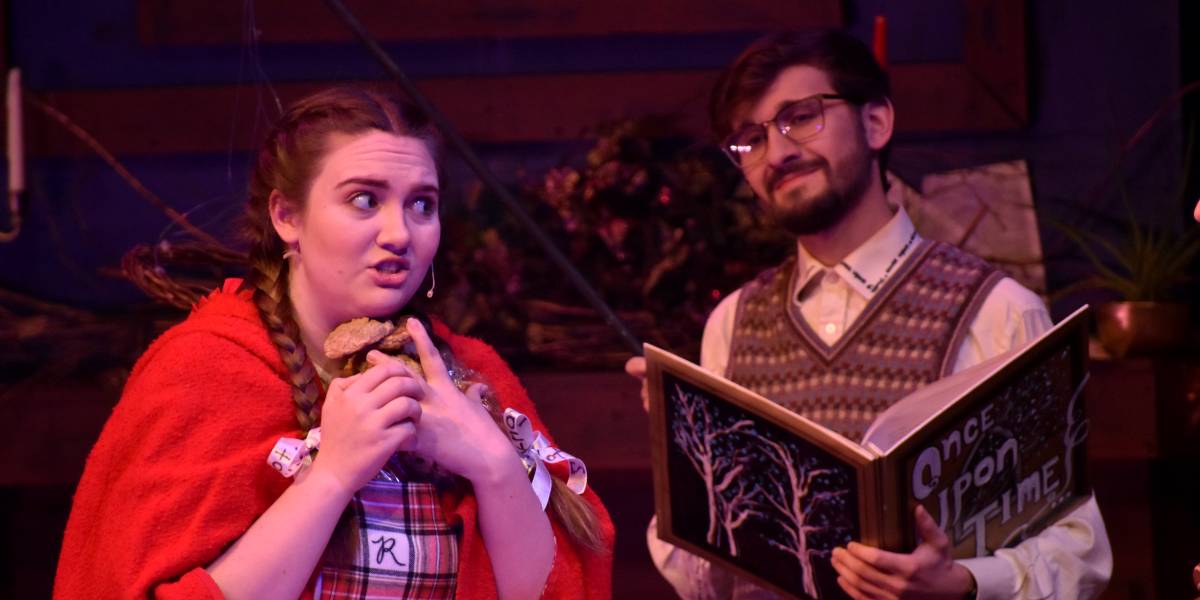 Photo and gallery by McKenzie Sheehy
Cassie Sampley (left) and Nathanael Pezzo (right) act out a scene during a dress rehearsal leading up to the premiere of "Into the Woods" on Thursday at 7:30 p.m. Additional shows run on Friday and Saturday at the same time with a matinee at 2 p.m. Sunday.
__________________________________________________
Missouri Baptist University's Theatre Department brings the award-winning musical, "Into the Woods," to campus for four productions starting on Thursday, Feb. 20, at 7:30 p.m., and running through a final matinee at 2 p.m. Sunday, Feb. 23, in the Pillsbury Chapel and Dale Williams Fine Arts Center.
The show is directed by Kasey Cox, MBU's director of theatre and dance, who graduated from MBU in 2010 with a musical theatre degree, and graduated from Fontbonne University in 2014 with a Master of Arts in Theatre.
"MBU Theatre believes that all great works of art carry within them elements of the Gospel and glimmers of God's redemptive plan," Cox said. "Because of this, during rehearsals and classes we purposely refer to Scripture and how it illuminates the story that we are telling."
Cox, who also directs InCharactre, the university's drama ministry team, she teaches courses in directing, theatre history, acting and drama in ministry.
"I always love being in productions directed by Mrs. Cox," said Eliana Steele, an MBU theatre major, who is playing the Baker's Wife. "She has a clear vision and heart for this show and its themes, and she points us back time and time again to how these stories point to the gospel."
"Into the Woods," a two-act musical written by Stephen Sondheim and based on a book of the same name written by James Lapine, is fast-paced, full of fun songs and contains many surprisingly deep themes.
Tickets are available at the door. General admission is $18 at the door, and $10 for seniors 65 and older, alumni, faculty and staff. Tickets are $5 for non-MBU students and just $2.50 for MBU students. Go to the MBU Box Office website for more information.
The production first hit Broadway on Nov. 5, 1987, and was very successful, earning nominations for 10 Tony Awards, and winning Best Score, Best Book and Best Actress in a Musical.
The play follows the stories of many classic fairy tale characters, such as Cinderella, Little Red Riding Hood, Jack and the Beanstalk and many others, up to their happily-ever-after, and everything that happened next.
One of the main characters throughout the entire story is a Witch, played by Ali Head, a junior.
"In my opinion, the witch's main objective is to have some sort of companionship. She is lonely," Head said. "Throughout the play, she is trying to undo a spell."
In Act I, the journey of Baker and Baker's Wife intertwines with a host of fairytale characters as the couple searches through the Woods for items that will help them break a spell that has left them childless.
Act II disrupts the charming "ever afters" of all the characters as they are forced to face some harsh realities and learn some hard but important lessons, Steele explained.
Overall, "Into the Woods" is an incredible story that really makes the audience think about themes like good and evil and the choices we make.
"It is humorous and fantastical while at the same time very human, poignant and full of warning," Steele said. "The characters are taught that their actions have consequences, often painful ones, and we who see their stories unfold are reminded to be careful with the words we speak, the choices we make, and the wishes we pursue."
The cast hopes students at MBU will enjoy the characters and the story they have to tell.
"The cast began working when school resumed in January and have not slowed down," Cox said. "Sondheim's music is beautiful, but also challenging, and I am constantly hearing them in practice rooms and in their voice lessons perfecting and refining their music. I am always proud of the work our students put forth and this show is no different."
Steele added: "My cast mates are incredible and absolute perfection in their roles. The set and props are going to be magical. Sondheim's music is brilliant and a beast, and takes some blood, sweat and tears to learn. But it has been a welcome and exciting challenge for all of us."
Head added: "We are all very excited for opening night. This show has become very special to the entire cast. We are all passionate about the morals of the story and the lessons the characters learn from Act I to Act II. We cannot wait to share it with the audience."