On average in the United States, during the time it takes you to read this story, someone will be a victim of physical violence by an intimate partner. Here is a video that reminds us all: "It's On Us."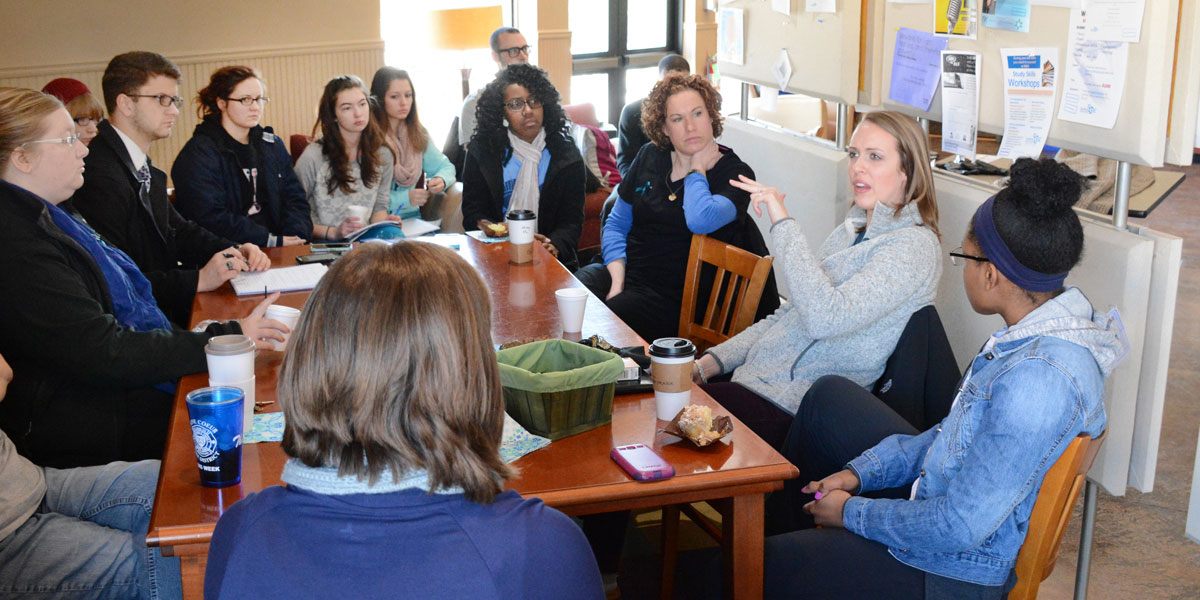 Photo by: Dr. C. Allin Means
__________________________________________________
Missouri Baptist University kicked off Interpersonal Violence Awareness Week Thursday, Feb. 19, in the Perk, with Nurse Practitioner Sarah Osdieck speaking to students about a topic that affects 20 people per minute in the U.S.
When we think of sexual assault we might picture a dangerous creep lurking in the bushes waiting to jump out and attack girls on their way back to the dorm, but in actuality nearly 90 percent of rape victims know their offender, according to statistics from the U.S. Department of Justice, and as many as one in five females in relationships will experience violence from her partner.
When an assault is reported, one of Osdieck's key words of advice is, "Don't blame the victim," she said. Approximately 98 percent of sexual assault accusations reported to police are true, according to the Justice Department statistics.
The awareness week began on Thursday and will continue until Wednesday, Feb. 25, with different events and activities being featured each day.
Activities for the week include wearing a Green Ribbon on Friday, Feb. 20, to signify MBU's unified stance against interpersonal violence; an address from the Writing Lab regarding Interpersonal Violence, from 10 a.m. to 2 p.m. Monday, Feb. 23, in the Perk; a presentation at 1 p.m. Tuesday, Feb. 24, in the Recital Hall, followed later in the evening by a Rape Aggression Defense presentation for women only, at 7 p.m. in the Recital Hall.
"Everyone is created in the image of God," said Taira Schertz, resident life director at MBU, noting this is why addressing interpersonal violence is so important to MBU.
Individuals can find more information regarding interpersonal violence awareness by clicking on this link.
Osdieck demonstrated her dedication to students when she described what she would do if a sexual assault victim confided in her.
"I'll throw you in my car and take you where you need to go," she said.
Between 20 percent and 25 percent of women will experience rape before graduating college, according to Justice Department statistics.
Also, according to statistics from www.rainn.org, which stands for Rape, Abuse and Incest National Network, 52 percent of all victims are between 18 and 29 years old when they are stalked.
While not thought of quite as often, Osdieck addressed sexual assault for both males and females. "Either sex can be abused," she said. In fact, 10 percent of all sexual assault victims are male, according to Justice Department statistics.
Osdieck explained that counseling is important after a sexual assault, noting that victims should find a safe place to go for help.
"From a medical standpoint there are follow-up testing and medications that need to be given," Osdieck said, adding that she is available on campus two days per week and reachable by phone any day or night. The number to call is 314-364-3970.
A recent emphasis gaining traction on college campuses is the concept of students being "active bystanders," that is, keeping an eye open for situations that could lead to sexual assaults and working to prevent them before they happen.
"As a friend you can't be afraid to get them the help they need," Schertz said, noting that any discussions with the nurse are strictly and legally confidential.
Taking action and raising awareness were main themes throughout the meeting at the Perk.
"You're a bystander. You can either be an active bystander or someone who does nothing," Osdieck said.
The university is collecting dish soap and laundry detergent for The Covering House, a safe haven for girls who are victims of sex trafficking or exploitation. Students, faculty and staff members are asked to bring all donations to the Student Development Office by Wednesday, Feb. 25.
Here are other key statistics from the U.S. Department of Justice regarding interpersonal violence:
♦ On average, at least 47 percent of college students' sexual assaults are associated with alcohol use.
♦ In a year, 6.6 million people are stalked in the U.S.
♦ Here is a link to an opinion piece written last semester by MBU Timeline staff writer Rebekah Rutledge on a friend of hers who suffered the ultimate horrific fate as a result of domestic violence.
–Contributors to this story include: Abby Crain, Vladymi Joseph, Sierra Thompson, Kara Sasiela and Holly Flieg.