MBU athletes are making moves to increase crowd numbers at Spartan home games. If you are looking to show the Spartans some support, team schedules can be found at MBUSpartans.com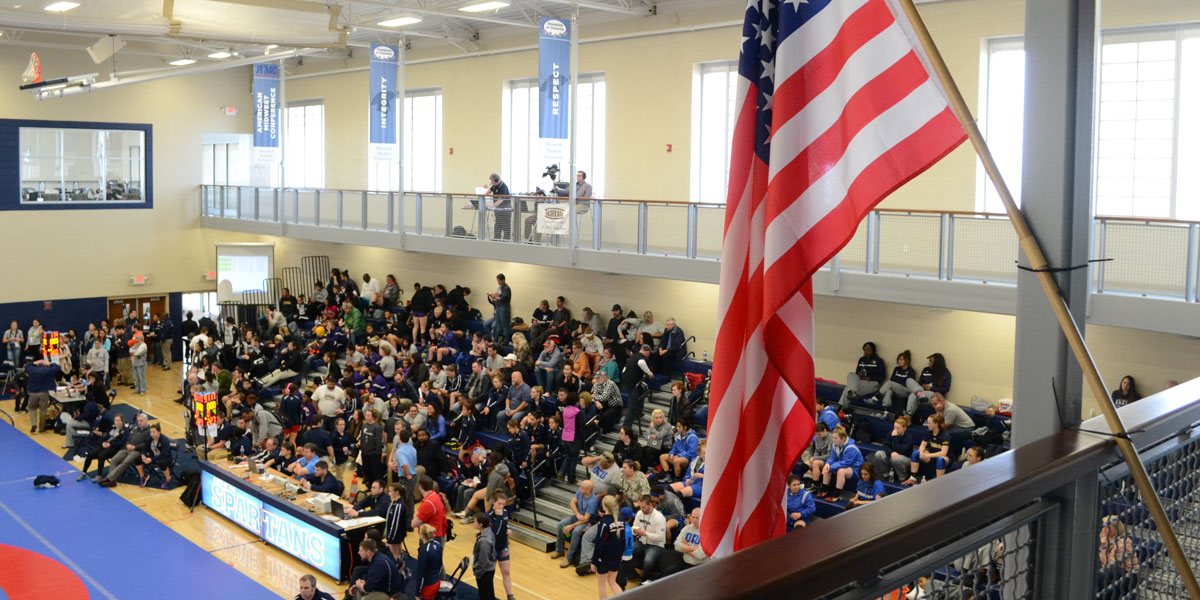 Photo by: Brittany  Gammon
__________________________________________________
As winter sports come to an end and spring sports are cranking up, crowds are dwindling.
Missouri Baptist University is a hugely athletic campus with 25 varsity men's and women's teams, so why is there such a struggle to amp up excitement for them?
Student-athletes are working hard this year to build the crowds at each of the home games for all sports.
Team-to-team support is the goal this year. As each individual team wants to build its own crowds, they are helping other teams build crowds as well.
"I don't really feel like there is a lot of support from other athletes in terms of going to other sports' games. There is support in the training room and classroom … pretty much everywhere but the field," said Phil Forsman, senior, lacrosse team captain. "As a team, we are trying to do more more field supporting."
Athletes supporting other athletes is much of what makes up the crowds at various home games, but they are looking for greater campus involvement.
"Just because our school is mainly athletes, it doesn't mean that it needs to be athletes cheering on athletes," Forsman said. "It would be nice to see the non-athlete students at our games as well, so they can see what we are working so hard for."
As a student-athlete, it can be frustrating to work so hard each day to represent the campus as a whole, but see few student faces in the stands on game days.
"We just don't have enough campus support," said Brittni Brandwein, junior, JV basketball player.
Recently, MBU lacrosse and MBU soccer players joined forces to create a student-led spirit section at the men's volleyball game.
The impromptu spirit night was pulled together in a number of hours, but posters were made, texts sent out, and students gathered to give their friends and peers support during a big home game.
"There weren't that many of us, but we hope to have more students join us as we continue doing this for other home games. We just want to give support to other athletes," said Jordan Peters, junior, soccer player.
Students are hopeful that the new football team and stadium will spark a greater interest for students — athletic and non-athletic — to have school spirit.
"We are not a huge school, but I think that having the new football team on campus will create an increase in school spirit. Having a stadium that is our own will bring out bigger crowds to games of all kinds," said Nathan Wurmb, sophomore, football team captain.
Ultimately, athletes want to see more of their friends, fellow athletes and classmates in the bleachers.
"We just want to see more faces at games," said Peters. "When you are playing, it's nice to see that there are other people from school in the crowds, supporting you and cheering you on. … We may not be a big school, but it's going to pump up athletes just to have a little support. It's not really about liking the sport, but more about cheering on your friends and supporting your school."