Family and God are two very important factors in the life of young Jordan Loftin, whose willingness to serve Jesus has led her to work at her church and also take mission trips around the world.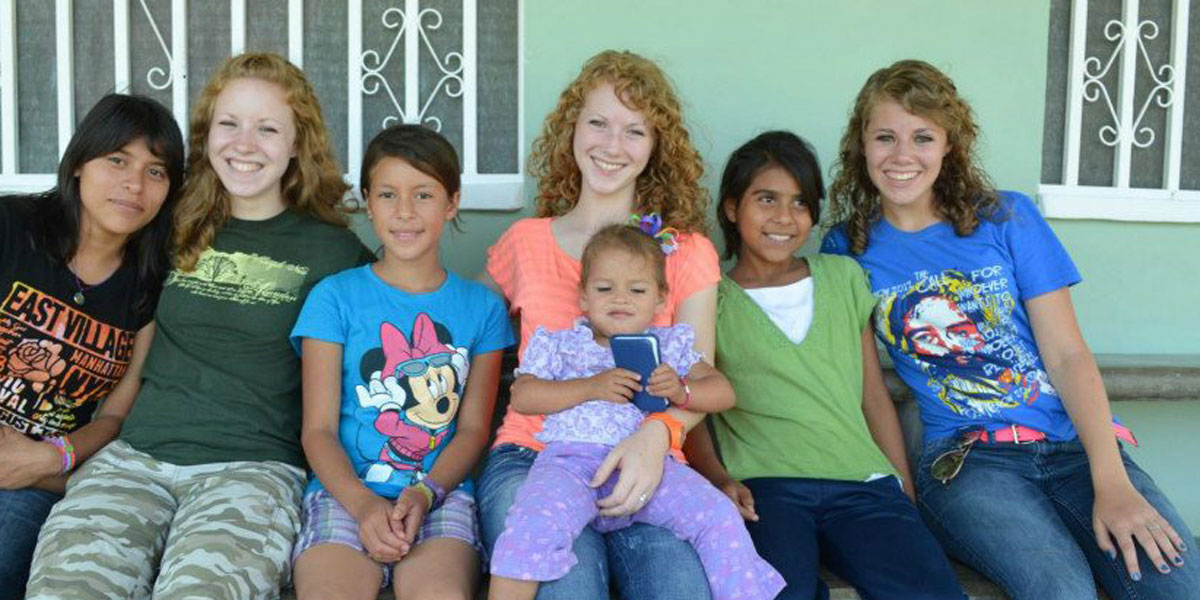 Photo courtesy of Jordan Loftin
Jordan Loftin (fourth from left with the little girl in her lap) has gone on five mission trips around the world and says she plans on taking many more in the future.
__________________________________________________
"I realized that since God wasn't letting go of me, I couldn't let go of him."
This is what Jordan Loftin said as she recalled how she was led by God to partake in five mission trips around the world throughout her high school career to present.
During her trips to Prague, Honduras, Poland, Portugal and England, God really spoke to her, and she listened to His calling.
"God showed me my heart for people and how much I enjoy serving and investing in other people," said Loftin, who is currently teaching children at Creation Corner for her home church of First Baptist Church O'Fallon, Ill.
She learned how to work in teams and stay disciplined in God's word during the course of these mission trips.
She also learned from the uncomfortable situations like street evangelism — the act of sharing God's word with random people you meet — in which God called her to participate.
"If it's something he called you to do, then it will give you joy and a sense of purpose."
Loftin was born in Panama City, Panama, on July 1, 1995.
At the age of 2 she moved to Lebanon, Ill., for two years, then Belleville, Ill., for 12 years, Texas for nine months, and then returned to Belleville, Ill., where she currently resides.
She attended elementary school until sixth grade and was then taken out to be home-schooled for the rest of her educational career.
Loftin, now 19, is the second oldest of her six other siblings and holds family very close to her heart.
"My favorite time as a family is dinner. We all eat together and catch up and usually watch a family movie together," she said.
One of her favorite memories was a family road trip in 2012 to Colorado, San Diego and Arizona.
They visited family, the Grand Canyon and Loftin gazed her eyes upon the ocean for the first time in San Diego.
"It was really pretty and blue and relaxing," recalled Loftin.
She became a Christian in 2001 when she was 6 years old, but didn't really appreciate God until she was 16.
"I had a point in my life where I kind of left God and after everything backfired, I realized that even after everything in my life shattered, and I felt like I could lose everything important to me, I realized God was still there even though he didn't have to be," Loftin explained. "That's when I started taking my faith seriously."
Since then she has served God in her home church, First Baptist Church of O'Fallon, Ill., by volunteering for Vacation Bible School for eight years and with Mothers Of Preschoolers, MOPS, for five years.
After graduating high school in 2013, Loftin felt led to spend a year at Capernwray Bible School in Carnforth, England, instead of going to a typical college in the U.S., to further her knowledge and understanding of God. She remembers her last night vividly.
"We had a big bonfire and we all played in the lake. And at the end of the night when I was walking along the road," said Loftin, adding it was around dusk, "I was really relaxed and at peace, it was a point where it felt like it was just me and God. It was a beautiful moment."
She currently teaches science at First Baptist Church of O'Fallon's school, Creation Corner, in Illinois, one day a week and sometimes substitutes for other teachers.
This summer, she has landed a two-and-a-half month job in Georgia as a bonus counselor for a camp called Winshape.
Here she is in charge of all the girls' cabins, teaching a skill, and helping leaders set up and tear down activities.
As Loftin has shown, the road to get where God is calling you is a bumpy one, but anyone can achieve it.