Perk coffee shop manager Emily Dixon enjoys working with her family of employees to serve MBU and the surrounding communities delicious coffee in a friendly Christian environment.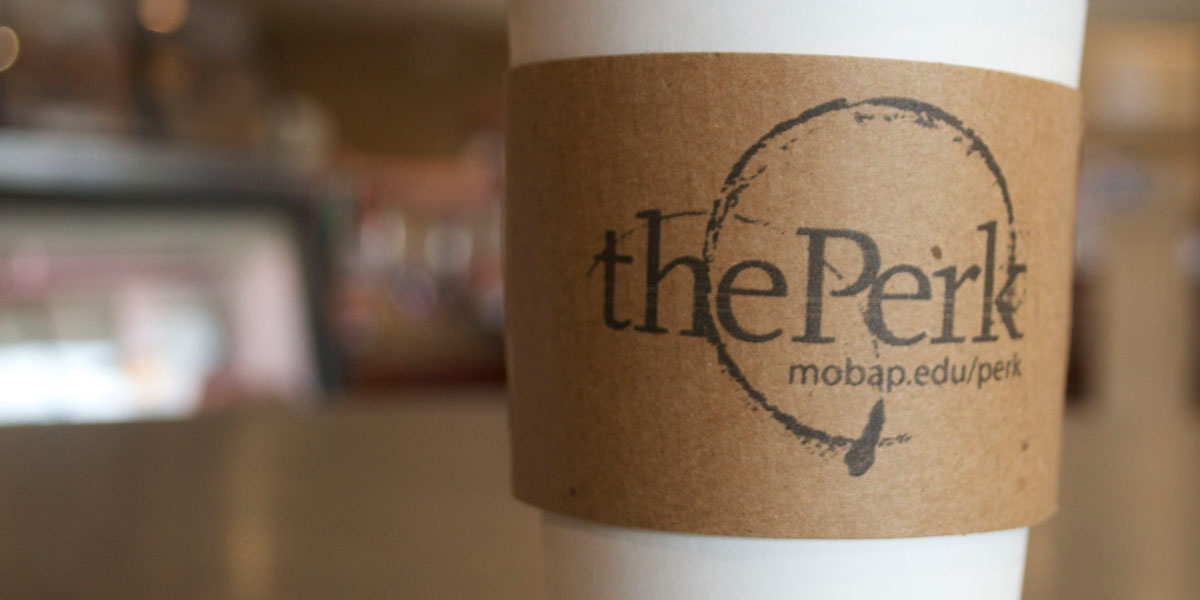 Photo by Brittany Gammon
The Perk is a place of comfort and coffee for members of the MBU family, and it is also a family atmosphere for those who work there, according to its manager, Emily Dixon.
__________________________________________________
By ABIGAIL CRAIN
What college campus can boast of a fully owned and operated coffee shop? Missouri Baptist University can.
With a university ownership of 100 percent, the Perk is the largest free-standing coffee shop on any college campus in the state.
The Perk is a major hotspot on MBU's campus, not only due to its amenities but also because of its atmosphere.
The coffeehouse offers espresso drinks along with frappes (blended ice drinks), drip coffee and various hot or iced teas.
Soda on tap and refrigerated drinks are also available, as well as a plethora of bakery items and sandwiches.
Perhaps the most unknown, but most important, aspect about the Perk is the sense of family that employees feel after working there a short time.
Emily Dixon, Perk manager, said having the "Perk family" is her favorite part of working at the cafe.
"They are spunky and ornery but still loving and caring," she said. "Although at times they may drive me nuts with little things such as forgetting to grind the beans before brewing the coffee, or flooding the back of the Perk by overflowing the sinks, I still love them all just the same."
This past school year, these "family" members were Victoria Byrd, Bethany Chambers, Abigail Crain, Justin Hannel, Sebastian Munoz, Marie Ramirez, Kim Seabaugh, Stuart Slates, Michael Slaughter and Adam Walker.
Although faces will change behind the counter this coming school year as classes begin Monday, Aug. 17, the family atmosphere will remain unchanged.
In her two years managing the coffee shop and four years of total employment there, Dixon has grown very close to her employees.
"I wouldn't trade my job for anything. Getting to talk to them about choices in life and their walks with Christ makes the Perk family have a special place in my life. There is never a dull moment," said Dixon.
She said humorously that working at the Perk has given her "practice for parenting, as well as patience and constant reminders of God's grace" in everyone's lives.
Dixon does not have one favorite Perk memory so far, but enjoys the "drink competition, watching creativity of [the baristas], goofy people" and the workers' eagerness to have her taste their new drink concoctions.
In regard to latte art, which some baristas at the Perk enjoy making on every drink, Dixon said that it is taking her "forever and a day" to learn, but uses it as an example for people to "never stop learning."
Hannel, a senior business administration major and assistant manager, has worked for two and a half years at the Perk, and constantly makes latte art.
It took him "long enough" to learn how to make latte art, he said, and he is constantly trying to improve his skills with it.
Most of the other baristas are still working on getting consistent rosettas (a simple form of latte art), but Slates, a broadcast media major who graduated in April, has been working at the Perk for two years and took a year to gain the ability.
He said that latte art is something positive yet unexpected that he learned from working at the Perk.
Perk baristas Byrd, a senior human services major, and Slaughter, a senior Christian studies major, said they have learned other skills such as "patience" and "the acceptance of others," respectively, from their time working in the coffeehouse.
Their favorite part about working in the coffee shop is closing with the same coworker every week; Slaughter closes with Crain, and Byrd closes with Munoz.
Seabaugh, a junior psychology major, and Ramirez, a senior elementary education major, most enjoy being able to have "community" and "interaction" with co-workers as well as the various customers who come through the doors daily.
At times, Perk employees come across situations they talk about for a long time after, simply because of its humorous or ridiculous nature.
One such memory for Munoz and Hannel is when a co-worker accidentally "flooded the back office" of the Perk last fall while running water in the sinks for dishes during the MBU Homecoming football game.
Walker, a music ministry major who graduated this year and who had worked at the Perk for two and a half years, said his favorite memory was "seeing Justin Hannel bust an entire can of whip cream behind the counter by accident," and Slates agreed.
The Perk employees may enjoy laughing at each other's human mistakes, but they also truly enjoy working with each other and building relationships they may not have been able to create without being placed together as co-workers.
Their favorite drinks, ranging from a plain latte (Slates) to a blueberry latte (Hannel) and everywhere in between, evidence the unique personality of each Perk worker contributes to the family atmosphere that Dixon enjoys so much.