College students know how hard the transition into adulthood can be, but for some college students transitioning isn't always an option. When Domenic Hoffmeister was injured during a volleyball match, he had to make the decision whether to sink or swim.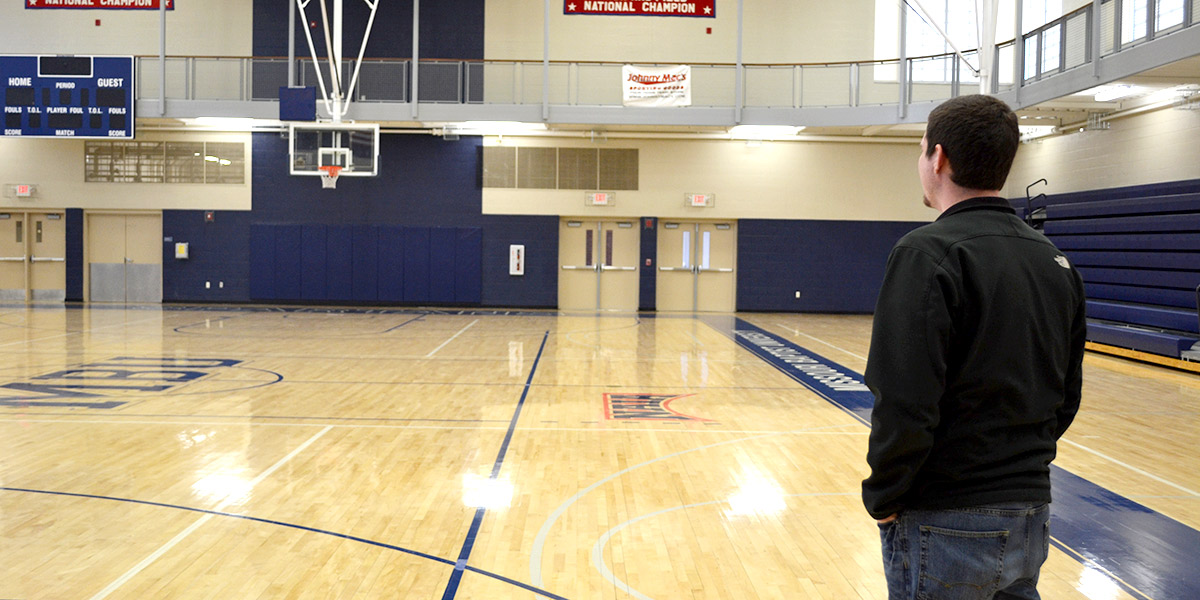 Photo by: Jerason Gines
_________________________________________________
The whistle is blown, the ball is served and quickly the offense is in motion, but for one Missouri Baptist University athlete the playing time is cut short.
Domenic Hoffmeister, a senior volleyball player at MBU, found himself in agony after dislocating his knee and tearing both his ACL and his medial meniscus.
Hoffmeister went up to attack the ball he had been set, and when he landed his junior season was over, and possibly his entire volleyball career.
"My initial reaction was that I was dead, of course. Who doesn't immediately think they're dead when that happens? I was in complete shock," said Hoffmeister, who is from Dittmer, Mo.
An athletic trainer quickly came out to assess the situation and popped the knee back into place, which surprisingly made Hoffmeister feel much better.
With Hoffmeister's ability to continue playing in question, Head Coach John Yehling had a solution to keep Hoffmeister in the game.
Yehling offered an undergraduate coaching position to Hoffmeister so that he could keep his scholarship and finish his senior year.
Luckily, the year of coaching would not count as a season for Hoffmeister nor hurt his eligibility.
He still has the option to come back and finish his last season once he is fully recovered.
Although devastated by the injury, Hoffmeister was determined to succeed so he held his head high and marched into his new coaching role with confidence.
"I did not want to play this year in fear of injuring myself again and not being able to immediately do something with myself after school was over," said Hoffmeister. "The transition was hard because all of my friends were playing ball and I wasn't, but I wouldn't have had it any other way.  It made it a little easier to focus on school."
School became a top priority for the soon-to-be college graduate and his unfortunate injury helped propel him to receiving his diploma in April.
Hoffmeister is counting down the days to receiving his degree in criminal justice and starting his life in the real world.
The police academy is first on the list for this graduate and he would one day like to work for the Drug Enforcement Agency or the United States Marshall Services.
Working 30 hours per week, keeping up with school and still maintaining a strict practice schedule kept Hoffmeister busy, but he wouldn't change a thing.
"I will definitely miss all of the friendships that I made with people over the years, the memories with my friends were definitely on the top of the list," said Hoffmeister.
Hoffmeister proved that although things do not always go as planned, people should always remain persistent.
Through injuries, upsets and struggles Hoffmeister persevered, transitioning from athlete to coach to finally becoming a college graduate.