How one California ranch-raised right-hander took one pitch to write his script.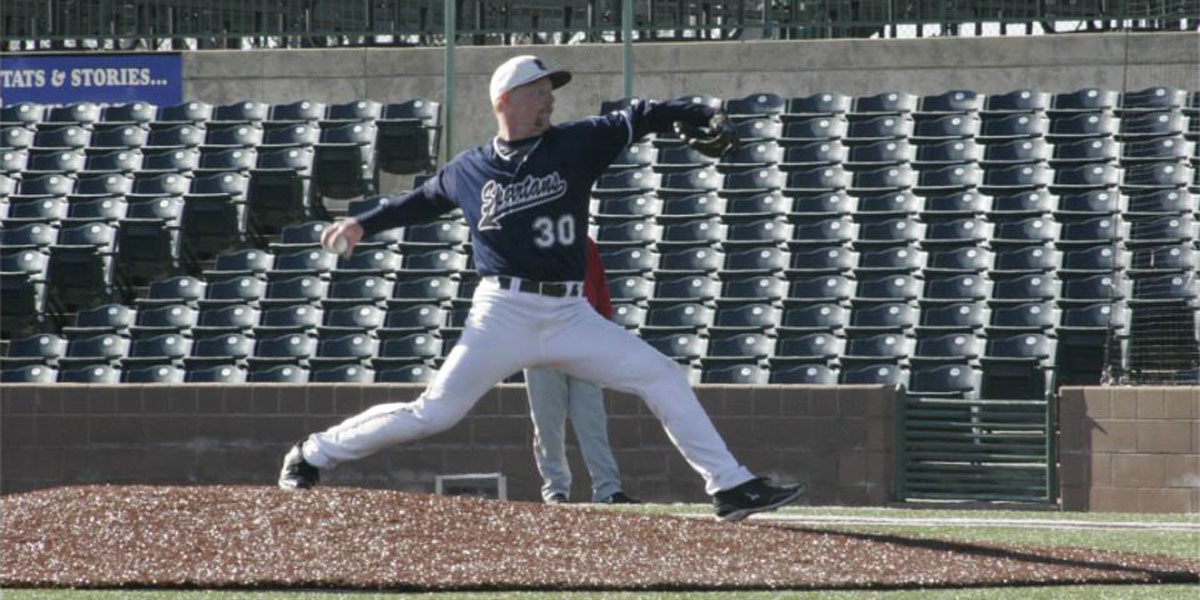 Photo By: Colby Duncan
__________________________________________________
The only time you ever hear about Hillmar, Calif., may be if you are glancing at a package of Hillmar Cheese, or looking at the bio of Missouri Baptist University's newest handlebar-moustache-adorning relief pitcher.
Raised in the central valleys of California, one young ranch hand, Carl Jameson, emerged as a prominent athlete among his peers.
Jameson, just like many others, began his baseball career at the age of 4 playing T-ball, but would soon find out there was something special about his right arm.
He took to football mainly, and out of high school Jameson was being recruited as a middle linebacker and tight end.
Showing prominence in the sport, he was looking toward taking that career into college.
The only thing that stopped him was a collapsed lung he suffered his senior year that forced him to give up the sport he loved.
After football ended, Jameson decided to take baseball a little more seriously.
"I liked to throw hard," he said. "My goal was to throw as hard as I can every time on the mound."
For those who aren't that familiar with baseball, a good Major League pitcher can throw in the 90 mph range. Jameson hit the upper 80s his senior year in high school, leading his Hillmar Senior High School Yellow Jackets to their first sectional in school history.
Following graduation in 2009, Jameson decided to attend and play baseball for the nearby Merced Community College, a school commonly attended by his peers.
In his first year at Merced, Jameson met pitching coach Nate Devine.
Devine harped on mental toughness, and took many extreme routes to train and ready his pitching staff for grueling situations and unbearable mental pain.
One of the ways Devine helped develop Jameson off the field was by requiring him to read "The Mental ABCs of Pitching," by H.A. Dorfman.
This book would become Jameson's cornerstone of his pitching mechanics and mental approach.
Following his red-shirt freshman year, Jameson was beginning to show some life to his fastball, which in turn shed light onto his potential pitching career.
Going into the spring of his first season as an eligible Merced Blue Devil, Jameson faced the first setback of his collegiate career as he suffered from a tightened capsule on the backside of his throwing shoulder.
He would take off his second year at Merced for medical purposes.
"I lost my touch, it was weird," said Jameson, who found he could no longer even play a simple game of catch without significantly overthrowing or under throwing his partner.
He knew he was going to have to work to get back in the right shape.
Having completed lengthy rehab of his shoulder over the summer and fall, Jameson came out strong for his first full year of eligibility in 2012.
During this year, Jameson would throw 30 strikeouts in only 28 innings of work, a big step forward for an arm recovering from injury.
In his second year of eligibility and final year as a Blue Devil, Jameson had taken over the role as the main bullpen pitcher to fill the need of a reliable reliever.
In his last game, Jameson reinjured his arm by overcompensating for a strain in his groin.
Despite writhing in pain, Jameson took the mound for four innings in a game that not only ended as a loss for the Blue Devils, but for his arm as well.
This injury would turn out to be a strained Ulnar Collateral Ligament, which means Jameson barely missed having to undergo Tommy John surgery.
Regardless, such a major injury to his throwing arm caused Jameson's recruiting attention from major schools, such as Long Beach State and West Virginia, to quickly drop.
The only recruiter maintaining a hard pursuit of Jameson was Kenny Graser, assistant baseball coach at Missouri Baptist University.
Seeing how badly MBU wanted him to attend and pitch, Jameson ended up signing with the Spartans and began to slowly rehab his arm and touch.
"What really made me want to come here was [Kenny Graser] told me that we had a training staff that was really good working with pitchers' arms … mainly Mike Nolan," Jameson said. "I got out here and started working with Mike, and sure enough he got me on a program and had me start throwing … pretty early in the fall."
Since last fall and going into the spring, Jameson has fully rehabbed into the best shape he could be in, topping out around 91 mph, and is attracting lots of anticipation about his time as a Spartan.
"We are excited to watch him continue to develop into one of the best pitchers in the country," Graser said in an email interview.
"Carl brings so much energy to the bullpen. A lot of guys feed off of it in a positive way [and] he carries it to the mound and competes with every pitch," said pitching coach Julien Soucy.
Not only is the coaching staff excited about Jameson's presence on the team, but his fellow pitching staff has also taken a liking to their new teammate.
"He really adds a hint of cranberry to our salad this year … and everyone likes cranberries," said third-year Spartan pitcher Ryan McClaren.
As Jameson begins to wrap up his final two years of collegiate baseball, he says he wants to focus on being a "green light" pitcher, a principle taught in "The ABCs of Pitching."
Jameson has a goal of facing every batter with a positive, confident attitude no matter the situation.
With that mentality, a devastating fastball in his arsenal, and a clean handlebar moustache to top it off, Jameson is set for success as the Spartans aim toward returning to the Avista NAIA World Series in 2014.