Love of music has inspired MBU student Eric Phillips to start a band, A Day At War, with his friends. They will be playing at thePerk [20] this Friday, debuting their first album a week before public release.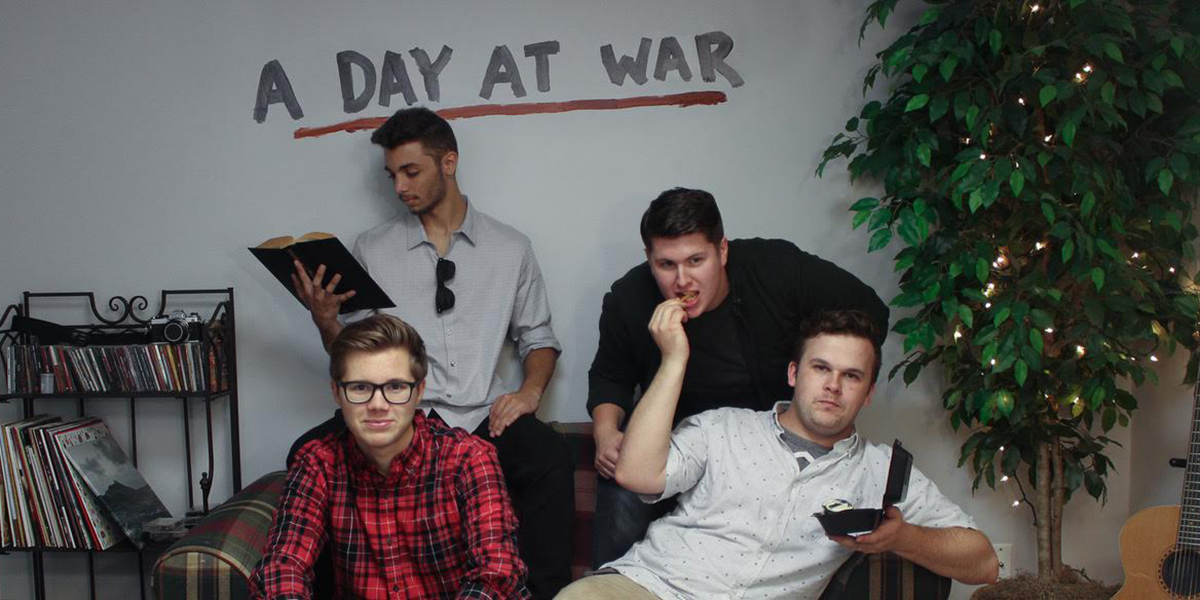 Photo courtesy of A Day At War
__________________________________________________
St. Louis is rich with culture, from the arch by the river to the Delmar Loop west of Forest Park.
However, one thing that really makes St. Louis special is its local bands, including a band that happens to be playing their debut show this Friday, Oct. 21, at thePerk [20] for Missouri Baptist University's Homecoming weekend.
Eric Phillips, a senior broadcast media major at MBU, is a founding member of this band called A Day At War.
Using his God-given talents and skills developed at MBU, Phillips both produced the debut A Day At War album titled, "Now \\ Then," and helps run the band's public relations.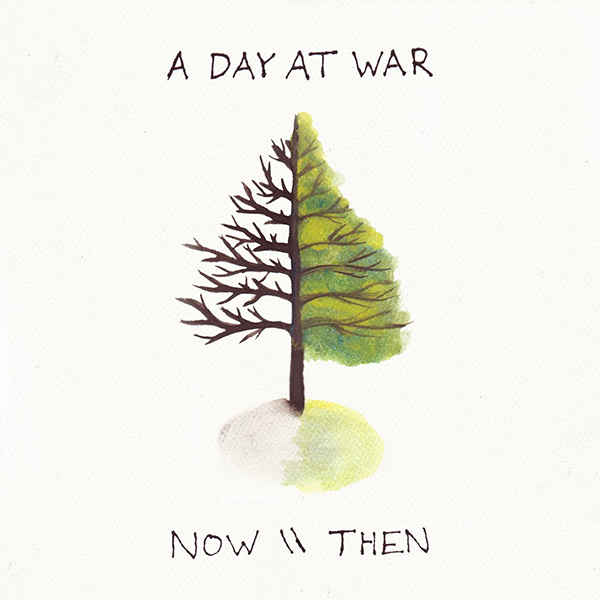 "I have taken audio classes at MoBap that help me with the production of our record. I've taken different PR media classes that have helped me with sending out press releases and just things on the business side of things that come with being in a band," said Phillips.
Phillips and his friends Nathan Huskey, Anthony Rogers and Taylor James Patterson together form A Day At War, with Phillips on vocals and guitar, Huskey on vocals and piano, Rogers on drums and Patterson on the bass guitar.
"We started earlier this year about late-July out of just the fact that my friend Nathan and I, who I've written songs with for years, wanted to start writing music," said Phillips. "Then we happened to realize that we were surrounded by some really great musicians and thought we would get Taylor and Anthony in on the project as well. Things really mesh between all of us, so we started writing our first album."
Being in a band may seem like the easy life, but it can add a complexity to life that few may expect.
"I've learned a lot about time management in the last month because I'm not only a student and in a band, but I also work. Balancing time between those three things is pretty difficult, especially because this was a complete DIY project," said Phillips. "We did all the recording, producing, mastering, and ordering all the distribution ourselves. It's time consuming, but it's also really beneficial and it's the kind of thing that I like to do, so I really don't mind it."
A Day At War is all about balancing life in general and getting emotions out there.
The band's music is influenced by a hodgepodge of different artists all enjoyed by different members of the band, ranging from '90s music to Twenty One Pilots.
This may sound confusing, but the band does have a serious purpose to their music.
The purpose of the band is to "go to war with our own emotions and thoughts, putting them on paper and writing them into songs," said Phillips.
Phillips continued by explaining irony of the band's name.
"A Day At War is a very casual phrase, it's meant to sound like a day at the beach or something like it's no big deal, but in reality war is this heavy thing," Phillips said. 
Huskey, vocalist and piano player, described the new album as "honest, stemming from the energy of a battle with personal loss and heartbreak. However, the heartbreak is always offset by the hope of overcoming division with love."
That's what the band is all about lyrically, but what is the band's music like?
"We want room to change in the future and be able to bend things as we want to, so I don't really know where we fit in as far as our genre goes, but for now we are calling ourselves an indie rock band, and we're happy to call ourselves that and let us define ourselves by our music," said Phillips.
If you think you might like what this band is all about, feel free to listen to the attached song, early release exclusive to MBU Timeline readers.
You might even hear this song at thePerk [20] this Friday if you go.
A Day At War's debut album comes out Oct. 28, but those attending thePerk [20] will have the opportunity to get a copy a week earlier than the public.
"We are really excited at thePerk [20] this Friday. We are super excited to have the opportunity to play. We will be playing a lot of new material for the first time," said Phillips. "It's gonna be our first big show as a band."
A Day At War is an example of what students can do together if they apply what they have learned and have fun doing it, an example worth following.