On Feb. 21, MBU's drama group In Charactre will be holding auditions to fill six spots for the 2015-16 school year.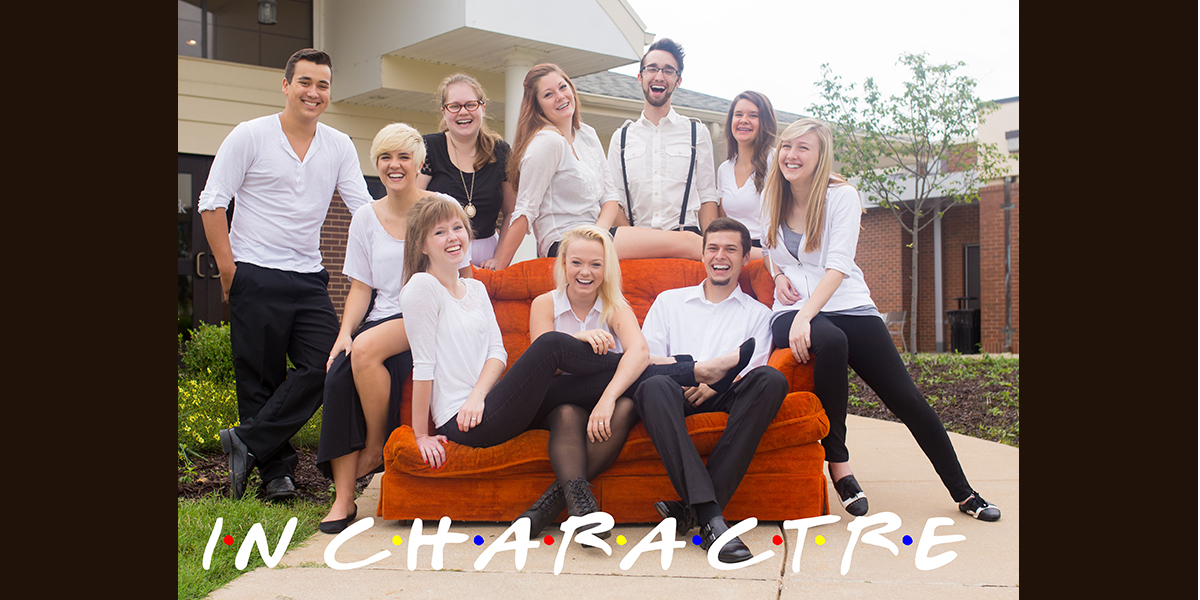 __________________________________________________
For 14 years, MBU's campus drama group has been tackling heavy topics like Christian living, family and salvation with enduring enthusiasm for the Gospel of Jesus Christ.
In 2001, Marilyn Pewitt founded In Charactre with the hope of combining a love of drama and faith.
In Charactre was created with this mission in mind: "[In Charactre] seeks to present the Gospel through the medium of drama."
Joy Powell, assistant professor of theatre arts, took over direction of In Charactre in 2003 and led the group for nine years.
"I was called, definitely when I first started, and then my calling sort of involved elsewhere," said Powell, whose calling elsewhere led her to give In Charactre up and start pursing her doctorate at the University of Missouri while continuing to lead MBU's Theatre Program.
For the past three years, Kasey Cox has been director and has led In Charactre in many different ways.
"You have someone like Kasey, who was in it and really called to it, and has taken it to the next level where they're working with other ministry groups in other ways," Powell said of her replacement. "I feel like they really furthered the mission of not only telling the Gospel story but other stories that matter."
Cox, an MBU graduate and alumna of In Charactre as well as the Theatre Department, currently teaches theatre courses as an adjunct at MBU, such as History of Musical Theatre and Acting II.
In her few years directing In Charactre, she has had a significant impact on the drama group.
"Mostly what I've done is add onto the legacy that Joy left and so I've added the improv work," Cox said. "We're also building our numbers, we hope to have about 15 people, which is the biggest In Charactre I think has ever been, at least in the last 10 years."
In Charactre works closely with the other ministry groups, including traveling to different churches to perform.
"We go on tour in the fall, which is over Fall Break. We also go out several times during the year to area churches and perform Sunday mornings and nights," Cox said. "We also perform at Chapel services and this year we're a part of the Worship Heart and Art Seminar. It kind of just depends on where the need is."
Dr. Jonathan Blackmon, associate professor in the Fine Arts Division and originator of the Worship Heart and Art Seminar three years ago, is excited for the opportunity to work with In Charactre and the other groups involved this year.
"The Worship Heart and Art Seminar is a two-day conference for pastors, worship pastors and people who are interested in worship. The reason it's the Heart and Art seminar is because we're wanting to focus on both the heart of worship, or the biblical foundations of worship, and the art of worship, meaning the practice of worship," Blackmon said. "In Charactre makes a great choice because they're focused on the drama ministry in church and so I think that there are some important ways that that can be used."
The Seminar is open to anyone who wants to attend for $40 and is taking place Feb. 26-27.
Mac Davenport, a three-year veteran of In Charactre, said his favorite part of being a member of In Charactre was "definitely being able to minister through acting and do that with a great group of people."
This month, In Charactre will be holding auditions for the upcoming school year.
"They should bring a monologue, at least one minute memorized. It can be anything. We've had people do monologues from Christian scenes, we've also had people do monologues from 'Finding Nemo.' It's pretty much open as long as it's appropriate," Cox said. "We'll ask them about their testimony. We want to make sure everyone who is in the group has a relationship with Christ. Then the group will ask them a few interview questions, and then once we hear everyone's monologue, we'll call everyone back in and have them read scenes with the group."
Olivia Cox (no relation), a freshman at MBU, had her first audition a year ago.
"I practiced awhile, about a week or so, before I memorized my whole monologue. I was nervous because it was the unexpected but when I arrived at my audition, I realized that it was not an intimidating atmosphere because these people were there to serve God and it made me realize I was in the right place," she said. "We had the same goals."
Kasey Cox has a lot of big dreams for the group over the next several years.
"I would love to eventually split the group into two separate groups. One specifically for scenes and the other one for improv. But that might be quite a bit further in the future," Cox said.
Auditions will be held at 2:30 p.m. on Saturday, Feb. 21, in the Recital Hall.
The Facebook event for auditions reads, "We are seeking mission minded Christians with a heart to share Jesus with the world. You do not have to be an actor — if you love Jesus and you can read, come and audition!"