Disney: Not just for wide-eyed children, but cherished by generations whose hearts have been touched for a lifetime. Within the Missouri Baptist University community there are several unique individuals who are passionate about Disney, displaying what it  truly means to be a Disney Fanatic.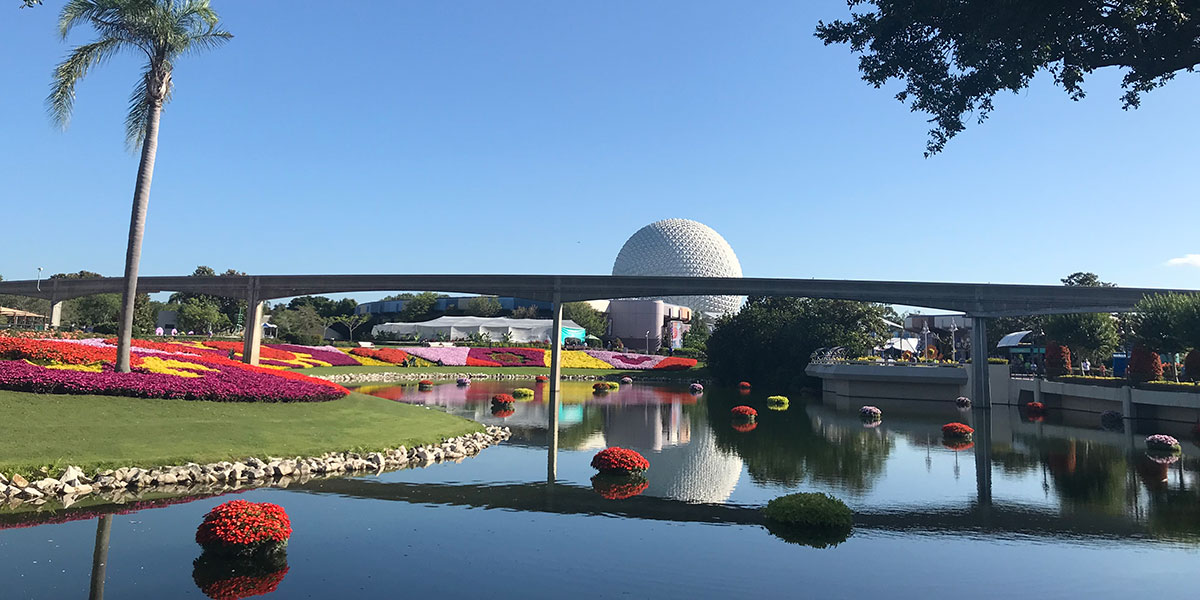 This picture of Epcot was taken during the 2019 Flower and Garden Festival, which is Disney's annual festival, happening each year around summer time.   Photo by Jessica Kunkel
Experiencing the magic firsthand, sampling delicious foods from various cultures, strolling along Main Street, taking pictures in front of Cinderella's Castle, devouring mouse-shaped pretzels and ice creams, meeting characters and buying all the souvenirs possible. These are what make an authentic Disney fanatic.
Generation after generation, Disney has been an inspiration to many, causing people to adopt all the magic and making their experiences unique to them.
There are several people on MBU's campus who can say they like Disney, but to be a true fanatic one must eat, sleep and breathe Disney.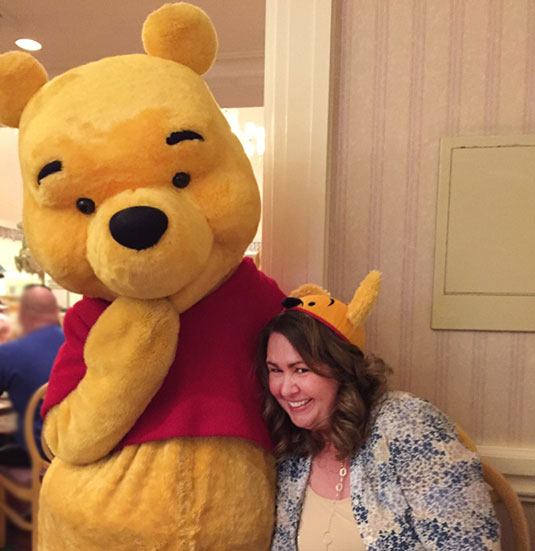 Heather Goodin Shares Her Magical Disney Moments
Heather Goodin, coordinator of doctoral student services, grew up loving Disney because of her family's Disney appreciation, and now her passion for Disney has grown even stronger as her brother works for the company.
"I would say it was almost like a family inbred kinda thing. So my parents were a part of the generation where there was the 'Wonderful World of Disney' on Sunday nights. My mom loved Winnie the Pooh, my nursery was Winnie the Pooh," said Goodin.
Goodin recounted times when she was younger and got an opportunity to see the movie, "Cinderella," when it came out of the vault, at the movie theater with her mom, which prompted her early impression of her passion for Disney.
Both Pooh Bear and Cinderella were formidable characters that Goodin grew up with, making them her favorite characters still.
Goodin's brother became a cast member at Walt Disney World in Orlando, in 2011, which allowed for many magical encounters that she would enjoy later on.
"It stepped it up a notch. It's now not just, 'Oh, I'm enjoying this company and I enjoy all of the things they put out,'" said Goodin.
The first time Goodin went to Disney World was back in 1982, when she was 6 years old. She has been there a grand total of 11 times, in addition to going to DisneyLand and California Adventure in 2018.
There are many different rides inside each park and it can be extremely difficult to choose just one ride as a favorite, and Goodin has many favorites.
At Epcot the rides Spaceship Earth and Living the Land are tied for her favorites, while the People Mover and Carousel of Progress tie for her favorite rides at the Magic Kingdom.
One of the aspects that Goodin appreciates about Disney the most is, not only does she get to experience the magic but it's the way Disney caters to all kinds of people of different ages and backgrounds.
Waiting in line to see Mickey Mouse with her friend and her brother, Goodin said, "We were waiting in line, here was this lady, this older woman, in a wheelchair with special needs. I would say even almost non-verbal. And Mickey comes up and just kinda got on her level and started talking to her. And she just lit up."
Reflecting on that heartwarming exchange, Goodin began to tear up because it was such a special moment for the woman, and it showed how truly wonderful the Disney experience can be.
Seeing this touching interaction, "I turned to my brother and said, 'That's how Disney does it right. They are able to connect with people,'" said Goodin.
Goodin wants to go back to Disney World soon, and has a future trip in the works for next year.
"Right now I'm planning — my big dream is to have a big family vacation in 2022. Probably in July," said Goodin.
She is hopeful this trip works out and that COVID restrictions will be completely eased by then, because she is so excited to make new and lasting Disney memories with her family.
Goodin clearly knows her stuff when it comes to all things Disney. She is quite the Disney fanatic and could talk about anything Disney for hours upon end.
Sabrina Furman Reflects on Fond Memories
Similar to Goodin, Sabrina Furman, a sophomore theatre education major at MBU, came to love Disney and made it her passion because of her mom's love and appreciation for Disney.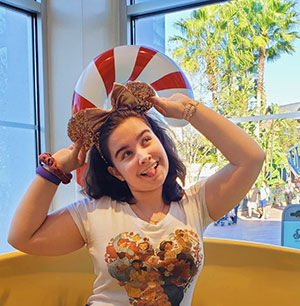 "My mom brought me to love Disney as much as her," Furman said via text, adding her mother is a Disney travel agent. "I have been to Walt Disney World, Disneyland, and on a Disney Cruise. I have been going, every year, to Disney for 13 years." Her favorite rides are the Carousel of Progress and Journey into Imagination."
What's unique about Furman's experience is that she has gotten the opportunity to visit Walt Disney World in Orlando during the pandemic.
"There was almost no one in the park. Very cool for Disney fanatics," said Furman, adding that she enjoys taking pictures of the atmosphere as well as all her favorite Disney items.
There are so many different items to choose from and try when visiting Disney World it can be hard to resist the various food the parks have to offer. 
Challenges arise when deciding which snacks to devour, but Furman said her favorite food is the Mickey pretzel, or stopping by the Plaza Ice Cream Parlor on Main Street.
Along with other MBU students and faculty, Furman has demonstrated what it takes to be a true Disney fanatic and what it looks like to truly appreciate Disney.
Disney Shaped Melissa Lawrence's Childhood
Additionally, Disney holds a special place in Melissa Lawrence's heart as she has been able to attend Disney World a couple of times because of her brothers' "wish trips" granted by the Make a Wish Foundation.
Lawrence appreciates the experiences she's had at Disney World, which have allowed her to become a fortified fanatic.
"DW's work with Make a Wish is so special and uplifting that it can turn anyone's outlook on life around and help them on a road to recovery, emotionally and physically," Lawrence, a recent MBU graduate with a degree in English, said via email. "Each time I have gone, I have so many happy memories and little moments where I was given the special attention that made me feel important, when at home a lot of time has been devoted to my brothers' special health needs."
Lawrence has been blessed with many moments while attending Walt Disney World, even some once-in-a-lifetime experiences.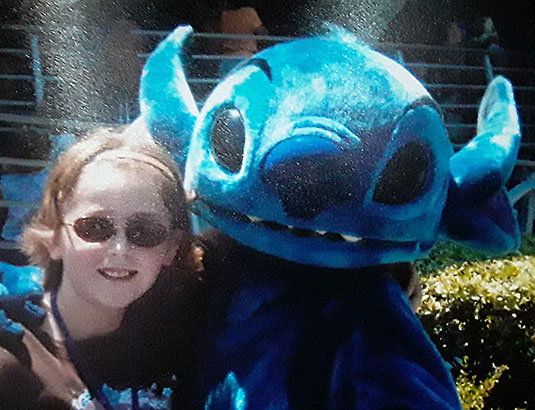 She has gotten to meet Baymax, the plush robot from "Big Hero 6," she was declared a Disney Fantasmic Grand Marshall Princess, she has gotten to ride in a horse-drawn carriage during Main Street U.S.A.'s parade (on her birthday), and she has even had her photo taken with Mickey Mouse on the hallowed "Disney Grass."
Lawrence is definitely a fanatic when it comes to all things Disney, knowing all the ins and outs of how to have the best Disney experience, and she has an abundance of Disney souvenirs and memorabilia to justify it.
"I collect any and everything. Snow globes, ornaments, pins, ears, hats, funko pops, T-shirts … any kind of Disney World or store memorabilia. I also like to go to the outlet Disney Stores or buy anything on ebay for lesser prices," Lawrence said via email.
Lawrence has been to Walt Disney World a total of four times and intends to go back now that she has graduated from MBU.
Disney Makes Quick, Lasting Impression on Julie Moore
Unlike these fanatics who have attended Disney World a number of times, one Disney fan in particular, Julie Moore, has only visited once.
Sometimes the time period in which somebody grew can have more influence on someone's love and appreciation for Disney rather than family upbringing.
"I was born in the '90s when all the good Disney movies came out," said Moore, doctoral office assistant of graduate studies. "My parents weren't huge Disney fans themselves, but they didn't care that I liked it."
Moore had never even been to Disney World as a child or teen so her love for Disney simply came from Disney movies and products.
"I hadn't gone to Disney World until I was married, so that wasn't even on the radar. A lot of people like Disney because they go to Disney World, but I didn't even have the chance to do that until it was my honeymoon," said Moore.
While at Disney World, she had exciting encounters with characters and she enjoyed viewing Disney shows and productions held in the parks.
"My favorite experience was meeting Aladdin and Jasmine, because it's something about meeting your favorite character even as a 23-year-old," said Moore. "I almost cried."
Meeting Aladdin and Jasmine ranked among the major highlights of her Disney experience six years ago, and remains something she will remember forever.
"My favorite too was how interactive they were, because we were wearing our honeymoon buttons, and so they made an effort to … mention things like that," said Moore.
The movie "Aladdin" had a massive effect on Moore growing up and she loved meeting characters from the movie at Walt Disney World, with her favorite Disney character also coming from that movie.
"My favorite Disney character is actually the Genie. I think people like the Genie but I think they don't consider him their favorite character. I think it's because I never saw myself as the princess type, I didn't care to be the princess, so I thought Genie was funny, and that his voices were funny," said Moore. "I really like him because he reminds me of my dad."
Though Moore has not been back to Walt Disney World for six years, she wants to go back eventually, but for now she is content with being a fanatic here in Missouri as she shows her love for Disney in her own way.
Moore shows her appreciation for Disney at MBU in her cubicle at work. It is decorated with Marvel characters such as Baby Groot, and on her computer monitor is a picture of herself and her husband meeting Aladdin and Jasmine.
Even though Moore may not have experienced the Disney theme parks to the extent of others, she represents her love and passion for Disney with her decorations and appreciation for the characters and movies.
No matter a person's age or stage in life, Disney can leave a lasting influence and impression on all who pass through those magical gates, often delivering true fanatics by the end of the experience. All you need is some faith, trust and pixie dust, and maybe you too could become a Disney fanatic yourself, just like these unique individuals on MBU's campus.