Just like the American flag gives its citizens a sense of loyalty and pride for their country, so is the hope for the Spartan Tartan, that when students and faculty see it around campus, they understand it is more than just a pattern, but rather it makes them feel like they belong to a community that is dedicated to education and centered around Christ.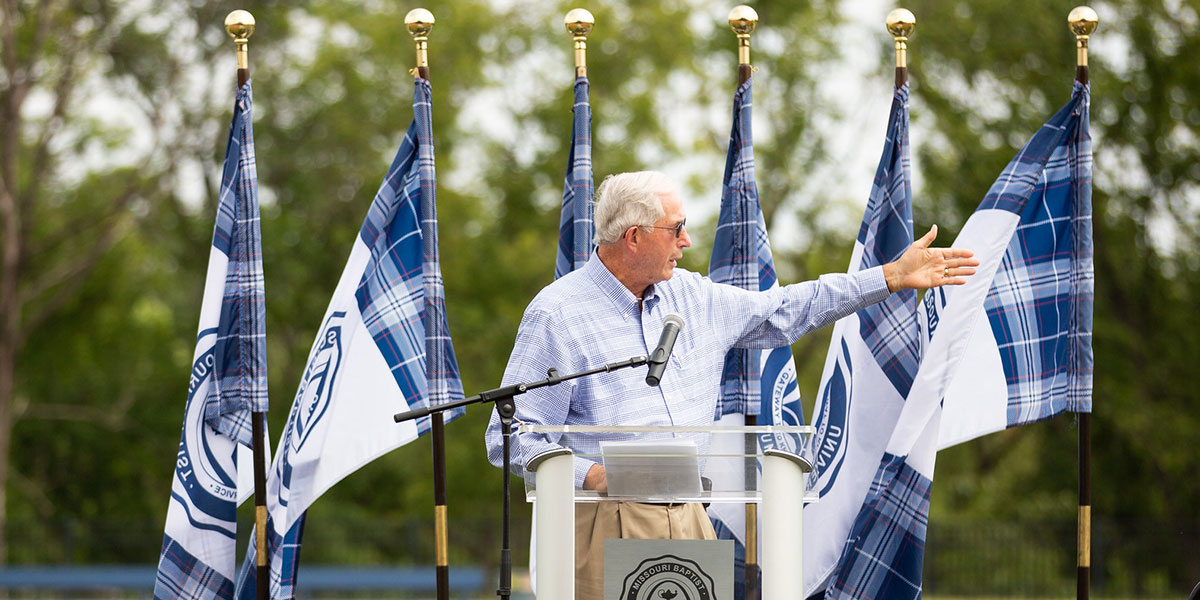 The MBU flags bearing the university's Spartan Tartan pattern wave in the background as Lowell Pitzer delivers a few words of appreciation during his retirement speech last fall at Spartan Field. The officially commissioned Spartan Tartan design adorns many items across campus, such as flags, banners and various promotional materials.     Photo courtesy of Missouri Baptist University
When you see the Missouri Baptist University flag, what do you think of? Do you notice the cross pattern, or recognize the MBU colors interwoven in the fabric? Do you know the extensive planning and creative intention that went into designing this symbolic university flag?
THE HISTORY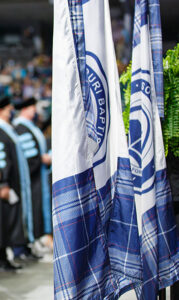 For Dr. Keith Ross's inauguration as MBU's seventh president on Oct. 19, 2018, Ross and his wife, Ginger, decided to commission an original tartan to represent the university for alumni and generations of students to come.
"Typically, when there is a new president inaugurated … sometimes you'll commission a piece of art, or you'll commission a choral piece or a musical piece, and so we decided to commission a tartan," which Ross explained is a Scottish plaid proprietary to a certain family or a certain clan, with Ginger Ross adding, "to kind of encompass the inauguration, bring a sense of community, a sense of this is who we are."
Ginger Ross noted that both the president and first lady came from Scotland originally, "and so we just thought it was a neat way to embody meaning, but then be a visual effect."
She added: "We kinda came up with the idea … and then figuring out if it was even possible to do and then the committee kind of took it, and ran with it and came back and said, 'What do you guys think of this design?' And we loved it and came up with the meaning kind of to go with the colors and the core values of the school."
The design committee consisted of MBU staff and faculty members: Keith and Ginger Ross; Terri Adams, director of special events; Kaylee Adams, then-senior admissions counselor; Jenny Sinamon, art director; Jenna Moore, then-freshman admissions counselor, and Bryce Chapman, vice president for enrollment, marketing and university communications.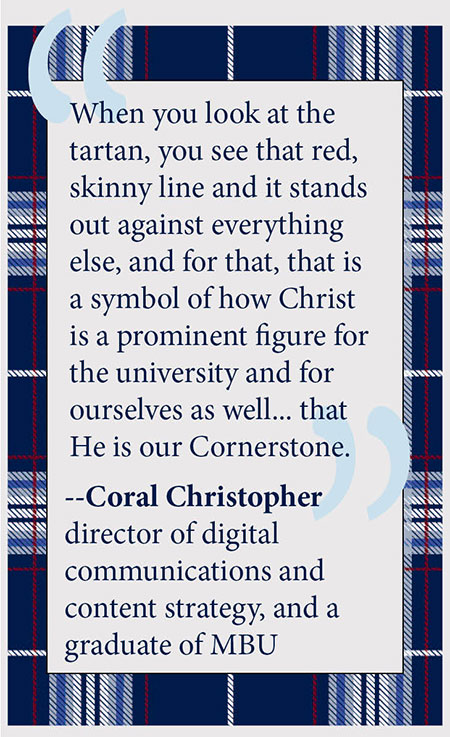 In February 2018, the design process for the tartan began with the service of Collegiate Tartan Apparel, a U.S. based company, through email and phone calls, considering it is not local to St. Louis, that served as an agent between the committee and registry by constructing the unique pattern and submitting it to an official registry in Scotland to ensure it was distinctive from other parties' tartans, Sinamon said in an email.
"It was fascinating," said Ginger Ross, because the committee could see the various arrangement of stripe patterns on a laptop throughout the design process.
The Spartan Tartan was officially registered with The Scottish Register of Tartans on May 28, 2018, and was then unveiled to the MBU community at Ross's presidential inauguration a few months later, representing a new era of growth for the university while also incorporating the long-established core values and Christian representation of MBU.
THE MEANING
Each thread color of the tartan represents one of the core values of the university and was designed to symbolize the Christian values of MBU.
"Because Missouri Baptist University is one of the only evangelical schools, we really wanted that element of faith to be woven into it," said Terri Adams. "We put them out as a reminder of that, and also I think a lot of universities have a tartan and we just felt like the history and the academia class tradition was important."
Other MBU staff members instrumental to the design process also weighed in at various stages throughout the visionary process.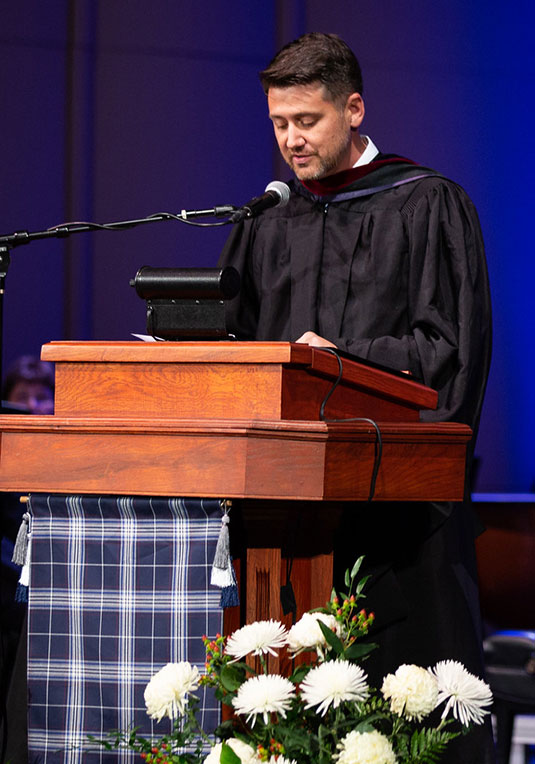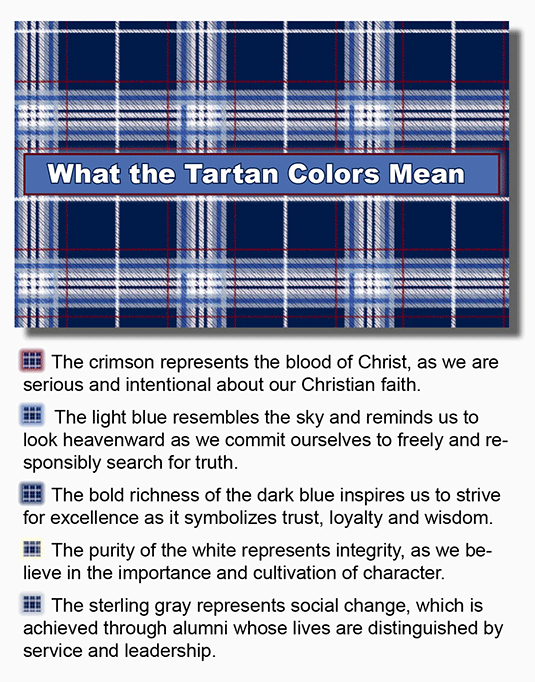 "The tartan is a visual representation of the values that Missouri Baptist University presents to itself and to the world," said Coral Christopher, director of digital communications and content strategy, and a graduate of MBU. "We use it to remind both others and to ourselves about why we are here, why we do things, how we do them, and what is the most important whenever we make our own decisions.
"And so of course, when you look at the tartan, you see that red, skinny line and it stands out against everything else, and for that, that is a symbol of how Christ is a prominent figure for the university and for ourselves as well. That Christ is not something that can be ignored. That He is our Cornerstone and He is the one that we base all of our decisions, and He is why we are where we are."
The pattern is arranged to display a cross, and the red stripe surrounds the blue, white and gray stripes to illustrate how the university's core values of truth, trust, loyalty, wisdom, purity and integrity are encompassed by its Christian guideline, while also featuring MBU colors.
"We're intentional about our Christian faith here. Whether you're a follower of Christ or not, you can't help but sit in a classroom or go to Chapel or something … you know that about MBU. And our idea was the tartan would help us solidify those five values," said Keith Ross. "So, that was the idea. Just as a reminder to people to have, and we thought it would be timeless, you know. A hundred years from now this will become … a tradition here at MBU."
THE TRADITION
"I think probably not enough people know everything about it … other students probably think, 'I've never even heard of that' … so what we try to do during our welcome ceremony, during the fall every year, is we talk about this, and we give people some insight about it," said Ross. "We want it to be something that is a tradition here that a hundred years from now, it's still here, [and] people know what it is."
Ginger Ross added: "What our hope is to do, is to continue to incorporate it in more and more things so that it does become more familiar … so students recognize it," and they say, "'Oh, that's the MBU tartan. Oh, I know what that is.'"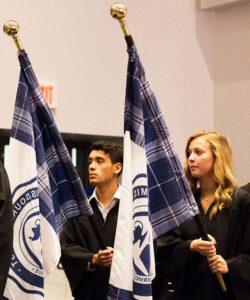 Meanwhile, the tartan plaid can be found on flags around campus, covering lounge chairs in the Learning Center, and on scarves sold in the campus bookstore. It has also been on ties, socks, bookmarks and table throws, and is on display in abundance to greet new freshmen each fall semester, Ginger Ross said.
Since Keith Ross' inauguration, the tartan pattern has become a sign of the presidential office, and it is used for all presidential events as well as for Commencement and Homecoming, said Christopher.
MBU Communications, the public relations arm of the university, has recently developed a web page to explain the meaning of the Spartan Tartan to help it become more recognizable in the community.
Video interview conducted and edited by Kaylee Ascher — Graphics by Kamryn Bell and Jessica Kunkel — Page design by Jessica Kunkel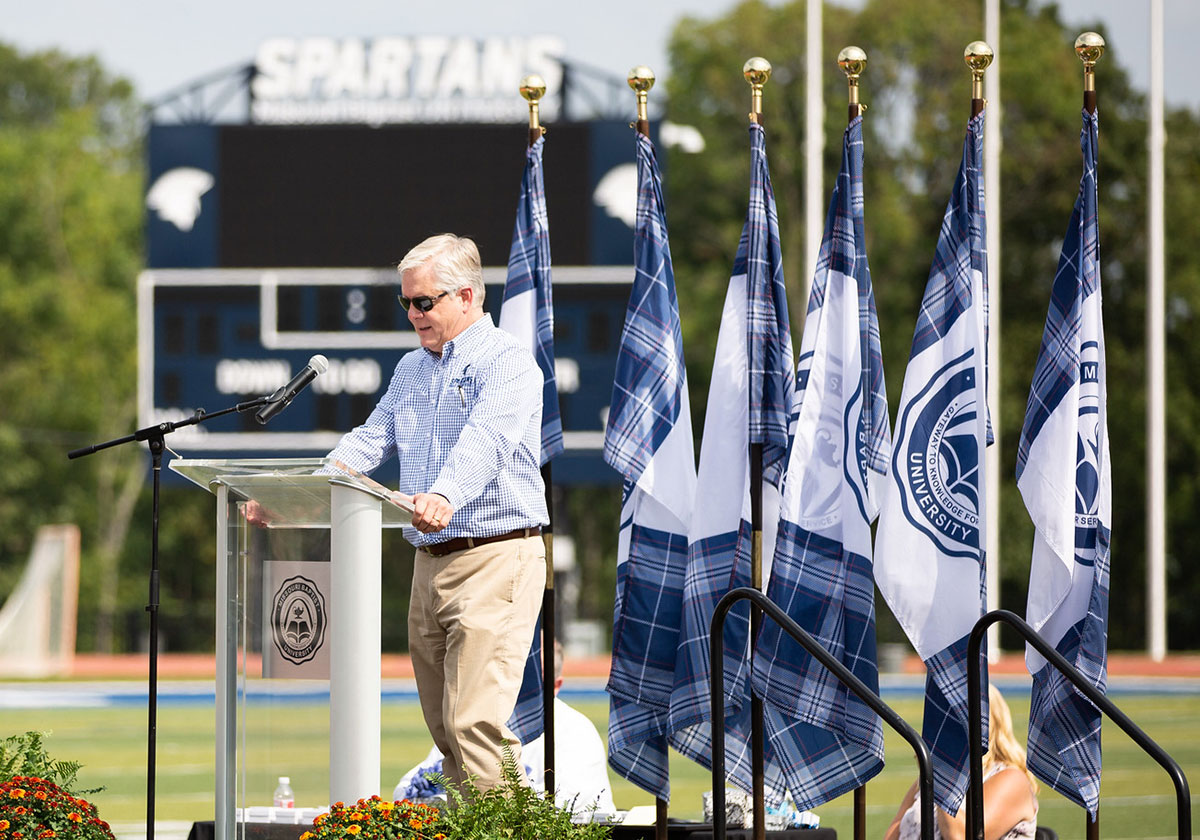 Dr. Keith Ross, president of Missouri Baptist University, speaks during an event in fall 2020 that recognized faculty and staff members, which took place during COVID at Spartan Field. The flags provide a tartan blue-and-white background to various events around campus each academic year. Photo courtesy of Missouri Baptist University