After months of researching all manner of texts, followed by writing 25-page essays, students in a capstone course known as Senior Research Seminar in English are ready to share their work with the rest of MBU in a two-day mini-conference. The presentations will be at the Learning Center and are open to the public.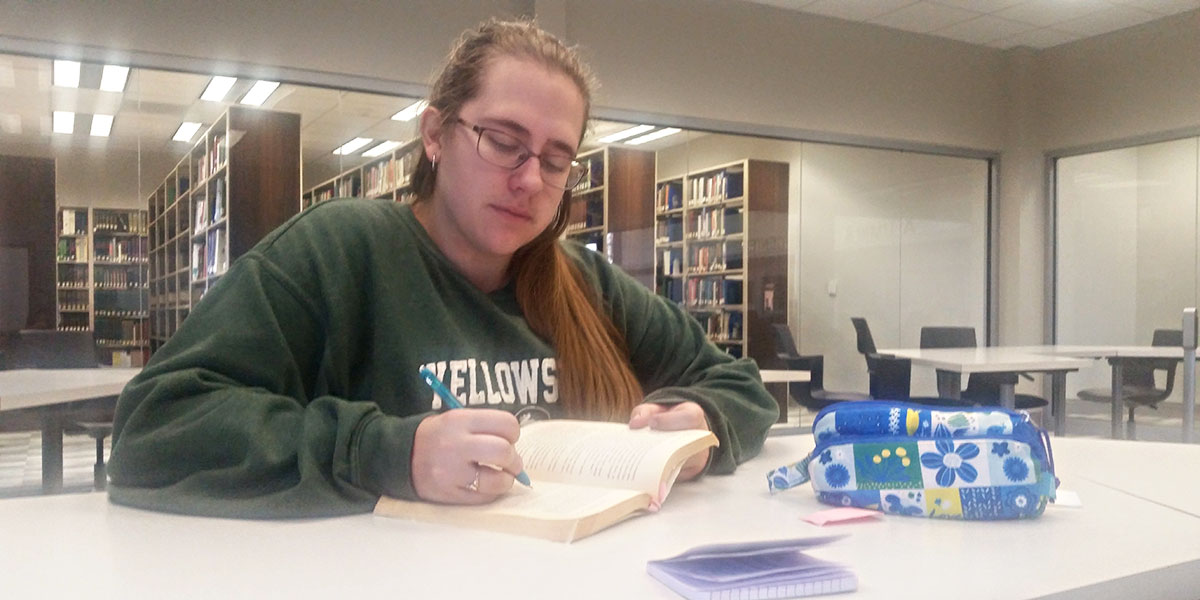 Rebekah Haas, a sophomore majoring in English and secondary education, takes some time to read in preparation for her presentation. Haas will be presenting her research on Tuesday, Nov. 30, at 1:30 p.m.      Photo by Lorraine Linson
__________________________________________________
By LORRAINE LINSON
"If anyone feels bummed or anxious about writing three-, five-, eight- or 10-page papers, writing a 25-page paper mitigates those feelings."
Alex Petti, a senior majoring in English and secondary education, shared this sentiment via email about his Senior Research Seminar class, where he is currently finishing the lengthy semester-long research essay.
The senior capstone class for English majors at Missouri Baptist University, Senior Research Seminar in English enables students to hone their research skills by spending the entire semester crafting a 25-page argumentative paper analyzing a text of their choice.
The word "text" is applied rather loosely in Senior Research Seminar, with students having the option to analyze almost any piece of literature to which they can apply a literary theory.
Now, Petti and his five classmates are ready to share their research at a mini-conference that will take place 1:30-3 p.m. Tuesday, Nov. 30, and 1:30-3 p.m. Thursday, Dec. 2, in the Makerspace area at the Jung-Kellogg Learning Center.
The event is open to the public. Those interested in attending should contact professor Rebecca Duke at rebecca.duke@mobap.edu to ensure there is enough seating space.
Each of the students will have 25-30 minutes to present their research and answer questions from the audience, with three students, Rebekah Haas, Emily Huesgen and Sydney Carr, presenting on Tuesday, Nov. 30, and three students, Lorraine Linson, Petti and Emery Besher, presenting on Thursday, Dec. 2.
The first student presenting on Nov. 30 will be Haas, a sophomore English secondary education major.
"It was a new experience, writing a paper that long, because you couldn't come at it from the same angle as a shorter paper," Haas said Monday and she put the finishing touches on her project at the Learning Center. "You have to plan ahead and know what you are going to do before you start writing."
Haas described her essay topic as "an examination of the non-traditional marriages within E.D.E.N. Southworth's 'Ishmael' publication and how that affected the culture contemporary to the text."
The "Ishmael" publication is a serialized story published between 1863-64 that revolves around a series of romances and marriages that were not conventional for the era. 
Haas said she chose this piece "because I think it's really interesting. I don't know. I really like 'Ishmael.' I really like the text. There's nothing really on it, and I wanted to add to the academic world to fill in that gap."
The second student presenting on Nov. 30 will be senior English and secondary education major Emily Huesgen, who will be "showing how the 'Twilight' saga by Stephenie Meyer could be considered Gothic literature," she said in an email.
Huesgen will be examining the books to identify traits that it shares with the classic gothic genre, such as a gloomy setting and a mysterious hero.
"I chose this topic because I have loved the 'Twilight' saga ever since I was 11-12 years old. I have read it more times than I can count, and it has become a 'comfort read' for me over the years," she said. " I guess you could say I am back in my 'Twilight' phase." 
The last presenter of Nov. 30 will be Carr, a junior English major, who is analyzing how elements of Greek shame culture and modern guilt culture are utilized in Donna Tartt's novel, "The Secret History."
Carr will discuss how these elements affect the murder that is central to this story of anthropology students.
The first student to present on Dec. 2 will be Linson, a junior English and secondary education major.
Linson will be presenting on deconstruction in the comic series, "The Umbrella Academy," written by Gerard Way and illustrated by Gabriel Bá.
She will analyze how the series critiques the modern superhero genre in order to critique societal norms while simultaneously presenting a realistic, supportive family as an alternative to meeting cultural expectations.
The second student presenting on the second day of presentations will be Petti, who has written his paper on "a Marxist critical approach to the 'Ratchet & Clank' franchise," he said in an email. 
Petti will discuss the relationship between video games and the concept of "attention economy" and identify places where this relationship can be seen in "Ratchet & Clank."
Petti said he chose this topic because "I have played the 2002 game since I was 6 years young and always enjoyed playing the franchise throughout its history."
The final presenter for Day 2 will be Emery Besher, a senior English and secondary education major.
He said in an email that for his presentation "I am discussing Shirley Jackson's cross-genre novel, 'The Haunting of Hill House,' and its historical importance as an early example of literature showing postmodern traits. I also discuss how Jackson uses these traits and others to portray ghosts as psychological manifestations of people's pasts. I then observe how Mike Flannigan's 2018 Netflix series of the same name re-envisions her novel in the metamodern era."
While the writing process for these students has been intense, Duke, the class instructor, said she believes the results are worth it.
In an email, she said she loves "seeing students conquer what at first may seem impossible. These writers have developed countless skills in their English and English Education journeys, and I think that students leave this class with pride in their scholarly work," Duke said. "That excitement is contagious."
Duke said she is looking forward to sharing her students' research with the rest of the campus. Especially because of "the variety of topics we have this year, 19th century literature, vampires, video games, murder mysteries, graphic novels, ghost stories," Duke said. "We have it all this semester."