When the news broke that athletic operations would be suspended for the remainder of the semester, emotions of shock and grief were shared by all MBU athletic programs. These teams, despite the hardship, ended up finding support in each other and dug deep to keep their bond and sense of community intact.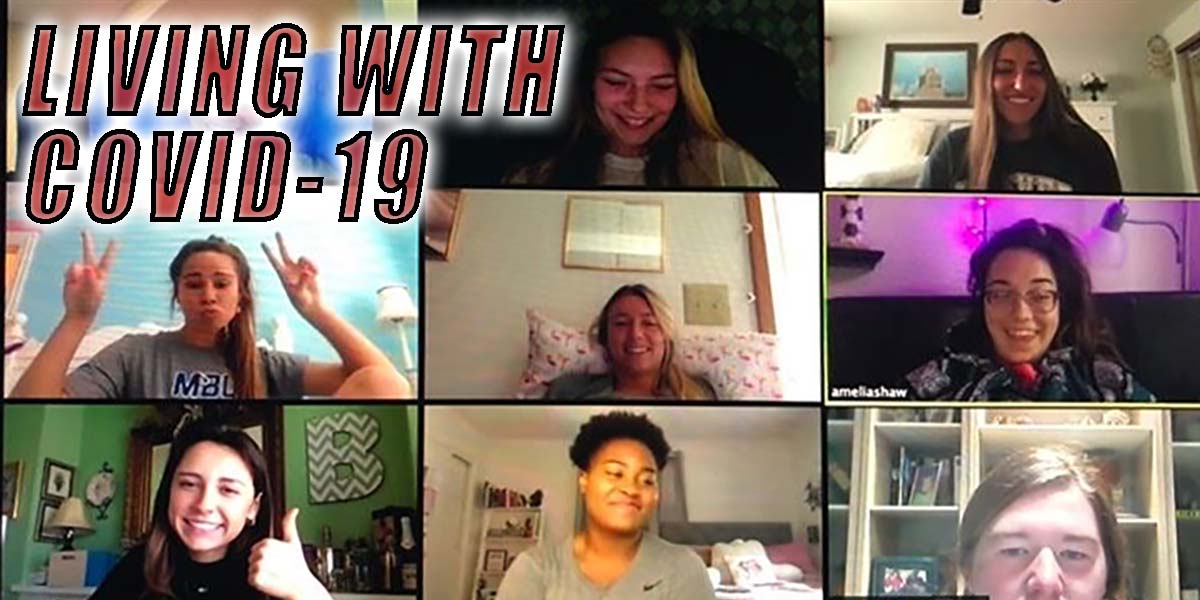 This story is part of a series of ongoing stories and analyses produced by MBU Timeline staff members, focusing on several aspects of COVID-19 and how it has changed the lives of students, faculty members, athletes … everyone.     Photo courtesy of Luke Slagle — Graphic by Dylan White
__________________________________________________
The American Midwest Conference officially suspended all spring sports due to COVID-19 on March 16, 2020, bringing an end to the 2020 athletic season. This came as a surprise to many athletes and fans alike as it seemed to come out of nowhere. 
"It was unbelievable, it didn't seem real. We were blindsided by the news … none of us saw it coming," said Richie Graham, a computer science major and member of the men's lacrosse team at Missouri Baptist University. 
Losing the spring campaign extends much deeper than just the cancelation of games. During extended breaks from the sport, players can become rusty and not as in shape or as well tuned as they once were before the hiatus. No one understands this concept better than men's lacrosse volunteer assistant Tim Borroff. 
"I think the biggest thing our players are missing with everything going on is lacrosse repetition. Improvement comes from practice and constant repetitions and competition with each other," Borroff said. "In addition to the season, the virus also took general time spent together practicing with the team."
To combat this, players from the men's lacrosse program formed a club lacrosse team to stay sharp and continue to build on the team chemistry.
"The club team being built will benefit the players because even though the level of repetition goes down, any opportunity to play together is good team building," said Borroff. 
With the team still being able to play together despite having their season cancelled, players are optimistic that it will improve on field chemistry. 
Junior Noah Campbell, from Moeller, Ohio, thinks this break could be beneficial to offensive production.
"A big part of our offense is how well players play with each other. Team chemistry is huge, we all need to be on the same page. We were just starting to figure it out before the season got cancelled," Campbell said. " Playing together this spring will allow us to be able to maintain that progress we made."
However, some sports aren't able to play together to maintain that camaraderie. In these cases, some teams are turning to technology to continue these bonds. 
Like many classes at MBU, the women's lacrosse team took to the Zoom platform. 
"It helps the team a lot being able to see one another and see how we can help each other during this time. It's hard not being at practice to see how everyone's weekend was so it's nice being able to talk through Zoom and stay in touch," said Brianna Fischer, a freshman from Pueblo, Colorado. "Our coach has also asked us in what ways she can support us and how we can support one another even while being apart."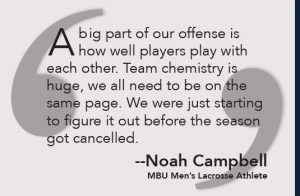 The football team is also using technology to stay connected. Junior Marcus Paddack said that video games and social media are ways that his team is staying together.
"To stay in contact, a good amount of us made a group chat on Snapchat called 'MBU Football' that we use to keep in touch with each other. Whether it's through the group chat or playing video games together online, we are still connected," said Paddack.
MBU's track program has also been using mobile applications to interact with each other.
"We use an app called Strava to post our runs. It's kinda like social media for running. It helps us hold everybody accountable to make sure we are running. We can also like each other's runs and comment on them. I like to tell a little bit of what's going on in my life each time I post," said sophomore distance runner Emily Bayer. 
While COVID-19 may have taken these athletes' seasons, it's clear it hasn't taken their passion for the game and their relationships with each other.
No matter what these next few months hold, athletes are relieved to know they have multiple outlets to stay connected to their teammates in their day-to-day lives. This passion for these athletes' sports stretches farther than just the field.