Without warning, a 2020 spring sports season for MBU college athletes became a lost season because of the rampant virus, COVID-19. As they are still reeling from the news, MBU student-athletes have tried to pick up the pieces and look forward to the future.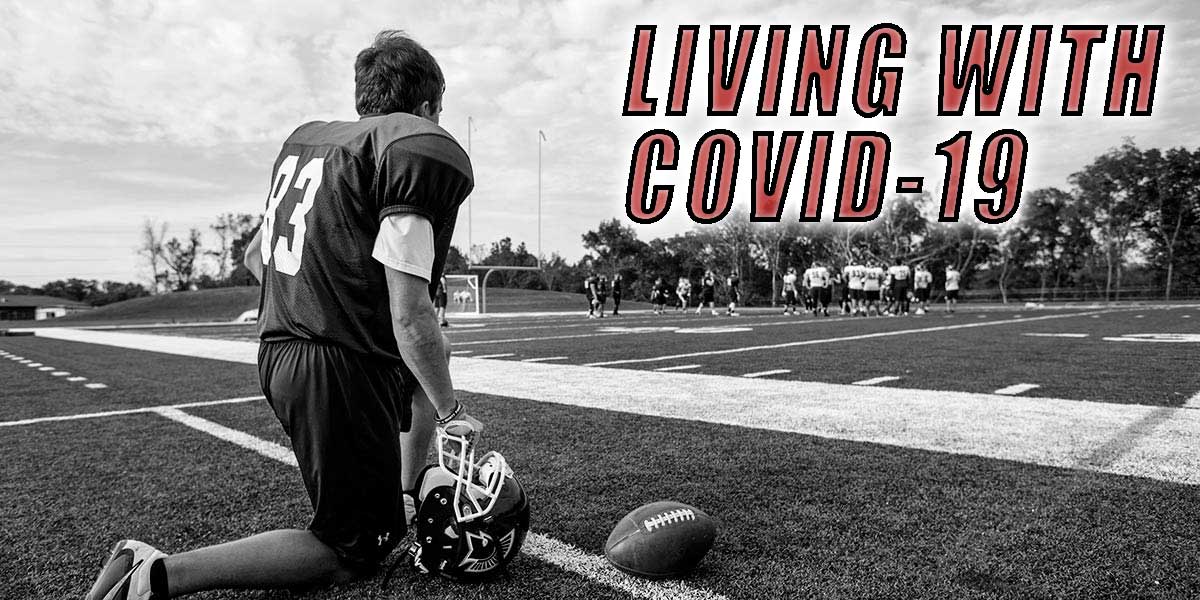 This story is part of a series of ongoing stories and analyses produced by MBU Timeline staff members, focusing on several aspects of COVID-19 and how it has changed the lives of students, faculty members, athletes … everyone.     Photo courtesy of MBU University Communications — Graphic by Dylan White
__________________________________________________
Just as the spring 2020 athletic season began for Missouri Baptist University athletes, it soon ended due to COVID-19 and its life-altering effects. 
Sports such as men's volleyball, beach volleyball, men's and women's golf, men's and women's tennis, men's and women's lacrosse, baseball, softball, and men's and women's track and field have all suffered from a cut season.
Francielly Morena da Silva, 21, a senior majoring in exercise science at MBU from Sao Paulo, Brazil, is a member of MBU's women's tennis and was saddened when she heard the news that MBU tennis would not be continuing their season. 
"For me it was really a shock. I had a rough start of the semester. I got into a car accident in February, which took me off of the courts for almost four weeks. Then after two weeks practicing and feeling good about myself once again, my career was shaken again," Morena said. "It was really sad to think about the possibility of not having my closure as an athlete."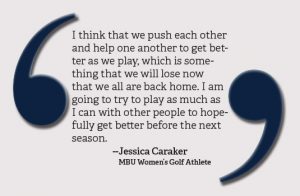 Kamryn Bell, 18, a freshman at MBU majoring in broadcast media from St. Charles, Missouri, is an athlete on MBU's women's lacrosse team and although not a senior like Morena, Bell regrets that she and her team received no closure from the season either.
"A concern I have about our lost season is that we didn't have the chance to grow as our own player. Some freshmen weren't able to complete our firsts," Bell said. "First goal, first left-handed goal, first changed possession, first starting position, first team road trip, etc. Yes, I do feel like I progressed as a player in this short time, but I don't think I was able to grow to my full potential in a given season."
Torrance Littles, 22, a senior at MBU majoring in communications from Las Vegas, Nevada, and an MBU men's track and field athlete, relates to Bell concerning stunted growth and success as an athlete because of the lost season. 
"Well I was using track for rehab for my knee and to stay in shape, but now with everyone stuck inside it's hard to motivate myself to workout, the most I can do is pushups and situps," Littles said.
Jessica Caraker, 19, a sophomore at MBU majoring in biology from Columbia, Missouri, is an athlete on MBU's women's golf team and also understands the negative aspect of being stuck inside. 
"The ability to be able to go play golf at a course with your teammates is incredibly valuable," Caraker said. "I think that we push each other and help one another to get better as we play, which is something that we will lose now that we all are back home. I am going to try to play as much as I can with other people to hopefully get better before the next season."
These athletes have been dealt a bad card, but they understand that everyone else has as well.
"I think it was the correct decision because even though we are not part of the risk population, we can be a helpful tool for COVID-19 as we transmit the virus for more and more people," Morena said. "I think that it would be very selfish to say that our athletic events are more important than elderly people's lives and society's safety."
Although there are many negatives to be found concerning the situation, there is hope for the future. 
"Hopefully, everyone gets a year, or a semester, of eligibility back," Littles said. "I see some of the organizations are discussing it, and I think it's a possibility for track since it's basically two different seasons."
Not only is there hope for these athletes, but there is also strength and a better season to come with nothing holding them back. 
"I feel like the cancelation from this season will bring fire to our next. We've been craving to play since the beginning of the school year," Bell said. "I think we'll play even harder than ever because there won't be anything holding us back anymore."