Coronavirus has suspended life as we know it, and student-athletes' last remaining games of the 2020 spring season have been taken away. As they mourn losing their opportunity to play, the NAIA has stepped up in a big way, granting all students who lost their season extra eligibility.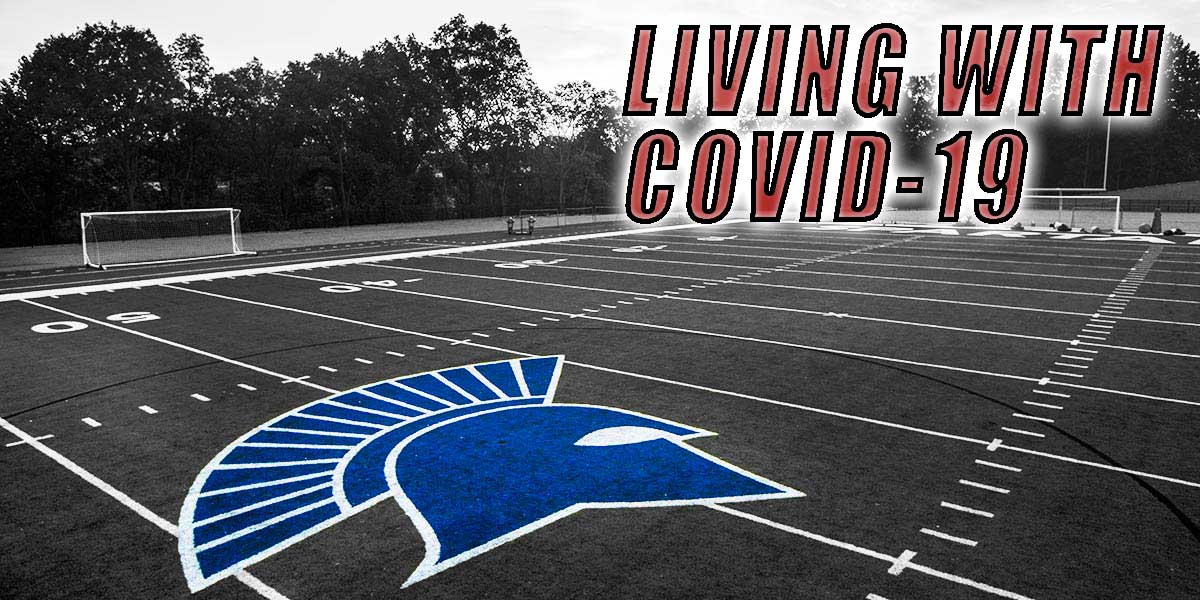 This story is part of a series of ongoing stories and analyses produced by MBU Timeline staff members, focusing on several aspects of COVID-19 and how it has changed the lives of students, faculty members, athletes … everyone.     Photo courtesy of MBU University Communications — Graphic by Dylan White

__________________________________________________
As the reality has slowly sunk in that seniors in their sport may never play for Missouri Baptist University again, the questions about what this means to their athletic futures have flooded in. 
First things first, the NCAA had released a statement giving all senior spring athletes their season of eligibility back, with this key note: Not all seniors who return will be keeping the scholarships they previously had. 
The NAIA has a little more forgiveness when handling the crisis, as many schools do things regarding money case by case, but as far as eligibility is concerned, all student-athletes who lost their season will be granted eligibility to return and compete. 
Dr. Tom Smith, associate vice president and director of athletics at MBU, released a heartfelt letter to the entire student body regarding the virus's overall effect on campus. 
"I was deeply saddened to learn of the cancellation of both winter post-season and spring sports programs. Further, your flexibility to move to online courses has been an inspiration to both myself and your coaches. Simply put, you are Spartan Strong," Smith said, concluding the letter with some guidance for those who may seem lost or frustrated. "In the meantime, place your hope in our Lord Jesus, for in Him, we can find peace, comfort and security."
As of mid- to late-April, all specifics regarding the layout for next year are still being discussed, but with the guidance of Smith, Eddie Uschold, head baseball coach and associate director of athletics, and Iris Dixon, assistant athletic director of compliance, MBU student-athletes now have a better understanding of what is being discussed at the top of the NAIA.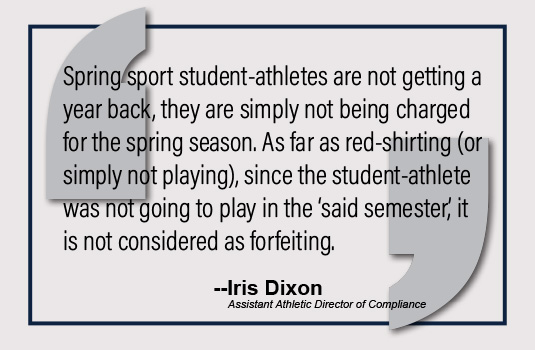 As many seniors are contemplating their return for one last ride, many of them are graduating and choosing to not proceed on with their athletic career.
One particular student-athlete, who asked to remain anonymous because he/she is unsure whether they plan to return next season or not, reflected on what many student-athletes might be thinking as they face this difficult decision.
"It's crazy to think that my last game ever was one that I didn't know was going to be my last. Everyone has that chance to say goodbye to their sport and for some reason it doesn't feel like I have," the student-athlete said. "I don't know if I'll take the extra year. Life doesn't wait for anybody and I can't wait for it." 
The MBU baseball team is one of 12 sports affected by the virus, having their season cut short just a quarter way through the schedule. 
"We have four guys that are scheduled to graduate at the completion of this semester. They have all decided not to return. The rest of the seniors at this point have decided to return for an extra season," said Uschold.
As details began to emerge, Smith added there was another meeting scheduled.
"There is still a lot of chat among themselves (NAIA) about what all that's going to mean in terms of complications, so there's a lot of things still up in the air that they're still trying to sort through," Smith said. 
For any news updates please look at the NAIA/COVID19 website and MBU Athletics web page for details that may arise for people wondering about scholarships, rules for eligibility and any redistribution of funds. 
If you are a senior and wonder if your academic year is affected by the virus or a redshirt who is wondering if your redshirt has been forfeited because of the loss of an athletic season, Dixon offered a direct answer. 
"Spring sport student-athletes are not getting a year back, they are simply not being charged for the spring season. As far as red-shirting (or simply not playing), since the student-athlete was not going to play in the 'said semester,' it is not considered as forfeiting," said Dixon.
Though many questions remain, those who are waiting for more to be said are the ones on the precipice of the rest of their life.
Incoming freshmen and transfer students are left waiting for their scholarship offers to come in and questioning if it will be worth the loss of playing time to join a roster that may not be diminishing. They might also be taking into account the amount of players who see Division I schools struggling to offer scholarships to new players. 
NAIA schools may actually benefit from the fact that some top high school athletes are waiting for larger universities to free up scholarship funds while trying to stay within the NCAA's strict guidelines of offering scholarships. 
"It is making it more difficult to make higher offers," Uschold explained. "For us, prior to this year we have a good amount of seniors who finish their eligibility but still have school to complete. Their scholarship is lowered and then there's money freed up for the new people coming in. It will be more difficult to navigate this year because those seniors are coming back on the same money they had this past season."
The MBU Hall of Fame coach continued.
"I think the 2020 high school graduates/young returnees are the young men who will be hurt by this. People will be staying and occupying innings," Uschold said. "As far as getting the kids to commit … it is a bit of a challenge right now because they are not sure where they stand with the NCAA."
Whatever the future holds, one thing is certain, college sports fans are as anxious as the players embarking on their journeys on new teams, and those players returning for one last ride before they leave college sports. Both incoming and returning student-athletes are ready for anything, even a virus stopping the world.