What's happening this week? Think hard. No, not a secret memo being released by the White House. No, not the Super Bowl. The XXIII Olympic Winter Games in Pyeongchang County, South Korea, begin Thursday, Feb. 8, with Opening Ceremonies scheduled for Friday. But how many of us will actually be tuning in? Do the Winter Olympics hold the same appeal for millennials and post-millennials as they did for prior generations? Communications students set out across MBU's campus this week asking various relevant questions related to the upcoming Winter Olympic Games.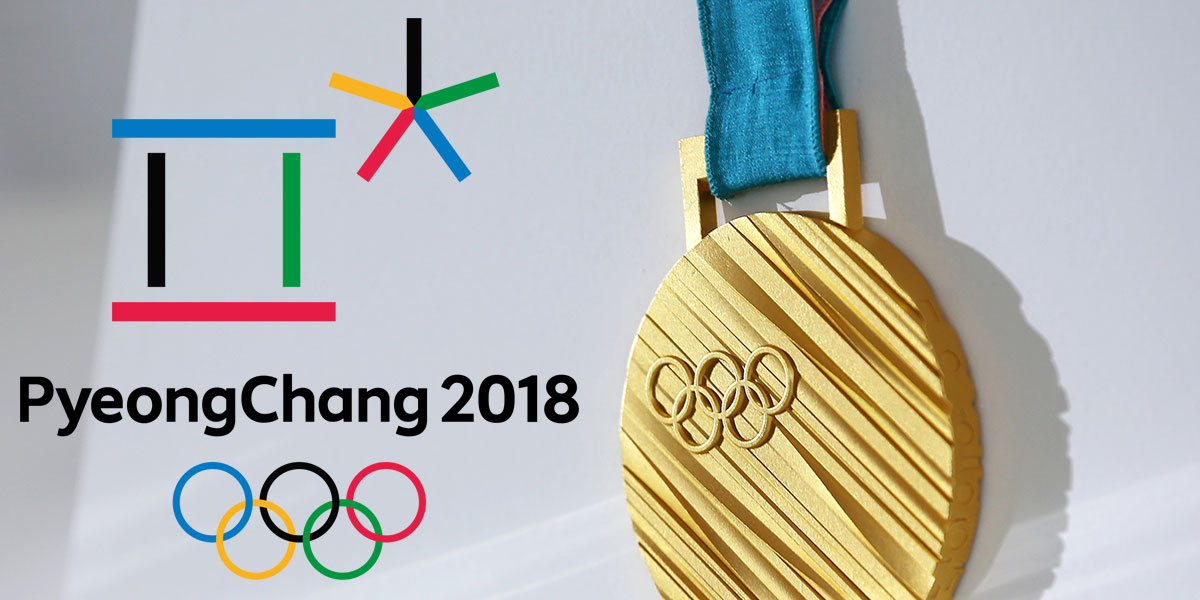 Composite by C. Allin Means — Copyright-free graphic and photo provided by Google Images
__________________________________________________
MADELYN SHOTTON asked:
The Winter Olympics begin on Thursday, do you plan on watching them?
♦ "Yes, I do. I plan on watching it when I can because I've always enjoyed watching stuff like that. I think it's really cool and I like seeing what people can accomplish," said Heidi Wolford, a junior elementary education major from Greensburg, Indiana.
♦ "I plan on watching the ice skating portion of the Winter Olympics; just a few of the competitions because that's all I really have time for," said Sierra Pettey, a junior education major, with a certificate in cross cultural disabilities, from Troy, Missouri.
♦ "I will definitely be watching the Olympics this year, for two different reasons. No. 1, my 7-year-old says that we will be watching the Olympics and, No. 2, because I love watching the skiing competition, watching them fly through the air," said Lara Hines, director of student activities, from Cape Girardeau, Missouri.
---
JANIE GROSSMANN asked:
How much time do you think you will spend watching the Winter Olympics?
♦ "I will probably spend time watching about half of the Winter Olympics this year. I am more of a fan for the Summer Olympics because I like the sports involved in the Summer Olympics more. I enjoy some of the sports in the Winter Olympics, but some do not interest me so I won't be making it a huge priority to watch this winter," said Hannah Bayer, a senior human services major from St. Charles, Missouri.
♦ "Maybe an hour or two. Not much at all. It is because I am not interested in watching the Olympics because I do not like watching sports. I enjoy playing them way more. And, I never know when the events I like are happening," said Joey Link, a freshman business administration major from Baden, Illinois.
♦ "Honestly, I haven't thought about it much, it caught me by surprise. While I enjoy watching the Winter Olympics I don't know how much time I will spend watching this time. I never participated in many of the events that are featured in the Winter Olympics so my interest in them is mostly just minor," said Josiah Grossmann, a freshman undecided major from Mombasa, Kenya.
---
PAUL DIXON asked:
Do you think our generation is less interested in the Olympics?
♦ "We have so much better things to do with our time when compared to past generations, and I believe that as a generation we are much less interested in the idea of sports as a whole," said Gabe Murphy, a sophomore music education major from St.Charles, Missouri.
♦ "I feel like we're less interested because the Olympics are culturally insignificant. Back in the day being in the Olympics meant you were on top, nowadays being on the top of sports doesn't require you to be in the Olympics," said Marnise Taggert, a junior music education major from St. Louis.
♦ "It's all become less impressive, we've seen it all done before. The thrill has died because we've seen it all happen before and we basically know exactly what's gonna happen. Because of websites like YouTube and stuff we've seen people perform feats similar to what happens at the Olympics," said Tyler Gruen, a junior theatre major with a minor in music, from Greenfield, Illinois.
---
KRISTA KREKELER asked:
Are you an athlete? Does that affect whether you watch the Winter Olympics or not?
♦ "No, I am not an athlete, however I played baseball in my youth. I still enjoy watching the Olympics. I like learning about the athletes' backstories and how much the Olympics mean to different people," said Spencer Toft, a freshman music education major from Jackson, Missouri.
♦ "No, I am not an athlete. If I were an athlete, I think it might affect whether I watch the Winter Olympics depending on which sport I played. Right now, I do not watch the Olympics," said Kara Wolf, a freshman worship leadership major from Troy, Missouri.
♦ "I am not an athlete but I was. I think it does affect whether I watch the Olympics. I prefer to watch the summer Olympics because I used to run track," said Alyssa Beaudoin, a freshman marketing major from O'Fallon, Missouri.
---
MAGGIE SORENSEN asked:
Do you prefer to watch the Winter or Summer Olympics?
♦ "I watch the Summer Olympics more because I am from New Zealand. We do not get much snow or have as many winter sport training facilities there. New Zealand is better represented in the Summer Olympics, making the watching experience more personal," said Georgia Park, a sophomore business major from Auckland, New Zealand.
♦ "I guess I watch Summer Olympics more. I tend to be more attracted to the sports that are played during the Summer Olympics. Also, I know more about the rules and regulations of the sports that are played in the Summer Olympics, making it more exciting to watch," said Anna Richert, a graduate student from St. Louis.
---
JORDAN HALL asked:
How do you feel about the Winter Olympics if you watch them at all?
♦ "I really don't care about them. I've never watched and don't really care to," said Alex Hancock, a sophomore Christian ministries major.
♦ "Haven't watched them, don't really care, but I admire their talents and abilities," said Ben Gruender, a senior Christian ministries major.
♦ "What I think about the Winter Olympics is I love it. it's just a good time to watch winter sports and watch the best people in the world compete," said Jeremiah Dunham, a sophomore from Birmingham, Alabama.
---
TREVOR CHANEY asked:
Has social media created an environment where we no longer feel the need to watch historic events such as the Olympics? Are you satisfied knowing the result or watching the event live?
♦ "For younger generations, they don't really care about the 'now', while older generations like to watch things live. I personally like to watch games live and see the results as they happen," said Royce Patty, a junior biochemistry major from Wildwood, Missouri.
♦ "I say no because I think we still like to watch the opening ceremonies and the closing ceremonies, also we like to watch certain sports more than others so it's hard to get all the excitement so that's when social media would be useful," said Emily Orf, a senior from St.Louis.
♦ "I think social media enables us to get news without seeking events live. For events that I enjoy watching I would make sure to watch those first-hand, for instance the Super Bowl is a must-watch for me as opposed to a regular season game where I can see the score on social media," said Nick Sailer, a freshman from Pound, Wisconsin.
---
ROSS MUNROE asked:
How do you feel about North Korea playing in the Winter Olympics? Also, how do you feel about them walking in with South Korea as a "unified nation"?
♦ "I think it is a good idea for them to show solidarity through sports. I think it's a good idea, it shows unity," said Terrance Evans, a senior public relations and journalism major from Chicago.
♦ "I'm a little bit uncertain about the answer to that but off hand I would say that probably North Korea should be allowed to participate. I think that one of the reasons that the Olympics has been so good is because people of all different types, all different nations throughout the world, can come together over something that's peaceful and not be sort of taking sides about something else, so I think that's good as to whether they should come together with South Korea," said Linda Webb, Jung Kellogg Library circulation manager.
♦ "OK, so I think it's actually a good thing that North Korea is going to be able to play in the Winter Olympics. I think it's a nice step toward just fixing those ties, you know, that have been broken," said Allison Wallis, a senior biology and English major from Poplar Bluff, Missouri.
---
BRANDON BOOS asked:
Did you watch more of the Olympics as a kid or now?
♦ "I'm not much of a sports guy, but the Olympics is like the one sporting event I will watch," said Michael Knox, a sophomore from St. Louis.
♦ "Now with a family of six, with four kids, you know, I just don't have as much time," said Jacob Alvernia, men's head soccer coach, from Defiance, noting he watched more of the Olympics when he was younger.
♦ "I actually watched it more when I was a kid, because my parents really liked it," said Sebastian Munoz, manager of the Perk, who was born in Mexico but now lives in St. Louis.