— Part 2 of an 8-Part Series —
During an in-service day earlier this semester, MBU faculty and staff members participated in active shooter training for the first time, following the 4E's© program, led by members of the Creve Coeur Police Department.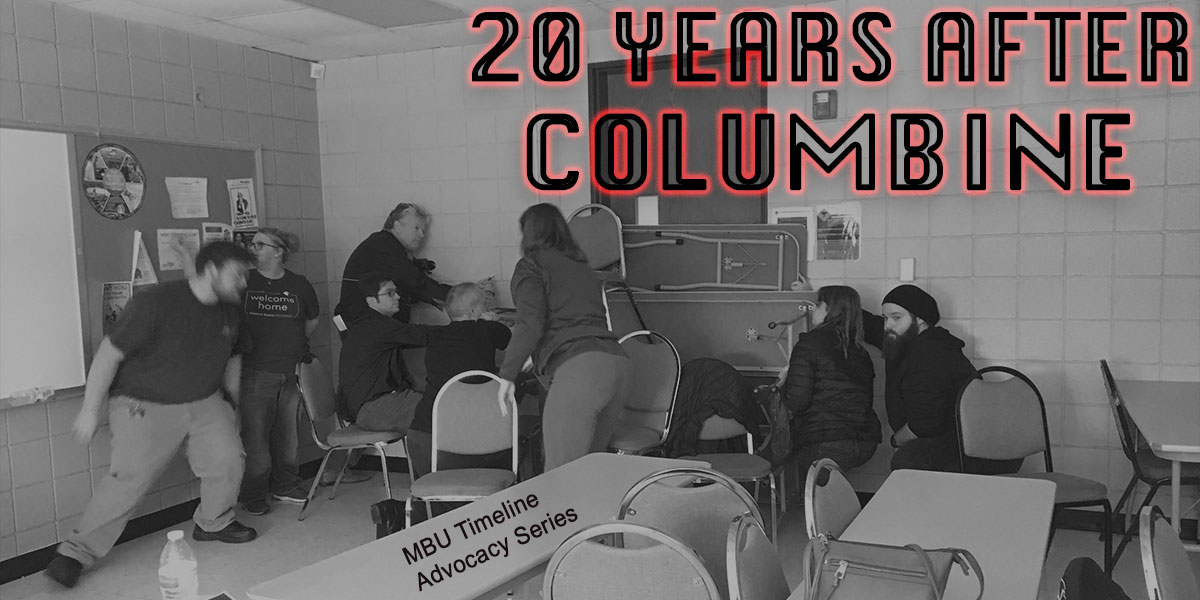 Photo by C. Allin Means
During the February in-service day at Missouri Baptist University, faculty and staff members worked side-by-side to barricade doors and put into practice what officers taught them in case an actual active shooting situation were to reach MBU's campus. The hope is that this scenario would never happen in real life, but that if it does, faculty, staff and students will be prepared.
_________________________________________________
An active shooter training for faculty and staff on Feb. 20 consisted of a 4-hour session that began with a 90-minute presentation, and then took participants through the paces of what a real active shooting might look and feel like on the campus of Missouri Baptist University.
The opening session, presented by officer Douglas Manninger, of the Creve Coeur Police Department, included statistics related to active shootings in schools throughout the U.S., characteristics of active shooters and an in-depth explanation of the 4E's concepts: Education, Evade, Escape and Engage.
The 4E's program was created by Tier One Tactical Solutions, founded by three law enforcement members who have been serving for more than 50 years and either attended schools in the St. Louis area or call St. Louis their hometown.
"Whether you are out shopping with your family, watching a movie at a local theater, learning in a classroom or even attending a weekend church service, by having a plan and creating hypotheticals, you'll be that much more prepared should this horrible situation happen near you," Manninger said in an email. "Having a survival mindset is one of the best defenses you could have if ever faced with an active shooter."
After the presentation, members of the Creve Coeur Police Department and MBU Public Safety officers guided staff and faculty to various classrooms and administrative offices throughout the campus for a hands-on training experience.
Sandy Riutcel, advancement services manager for the Office of University Advancement, said she was intrigued by the reactions of each person who participated in the training.
"I hope we never encounter circumstances like the ones in which we participated, but I feel more prepared should I be put in that position," Riutcel said in an email.
Staff and faculty members were divided into groups to engage in multiple active shooter scenarios, followed by live feedback from members of the local police department.
Many participants, including Carla Jones, coordinator for undergraduate advising for MBU's main campus, appreciated the feedback given from officer Manninger after each scenario.
"The active shooter training was informative and highlighted the importance of having a plan of action with options to evade, escape and engage," Jones said in an email.

During the active portion of the training, staff and faculty members were instructed to enter their assigned classrooms or offices to assume their regular duties as if it were a normal school day, while staying aware of any sudden signs of an active shooter on campus.
Judy Ellison, student success advisor/special needs coordinator for the Academic Success Center, thought the training was helpful in terms of "getting us to think differently about an active shooter situation, specifically that we could actually do something, use items in the room to barricade doors, call 911, hide, fight if necessary, and not freeze in helplessness," Ellison said in an email.
With the increase of mass shootings in the past decade, Public Safety brought a formal training to MBU employees to better equip them.
Katlyn Moncada, web content specialist for University Communications, said she thought having an active shooter training was an unfortunate necessity for the university.
"With the amount of school and public shootings we hear about so frequently around the country, it is a terrible reality we have to face, so being prepared for if a situation like that were to occur on our campus is definitely a smart step in making sure our students, faculty and staff are protected as much as possible," Moncada said in an email.
An active shooter is an individual attempting to kill a person or people in a confined and highly populated area.
Though active shooter situations cannot be predicted, individuals can educate themselves to react most efficiently if an active shooter situation were to occur.
Officer Manninger has led numerous active shooter trainings throughout the St. Louis area, including schools, businesses and residents where he teaches the concepts in each training can be used anywhere.
MBU will not be hosting an extensive 4E's training for students in order to protect the security and protocols of the university, but faculty will be giving brief instructions during the first week of the semester, starting this fall, to better equip students.