— Part 3 of an 8-Part Series —
In the wake of the 20th anniversary of Columbine, it's important to study the history of gun violence in schools, as well as how this violence has increased since the massacre 20 years ago.

 In this age of easily accessible high-tech weaponry, shootings in schools have increased dramatically. In 2018, a school shooting happened an average of every two days.
With April 20 being the 20th anniversary of the Columbine High School massacre in Colorado, it is a time to reflect on the ways this event shocked the nation and set a precedent for shootings to come.
On April 20, 1999, Eric Harris, 18, and Dylan Klebold, 17, killed 12 fellow students and one teacher as part of a premeditated plan to kill students, as written in Harris' notebook that had a detailed a plan of action, according to The New York Times.
The senseless bloodshed, which had the entire nation in awe, happened in a school setting, and at that point was the deadliest school shooting in American history.
Columbine will forever be etched in the mind of Americans as the jumping off point of a slew of school shootings, some even more deadly.
Here is a list of some of the deadliest school shootings since the Harris and Klebold massacre.
♦ 2005: Red Lake Senior High School, Red Lake, Minnesota, 10 dead. March 21, Jeff Weise, 16, killed his grandfather and her girlfriend, then drove to his school armed with a shotgun, two handguns and a bulletproof vest. He executed a security guard, a teacher and five students before turning the gun on himself.
♦ 2006: West Nickel Mines School, Bart Township, Pennsylvania, 6 dead. Oct. 2, Charles C. Roberts, 32, walked into a small amish school house where he barricaded the door and murdered five little girls and killed himself afterward.
♦ 2007: Virginia Tech University, Blacksburg, Virginia, 33 dead. April 16, Seung-Hui Cho, 23, carried two semi-automatic pistols unto the Virginia Tech campus and massacred 32 people before taking his own life.
♦ 2008 Northern Illinois University, Dekalb, Illinois, 6 dead. Feb. 14, Stephen Kazmierczak barged into a crowded lecture hall with a shotgun and two pistols shooting 21 and killing 5 before shooting himself.
♦ 2012 Oikos University, Oakland, California, 7 dead. April 22, One Goh, 43, stood up in the middle of class with a .45 caliber pistol, lined up his classmates and began shooting them execution style, he fled the scene and was apprehended by police at a
Safeway supermarket; he was later sentenced to seven consecutive life sentences.
♦ 2012 Sandy Hook Elementary School, Newtown, Connecticut, 27 dead. Dec. 14, Adam Lanza, 20, after murdering his mother, open fired with his AR-15 rifle at an elementary school, killing 20 children and six adults before fatally shooting himself in the head.
♦ 2015 Umpqua Community College, Roseburg, Oregon, 10 dead. Oct. 1, Chris Harper-Mercer shot and killed his assistant professor and eight students with two handguns, he then shot himself after a shootout with police.
♦ 2018 Marjory Stoneman Douglas High School, Parkland, Florida, 17 dead. Feb. 14, Nikolas Cruz, 19, open fired at the school and killed 17 students and staff members. He fled on foot by blending in with the student crowd. He then was arrested and charged with 17 counts of first degree murder. He admitted to the shootings and is awaiting trial to determine his punishment, either the death penalty or life in prison without parole.
♦ 2018 Santa Fe High School, Santa Fe, Texas, 10 dead: May 18, just three months after the Stoneman Douglas High School shooting, Dimitrios Pagourtzis, 17, brought a shotgun and pistol to school and began firing, killing 10. He was arrested and charged with the murders, but since he was 17 years old at the time of the shootings he could be released from a Texas prison after 40 years, amounting to four years per victim. According to a story posted two weeks ago on a Houston TV news station website, prosecutors are now seeking federal charges, which could guarantee life in prison without the possibility of parole.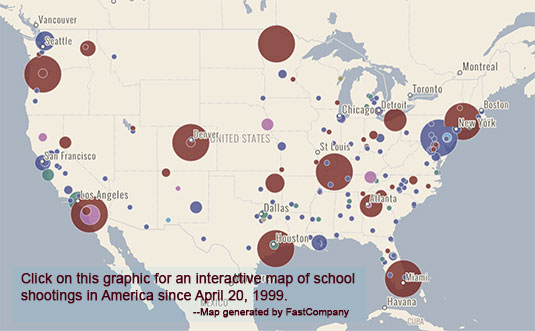 ♦ Here is a link to a map that shows every school shooting in America since April 20, 1999, at Columbine High School in Littleton, Colorado. Here is a link to an interactive map showing every mass shooting in America since 2013, including schools, theaters and various other venues. Here is a link to an MBU Timeline story by Cam Cosey pointing out that most terrorism in America is actually domestic.
In a 2014 study, the FBI determined that active shooter incidents increased significantly on school campuses between 2000 and 2013.

There was a 153 percent increase in shooting incidents from 2001-02 to 2005-06 compared to 2011-12 to 2015-16, according to Campus Safety Magazine.
More directly, the magazine determined that between the years of 2001 and 2016, there were a total of 190 shootings on college campuses.
Not only is the frequency of shootings alarming, but there has also been a casualty increase in these shootings. During the 1994 Assault Weapons Ban, the number of gun massacres fell by 37 percent, and the number of those killed by gun massacres dropped 47 percent.
In 2004, the ban lapsed and gun massacre numbers jumped 183 percent and 239 percent, respectively, according to The Washington Post. 
School shootings potentially bring the largest fatality counts because of the number of students gathered together in one building. 
The deadliest school shooting in the U.S. history was carried out on the Virginia Tech University campus in Blacksburg, Virginia, in 2007.
Seung-Hui Cho, an undergraduate student at the university, killed 32 people and injured another 17 with two semi-automatic pistols before he killed himself.
Access to assault weaponry is a major cause for concern as it can help increase the death toll in any mass shooting attempt.
As a student, this raises the question: How concerned do you need to be about a shooting on your campus?
According to the Center for Homeland Defense and Security, in 2018 there were 97 school shootings from grades K-12. If we assume there are about 180 days of school per year, this means a school shooting happens every two days.
With a large population gathered in a relatively confined area, school campuses can be a dangerous place when coupled with the rise in mass shootings as a whole.
The tragedy of Columbine two decades ago remains in the hearts of Americans, and with the rise of senseless violence in schools, Columbine will always be regarded as the progenitor of these massacres.