The small size of Missouri Baptist University allows for special events for prospective students. The university staff wants every prospective student to feel at home when they visit MBU. This day allows students to talk with professors, tour campus and residential halls, and see what MBU has to offer.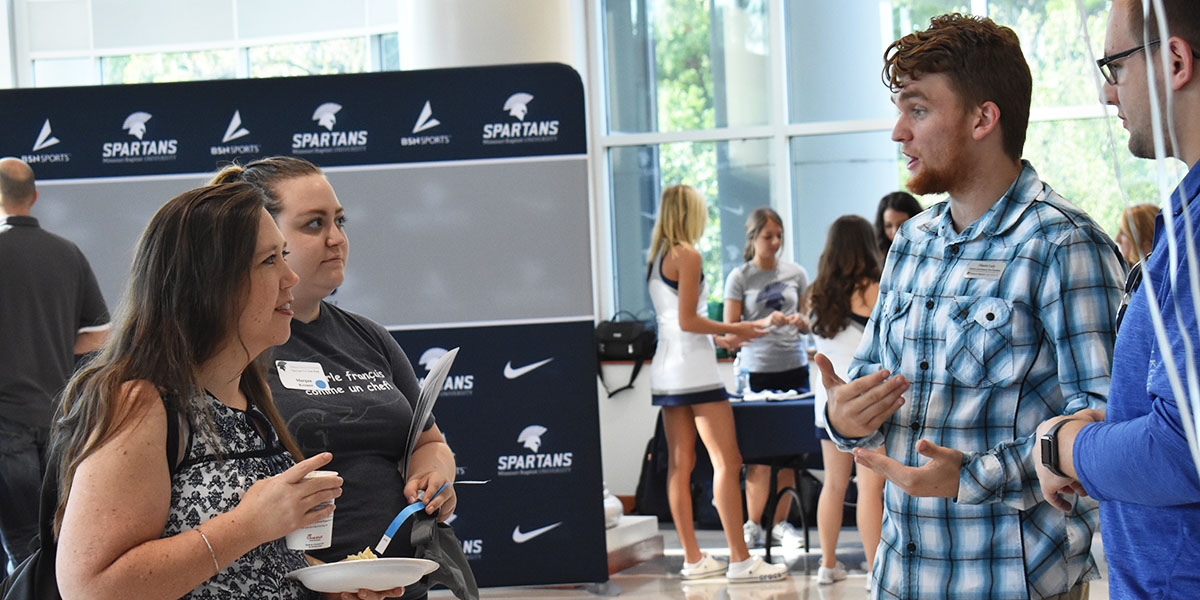 Photos by Madelyn Shotton
Chance Ludy and Bradley Clark (right) talk with a prospective student and her mom about Student Activities and the Student Government Association at the organizational fair Saturday morning.
__________________________________________________
This past Saturday was a was a busy day at MBU, as admissions kicked off their first Spartan Preview Day of the school year, the football team had its third home game and attendees were given free admission to the game, which the Spartans won, 42-14.
Students and their families lined up outside the Pillsbury Chapel doors, awaiting the 8:30 a.m. start time. The admissions team had arrived between 7:30 a.m. and 8 a.m. to await the arrival of breakfast and get any last minute tasks completed.
Some 82 students and their families, totaling 190 people, attended SPD, which was about a 55 percent turnout rate compared to those who responded to invitations, which organizers said was fairly good for MBU considering many other Missouri universities were also having open house events the same weekend.
When choosing a university, high school students want to feel as if they are attending the school for a day, and that's what MBU strives for, organizers said.
"Spartan Preview Days are incredibly important to our strategic enrollment plan as almost 50 percent of a fall class will have attended an SPD event. They are our opportunity to show potential students why Missouri Baptist University is so special," said Cynthia Sutton, executive director for undergraduate admissions.
When walking into the Chapel, students were greeted with warm smiles from Janet Roark, Laura Copeland, Leah Maasen and Bailey Ruess. They checked in students, briefly told them about what to expect in the day and explained about the tables featured behind them.
After signing in, students along with their families, were able to roam the Great Hall and check out various tables of clubs, departments, sports and others, including MBU Honors, the New MBU School of Nursing, and ResLife.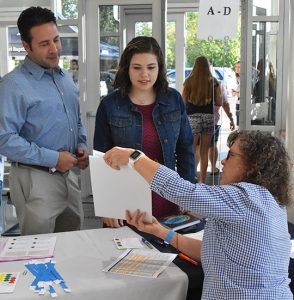 The university provided Chick-fil-A and plenty of coffee to show grace to families who had traveled so far from home.
"What I love most about Spartan Preview Day is that after communicating with these students for the past few weeks, we finally get to meet face to face," said freshman admissions counselor, Jeanna Moore. "I love getting to know more about my students, and being able to show off what makes MBU so special is something that I always look forward to. I also love interacting with the parents who are going through this for the first time and try to help make this a fun and memorable experience."
Meeting Spartacus for a high-five and a photo is always a must when visiting for the first time. MBU Athletics had a table for each of their sports teams so that interested students were able to talk with coaches, meet current team members and learn what an MBU Athletics team strives for.
Ben Carril, freshman admissions counselor, has done it all. He remembers attending his first Spartan Preview Day as a high schooler in November of 2013, and then he became a student and now an MBU graduate.
"I recall walking in and feeling more welcomed at a college than I ever had at any other visit. Smiles were all around, and I really felt like I was a million bucks. I noticed how genuine every professor was when I met them," Carril recalled. "I think more than 15 staff, faculty or students at MBU found out where I was from, what I wanted to study, and what my hobbies were simply because they were so intentional."
Following the hour mingling session in the Great Hall, students and their families moved into the Chapel where they were led in worship, and able to listen to a panel of MBU staff and students talk about why they came to MBU and how the university has affected their life.  
"I remember sitting in the Pillsbury Chapel as a high school student at a Spartan Preview Day. I remember wanting to be part of something bigger. I was ready to be inspired by the current students that I met that day, to learn from the professors who were happy to tell me about their programs," said Mary Kate Walton, an MBU graduate and now a freshman admissions counselor. "When I walked away, I thought, 'Wow, I could really see myself here.' And here I am, now, seven years later, and I'm still being loved on by this place."
She added: "Beyond that, I'm now able to welcome those prospective students who are figuring out that they, too, are yearning for the same support, community and spiritual nourishment that MBU has to offer."
Following the session in Chapel, students and their families were invited on a campus tour given by the university student ambassadors.
This year, a navy and white gingham button down was added to the student ambassadors' wardrobe in hopes to create a more uniform and professional look for such a special day.
Attendees were broken into seven groups to provide smaller and more personal tours, the main buildings on campus were shown, families were encouraged to ask questions, and the dorm portion of the tour was given after lunch.
Organizers said the tours were fun for ambassadors to lead because they were able to talk to several students and often more questions arise during the tour.
An all-access football tour was given by some of the MBU football coaches, offering the recruited athletes an insight to how the team works, what to expect with MBU football, and a personal tour of Spartan Field.
Following the campus tours, students and their families met back in the Quad for lunch. Three food trucks arrived as everyone was eager for lunch and a bottle of water on the hot day.
Seoul Taco, Pi Pizza and Straub's Smokehouse were available for each family. Student workers and admissions faculty and staff were able to sit down and eat with the prospects, answer questions and get to know them a little more.
This gave the families time to process what they had seen and heard about all day, talk one-on-one with staff members or student workers, meet with coaches, or hear stories about an MBU journey.
Two $1,000 scholarships were awarded through a raffle to two students who had already applied to MBU.
Next, two residential hall tours were given. The two start times allowed families to finish up their lunches and be offered the Nursing School tour as well.
After choosing to attend MBU, Carril worked for admissions as a university ambassador, where he gave tours to prospective students and their families. When working as a university ambassador, he said Spartan Preview Day was his favorite day of the year because he was able to mingle with other students and show people how incredible MBU is to him.
After recently becoming a freshman admissions counselor, Carril has been visiting high schools all semester, telling each student he meets his MBU story.
Different from when he was a student, it's now Carril's responsibility to get the numbers on campus, so he tells them about SPD, calms the nerves of parents, and is there as a guide to a new student's future.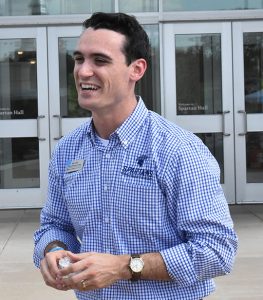 "One thing that hasn't changed in this transition from student ambassador to full-time counselor is that every single one of us puts ourselves last that day, student worker or full time," Carril said. "They give all that they can to answer the students' questions and show them the true home feeling MBU has to offer."
With the addition of MBU's School of Nursing, a tour of that suite in the Walker Medical Building was given in rotation of the residential hall tours.
With the football game starting at 1 p.m., Spartan Preview Day was coming to a close. The final resident hall tours had finished, students had grabbed a Perk drink for the ride home and last-minute connections were made.
The next SPD is set for Feb. 18, 2019, and the day will be similar to this one. Registration isn't open quite yet, but if you'd like more information, you can find that here.
MBU hopes the day has opened the eyes of prospective students and shown them what MBU has to offer. Faculty and staff want to share their Christ-like knowledge with every student they meet in hopes of spreading the gospel and good that MBU brings.
You can check out photos from the event on the Missouri Baptist University Facebook page and Instagram page and be sure to follow MBU Admission's Instagram page here.