It is the wealthiest county per capita in the entire state of Missouri, yet St. Charles is far from insulated from the poverty and struggles faced by any other county or city in the region, and that's where We Love St. Charles steps in to help.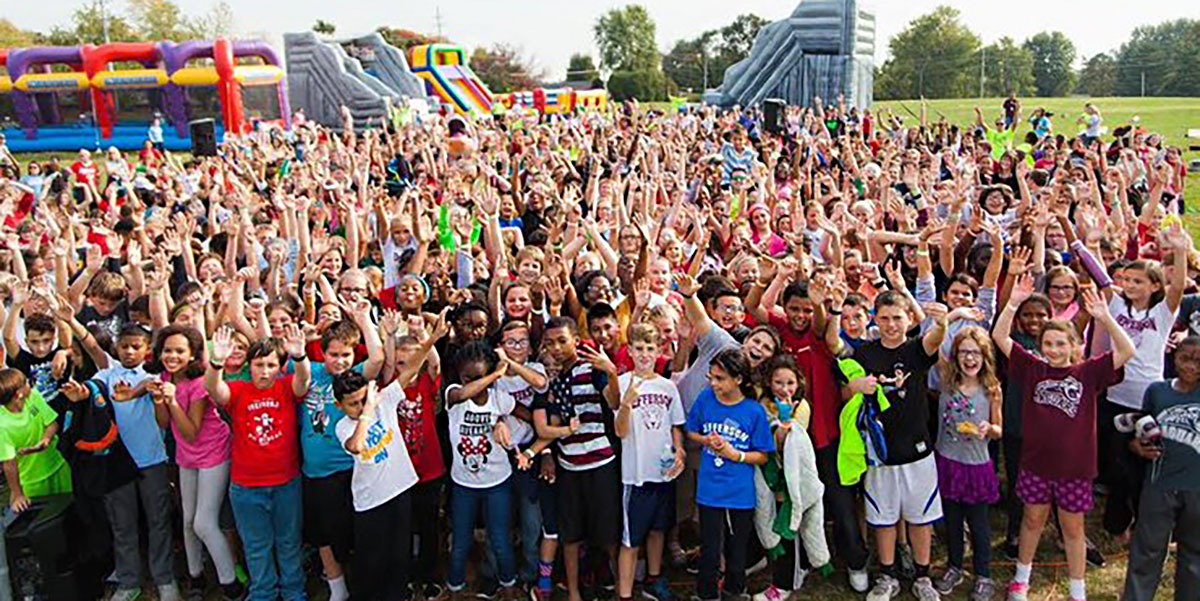 Photo courtesy of We Love St. Charles
Hundreds of Jefferson Intermediate students take a break from class to participate in games, bounce houses and activities. We Love St. Charles hosted their annual event at the school.
__________________________________________________
We love St. Charles, and so does the hometown non-profit group nestled in the heart of the state's original Capital city.
We Love St. Charles is a non-profit organization that loves the city of St. Charles by mentoring impoverished families, individuals and at-risk youth through family support and intervention, homelessness prevention and job training.
Nancy Strebe, executive director of We Love St. Charles, knows firsthand the troubles of many living in the heart of St. Charles, Missouri.
"The poverty in St. Charles is surprising, and often under the surface because we have poverty that runs throughout the county, and isn't concentrated in one specific geographic area," Strebe said.
Although St. Charles County is the wealthiest county per capita in the state, it is still home to over 12 percent of its populations living in poverty, Strebe said in an email, "which is often difficult for those in the middle and upper classes to see or accept."
"This is a community where poverty, struggle and crisis happen regularly for families that are right on the line, and often happen to our neighbors, friends and colleagues without the average person knowing," said Strebe, who has been executive director for more than two years.
Before that, she served on the board for four years and has been a volunteer since the inception of WLSC in 2010.
We Love St. Charles offers youth mentoring, family mentoring, homeless outreach, backpack and pool party outreach, a "Buildin' Bunkz" initiative, coats for kids and more.
"Though we are great at making big impacts through big outreach events, such as our Backpack & Pool Party and Buildin' Bunkz Initiative, the day-to-day, consistent work that we do with youth and families is what is paramount to our service to the community," said Strebe. "Helping those that are struggling to make ends meet, build security, consistency and stability for their families is what our community needs for lasting change."
Not only does We Love St. Charles work with the poverty-stricken, but they work with the children in the St. Charles City School District as well.
"We work closely with them to make impacts to the overall community culture," Strebe said, but the group has also made strides with students individually through areas like the Love Awards, providing counseling to students in need, and its close partnership with Care to Learn, another positive organization serving the St. Charles community.
"This support that we have provided to the district has been willing to fill any gap, innovate and grow the families, kids and individuals, and I am very proud to be a part of it," said Strebe.
Anna Hughes, an MBU marketing graduate from Benton, Illinois, interned with We Love St. Charles for several months.
"From my experience, We Love St. Charles provides a resource for people who are seeking help, whether it be in the field of youth mentoring, it may be a child has been disruptive in class and they are really struggling and maybe headed towards juvey or other things, We Love St. Charles can step in and provide that kiddo with a mentor that will mentor them," said Hughes. "Also, in family mentoring, this is one of the key ways that We Love St. Charles tries to seek to impact the poverty in the city, through their family mentoring program.
"Maybe a woman will come in and get budget planning or financial planning, figure out how to set aside money for bills and have money for groceries and stuff. It's really to just teach people skills and resources that they need to have to get out of that lifestyle."
Hughes has been forever affected by observing Strebe's leadership through the course of her internship.
"It's been an absolute blessing to be able to serve We Love St. Charles. Just seeing Nancy's passion and her vision for the city. I think in any non-profit, there has to be an underlying factor of intentionality and passion," Hughes said. "It's a different kind of business because you are not seeking to up your profits and lower the cost of goods sold or anything like that, but rather you're trying to help people."
If you desire to volunteer for We Love St. Charles as a youth/family mentor, to assist in construction projects or be involved at an outreach/fundraising event, please visit their website and sign up here.
Or, if you simply desire to learn more about We Love St. Charles, feel free to contact nancy@welovestcharles.com or visit the We Love St. Charles website