MBU's Inaugural Day of Service on Tuesday, Oct. 16, will give students the opportunity to serve with MBU student Lindsey Peters and her charity, Sharing Smiles, to make stuffed bears to brighten the days of children in hospitals.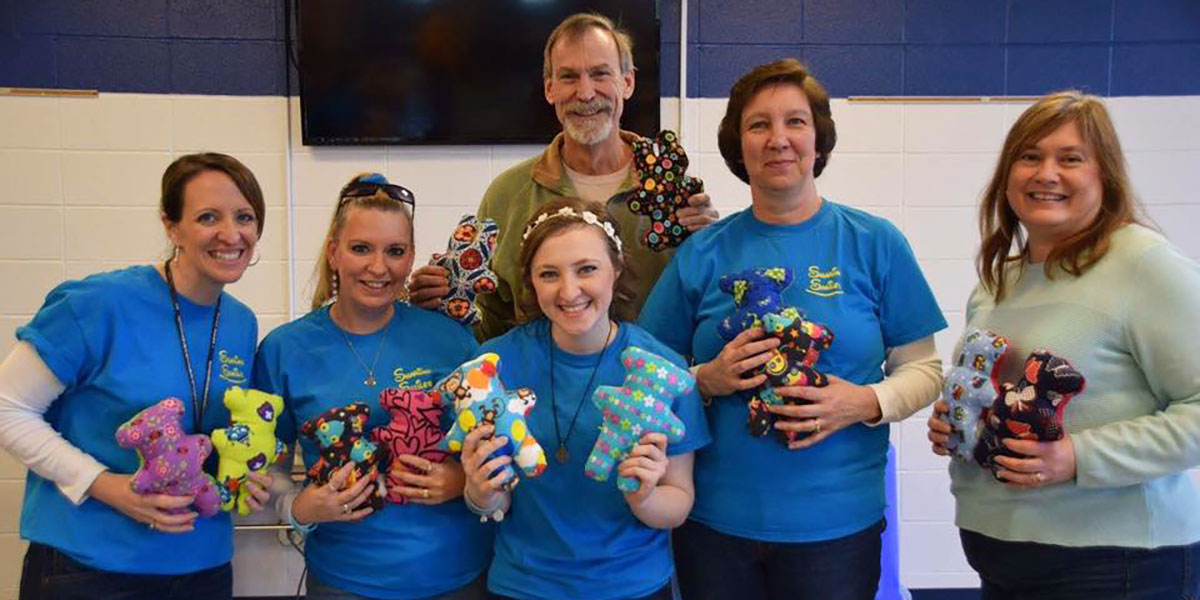 Photos courtesy of Sharing Smiles
Community members stand with Lindsey Peters (center) at a Sharing Smiles community day at St. Dominic High School in O'Fallon, Missouri, showing off the colorful bears they just created.
__________________________________________________
Sharing Smiles, a charity founded by Lindsey Peters, Missouri Baptist University sophomore theatre major from O'Fallon, Missouri, makes stuffed bears to brighten the days of children in local hospitals.  
"I started [Sharing Smiles] when I was in fourth grade after suffering from a severe asthma attack that put me in the hospital, so it was pretty much just an idea that my mom and I had to give back to our community and other children," said Peters.  
Sharing Smiles has distributed nearly 3,000 stuffed bears to children in area hospitals since beginning in 2008.
While Sharing Smiles has affected the lives of many children, Peters could not imagine her own life without it, either: "Sharing Smiles has kind of just become a part of who I am. I think that a smile can mean so much to people and I feel that part of my calling is to just spread that joy of God," said Peters.  
Sharing Smiles started out small, but continues to grow each year. They started out by making about 50 bears in their first year, but they made 1,400 bears this past year as the charity has grown in donations and volunteers.
Peters attributes recent growth to a partnership with her former high school, St. Dominic High School in O'Fallon, as a last push and effort before her graduation in 2017.  
Since its inception, Sharing Smiles has developed an efficient way to make a large quantity of bears through an assembly-line process that allows for as much volunteer help as possible.
The process usually begins with a shopping spree to purchase all necessary materials.
"So, we always go on Black Friday to JoAnn's and we get lots and lots of materials," said Peters. "I think this past year we got over 200 pounds of stuffing or something, and so many yards, maybe over 1,000 yards of material."
Then, the prep-work begins. Peters and her family and friends have to prepare the materials before they can host a community day where they invite others to come and serve alongside them.  
This is when a lot of behind-the-scenes work goes on: "After that day [where we buy all of the materials], I usually have a couple prep days … where people will just come over to my house and we will do some of the first few steps that we do during the community day, and I cut all of the material ahead of time so that we don't have to worry about that over there," Peters said.  
When the prep-work is finished, the fun can begin.  
"Then the community day happens, and during the community day we have lots of different steps. We have tracing, pinning, sewing, cutting, flipping and stuffing," Peters said.
Contrary to popular belief, you don't need any special skills to help out.
"I think the biggest struggle that we have is that people think you have to know how to sew or that you have to be super creative in order to help out, but we are always in need of help," Peters said. "We could always use any hands and we just like having people there. It just helps a lot when there's multiple people, even if you don't think that you're doing a lot. Everything adds up."
Since Peters has attended MBU, she has spread the word about Sharing Smiles to her friends and has made a name for her charity around campus.
Peters interviews with Fairfield World.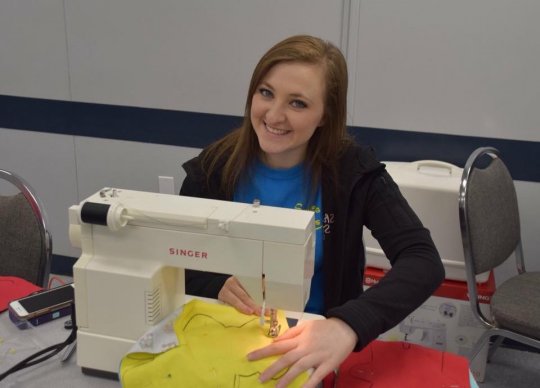 Peters sews a bear at a St. Dominic High School community day.
"During the community day, I spent almost my entire time stuffing the bears … we had huge mountains of stuffing sitting on a table, and we stuffed the bears. Closer to the end, I helped with turning some of the bears inside out, because they are turned that way so that the seam is on the inside," said Daniel Dilworth, junior communications studies and theatre major from Imperial, Missouri.
After the community day, Peters and friends will gather at her house to put finishing touches on the bears.
"It usually takes us a couple months because there's a lot of bears and only a little bit of us," said Peters.  
On each summer break from school, Peters and friends would finally take the entire batch of bears they have worked on to area hospitals.  
While Sharing Smiles volunteers are not allowed to distribute the bears to the children personally because of sanitary reasons and hospital rules, they get to bring them to the front desk for distribution by hospital staff.  
When the process is done for the year, Peters' heart for others continues to awe everyone she meets.  
"Lindsey will give the credit to her … friends, family and volunteers, but without her there would be no Sharing Smiles. There is something about the idea of bringing bears to kids in the hospital to make them smile that is amazing," Nick Cook, senior theatre major from Pevely, Missouri, said in a message.  
Dilworth agreed: "[Lindsey] started this organization when she was 8 years old," Dilworth said, "I can honestly say when I was 8 years old, I did not spend my time thinking about how to create a charity that would help [better] the lives of children in hospitals."
Peters' friends have a lot of kind words to say about her willingness to serve others.
"Lindsey doesn't do this because she wants glory or because she wants edification from other people. She does it simply out of a servant's heart, a heart of love and kindness and compassion," said Dilworth.  
Sharing Smiles is always looking for more MBU students to get involved.  
"Helping with community day does not require any skill whatsoever," said Dilworth.  "If I was able to help for hours, then I guarantee anybody who wants to help can find a way to help."  
At MBU's first Service Day on Tuesday, Oct. 16, students will get the opportunity to serve with Sharing Smiles.  Sign up for the service day online here.
Follow Sharing Smiles on Instagram and Facebook for updates about future community days and for more information on how to get involved.  
Sharing Smiles will continue to brighten the day of children in hospitals by sending them bears tagged with this sweet note: "Sending hugs your way to bring smiles to your day. Love, Sharing Smiles."