"When the Game Stands Tall" Teaches Life Lesson
In sports and life, do we crumble or triumph from loss? This movie shows that our strongest growth sometimes comes amid our toughest defeats.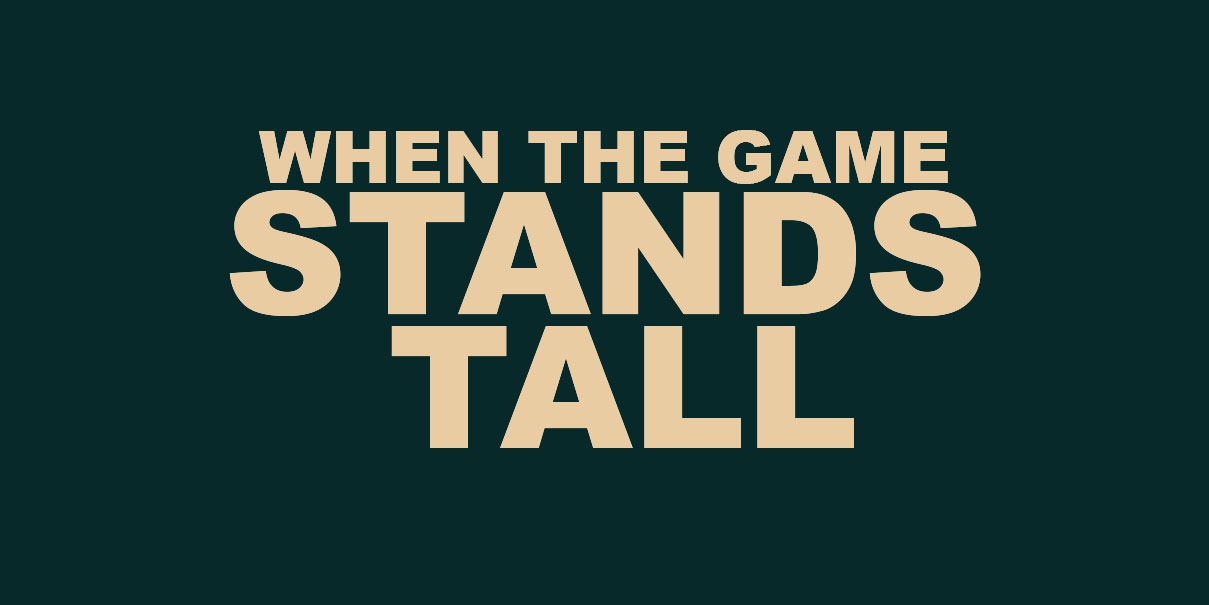 Graphic by: Ryan Arnold
__________________________________________________
Inspired by a true story, "When the Game Stands Tall" takes us to De La Salle High School, a private Catholic school in California whose football team dominated competition by producing a 151-game winning streak within 12 years. But then one fateful game would change the team forever.
In 2003, the De La Salle Spartans surpassed teams in the NFL and the NCAA in football game wins.
The streak lasted from 1992 to 2004.
Legendary coach Bob Ladouceur (played by Jim Caviezel) built the team on principles of perseverance, compassion and brotherhood.
Although the streak was never his goal, it became the pulse of the team and the town.
Storyline
As the movie opens, the coach preps the team for a game explaining that the streak was never the goal.
Every senior reads from a personal goal card for their football skills and life goals, then they achieve their 151st win.
In the meantime two star seniors on the team, Cam Colvin (Ser'Darius Blain) and T.K. Kelly (Stephen James), deal with adversity.
Their plight is even more difficult because they both come from underprivileged backgrounds.
Colvin's mom is very ill and hospice takes care of her at their small home.
When Coach Ladouceur visits Colvin and his mom, Colvin expresses fear of what will happen.
The coach explains that he will always be there for his players and Colvin has 60 brothers on the team who care about him as well.
After visiting Colvin's family, Coach Ladouceur has a stroke.
He is rushed to the hospital and has surgery for the insertion of five stents.
The team is crushed when they understand that Coach Ladouceur has to miss spring training due to excess stress for his heart.
Much to the team's relief, in August 2004, Coach Ladouceur returns for the season.
Adversity, however, is not far behind.
Kelly, one of the team's most agile seniors, gets murdered while picking up his cousin from a late night party.
His unexpected death is a severe blow to the team.
While Coach Ladouceur was recovering the team has become complacent.
The juniors now seniors feel entitled, the players become more self-centered and they continually slack off on their personal goals.
Turn Around
The coach challenges the team to meet him at the bus early the next morning.
He takes them to the VA hospital for a day of service.
The players meet soldiers who sustained severe war wounds resulting in amputations or paralysis.
The soldiers explained their love for their fellow comrades overseas.
They described battling depression and fear due to loss of limbs and feeling.
They explain the intense dedication and determination necessary to stay fit, get better and make a life for themselves.
This trip becomes a shift in perspective for the team.
Without spoiling the conclusion, the team plays another last game, this time with renewed conviction and respect for their beloved coach.
Life Lessons
"When the Game Stands Tall" is seasoned with lessons about life.
The coach makes the point that we often learn tremendous lessons about life when something extremely difficult or challenging happens.
He challenges the team to see through their struggles to learn deeper lessons about people, pride, compassion and determination.
I have found these lessons true in my own life.
"We're not asking you to be perfect on every play.  What we're asking of you and what you should be asking of each other is to give a perfect effort from snap to whistle," Coach Ladouceur said.
This is a remarkable strategy for both football and life.
Circumstances will almost never be perfect.
People will fail you, jobs will fail you, life will constantly offer unexpected issues and struggles.
Hard work and accountability will stretch your skills to their highest potential both on and off the field.
Tags: Brotherhood, Chelsea Gammon, Compassion, De la Salle Spartans, football, movie review, Perseverance, Principles, Sports, When The Game Stands Tall

Chelsea Gammon
Chelsea Gammon is a staff writer and editor for MBU Timeline. She is a senior double majoring in Journalism and Public Relations. Chelsea works part-time in the Special Events office on campus. In the spring she will be a public relations assistant for MBU's University Communications Department. She previously enjoyed working with Timeline Broadcast. After graduation, Gammon plans to explore many opportunities and make a difference wherever she goes.