A new Indie/Rock group called Shores of the Saint is on the rise and beginning to make a name for their band.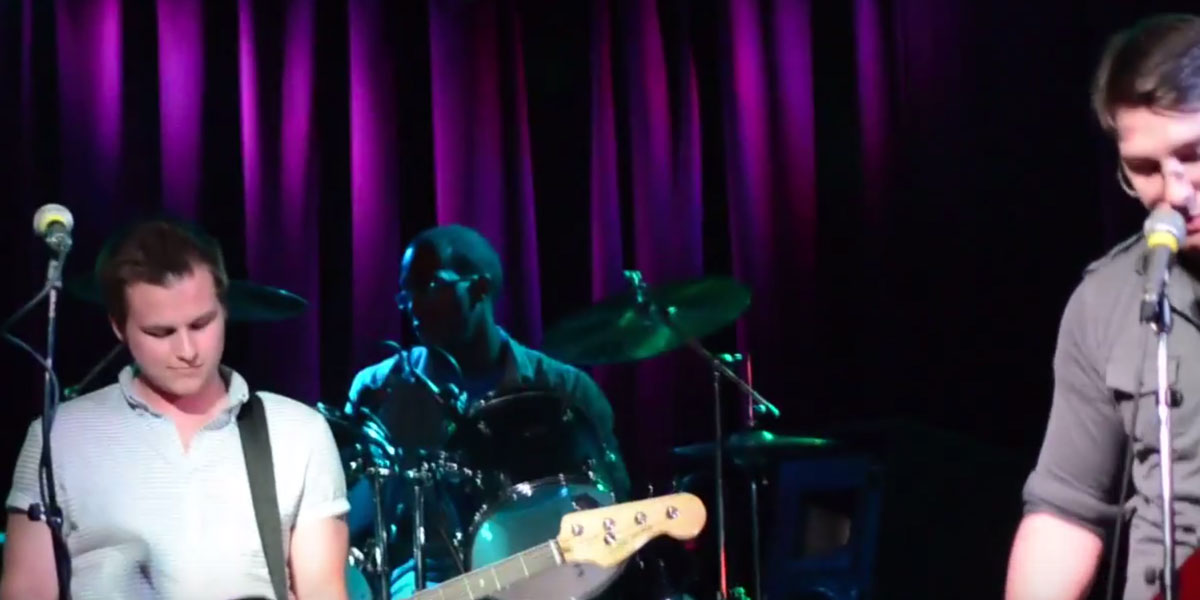 __________________________________________________
When two close friends, Aaron Mullins and Michael Cottrell, were sitting around late one night like so many other college students do, trying to arrive at a name for a band they were mulling, all of a sudden it hit them.
"I want to say it was probably 2 a.m. and the name just came to my mind, so we decided to roll with it. In my head, I thought that the name was clever because 'Saint' being close to Saint Louis," said Mullins, a music technology major at Southwestern Illinois College.
Shores of the Saint is an Indie Rock band started in March 2015 by Mullins, 20, who is the lead singer and plays rhythm guitar, along with Cottrell, 21, an aspiring singer/songwriter, who plays bass guitar.
Even though Mullins is the lead singer, he and Cottrell lead songs that complement their individual strengths.
The band's next upcoming show will be at 6 p.m. Saturday, Sept. 26, at Fubar, located at 3108 Locust St. in St. Louis. Tickets are $12, available at the door.
Though the band classifies as Indie Rock, they were inspired by many forms of music.
"We have influences from all walks of music. Our faith is often shown in our songs as well," said Mullins.
Mullins and Cottrell are the only members of the band, but sometimes Jarrett Munton, 22, fills in on lead guitar, and Darnell Burton, 20, or Caleb Cline, 20, on drums.
The first instrument that Mullins learned was the acoustic guitar. He then learned bass guitar and is currently learning piano.
Cottrell's first instrument was a Squire Telecaster guitar given to him for Christmas one year and he has since then worked on mastering it along with bass guitar, and he also dabbles in drums and piano.
Both Mullins and Cottrell write their own songs as well as writing together on occasion, which is what sparked Shores of the Saint.
"After our first song, 'Turn Around,' we decided that we should keep doing this and thus Shores of the Saint became a reality," explained Mullins.
While both Mullins and Cottrell write songs for the band it doesn't come easy to either of them.
"I've never been the type to just crank out songs. Often times I have to be going through something personal to really motivate my writing. Often times they are about a relationship, whether they be romantic, friendships or my personal relationship with Christ," said Mullins.
Cottrell added, "Usually I just write about anything that I'm feeling strongly at the time, or if a certain thing is on my mind a lot, I'll write to either talk about it or let it out."

Both Mullins and Cottrell were interested in music from a pretty young age.
For Mullins it started with trips to his grandfather's house at the age of 10.
"He was always playing whenever we would come over and I always thought they looked really cool. I would always play around with the keyboard whenever I went over there," said Mullins.
For Cottrell it was the first time he listened to The Beatles.
"I really liked the way they wrote songs, and they got a lot of girls, so I thought if I played music maybe I could get girls, that was my first 'young and dumb' mindset about music," Cottrell said. "Soon after that, it became much more to me."
Before coming together to create Shores of the Saint, both Mullins and Cottrell were members of other bands.
Mullins was in a band called Challenge Accepted, which was later called Cruise Control, and both Mullins and Cottrell were previously in a band together called Facing Eternity.
Listen to demos and learn more about Shores of the Saint by following their Facebook page, Twitter page or by visiting their upcoming website www.shoresofthesaint.wordpress.com.
They are also currently working on getting a store page up and running.