Through one donor's story we are taken into the process of giving blood during last week's American Red Cross visit to MBU's campus.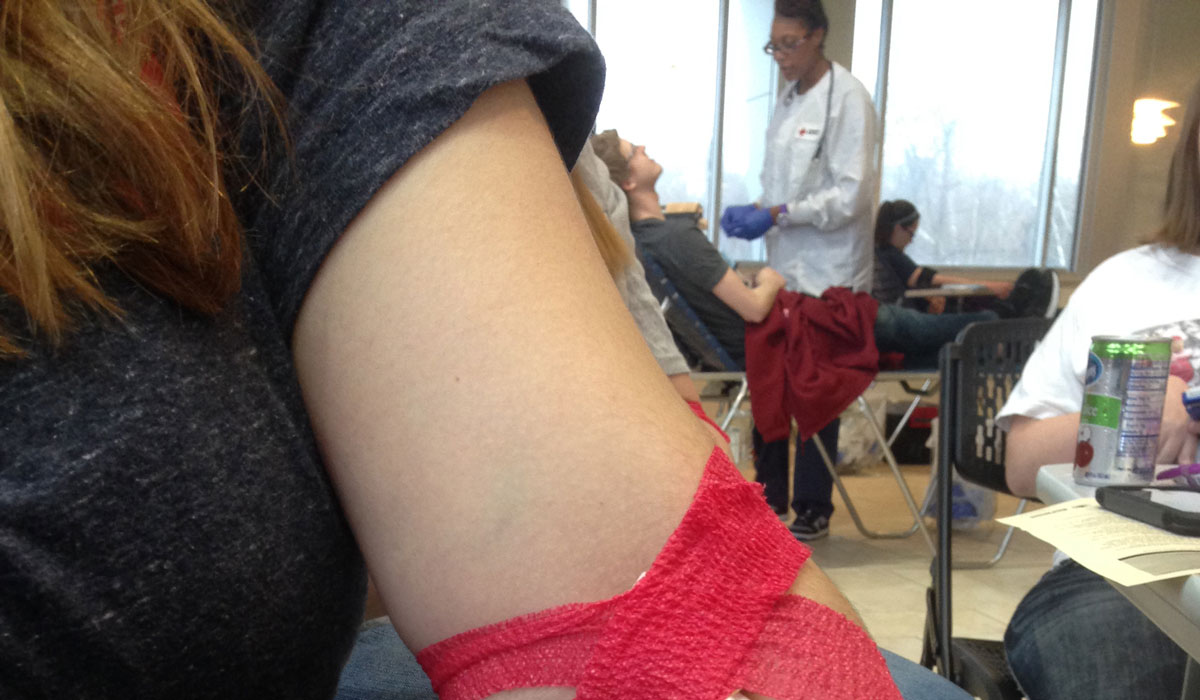 Photo by: Cassie Nesbit
__________________________________________________
Missouri Baptist University students had the chance to donate blood at the SRC Thursday, April 3.
The procedure consisted of registration, physical exam, hemoglobin or iron test and health-history questionnaire.
Monique Cook, collection technician for the American Red Cross, conducted several physical exams.
Here is a brief explanation of the blood donation process.
Cook thought the iron test was more painful than donating.
"To be honest with you, it's the worst part," Cook told one donor during last week's blood drive.
Cook strapped the tourniquet, a velcro fabric that applies pressure on the upper arm, and distributed stress balls with orders to squeeze 10 times.
Cook found the vein to draw blood from and marked it.
"We'll go right here," said Cook.
Cook confirmed donors' names and dates of birth before she grabbed the bags.
"You're only filling up one," Cook told one donor. '"Because you're looking like, 'OK, should I get out of this bed now?'"
Cook rubbed iodine for 30 seconds and waited for 30 more so the prep area was clean.
Donors must lie down for their first time giving blood.
"The only reason why we lay you down is because we don't know how your body reacts," said Cook.
Cook instructed the donor to squeeze three more times, then hold.
"Doing great," said Cook.
She relieved the pressure from the tourniquet.
"Congratulations," said Cook. "It begins."
Average time to donate blood is between 5 and 6 minutes.
Once the needle has been removed, technicians apply pressure and place the donor's arm above the head.
"You look like you bruise easily," Cook told the donor. "So apply ice."
The bandage must stay on for 4 to 5 hours.
Cranberry juice and cookies sat at the table for the donors.
One donation can save three lives.