"Three Billboards Outside Ebbing, Missouri" is centralized around the lack of effort a police department puts into solving a rape and murder case. But as the movie progresses, we are distracted by all the hatred surrounding the small town, making the murder mystery that much harder to solve.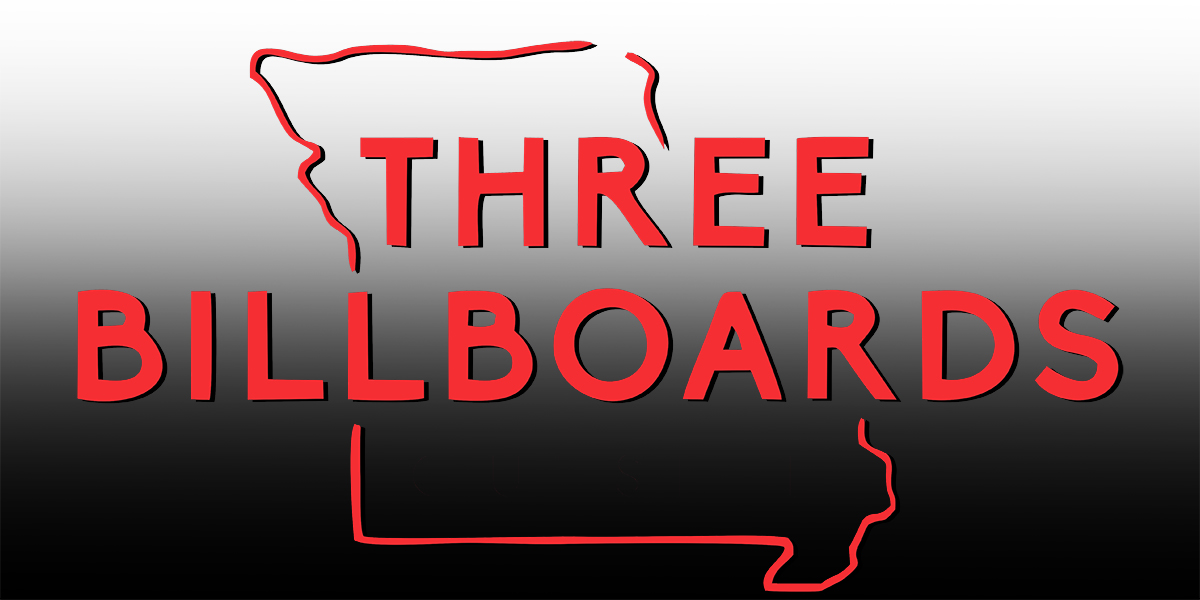 Copyright-free image — Edited by Trevor Chaney
___________________________________________________
Some films make us laugh, cry, sweat or cringe. This film will do much more than that. It will break you down with its raw language, force you to face the issues of our world and sit quietly as they are spat in your face through the devastating realities we all like to turn away from. With an unwillingness to stop, the film continuously convinces the audience that justice in this world doesn't always exist.
"Three Billboards Outside Ebbing, Missouri," is the masterpiece written and directed by Martin McDonagh, who wrote the parts for several of the main characters with actors and actresses such as Frances McDormand, Woody Harrelson and Sam Rockwell already in mind.
With their effortless abilities to feed off of one another's emotions and their backgrounds in theatre, it made for a cast with undeniable potential.
McDonagh wrote the script for three billboards after passing through Vidor, Texas, a small town that features similar billboards to the ones in the movie.
The billboards feature Kathy Paige, a woman strangled to death with evidence of rape. The case has gone cold, but the family to this day still puts billboards up to remind the police of their failed investigation.
The plot of the movie shows Mildred Hayes, played by McDormand, feuding with the local police department for not investigating her daughter's rape and murder thoroughly enough.
She initiates this by having three billboards painted. They read like this.
Billboard 1: RAPED WHILE DYING.
Billboard 2: AND STILL NO ARRESTS?
Billboard 3: HOW COME CHIEF WILLOUGHBY?
The police department and the town are shaken and want the billboards taken down. Legally the billboards are bought and paid for by Hayes, therefore she is the deciding factor as to when they come down.
As she struggles with bankruptcy some members of the community help fund her billboards.
With several factors surrounding her actions, her main intent of finding her daughter's murderer falls way to the daily struggle of making sure the billboards stay up, as if her daughter was still with her as long as they were up.
Chief Willoughby, played by Harrelson, has a medical issue that is supposed to be a secret but most of the small town is aware, including Hayes.
The police department takes this attack more personally since the chief is having a hard enough time as it is.
McDormand's portrayal of Mildred Hayes is a stubborn, southern woman who doesn't fear confrontation and in fact invites it upon herself every time she leaves her home.
Put her together with a pissed-off cop and all civility is lost.
The movie confronts the most delicate situations in life and shows the aftermath a tragedy can have on an entire town, reminding ourselves just how far you would go if you had a child taken from you.
McDormand initially declined the role to play Mildred Hayes, but after her husband Joel Coen told her to "shut up and do it," she conceited.
Harrelson was honored to play the role of Chief Willoughby. When asked about McDonagh in an interview with Irish Central News Harrelson said, "I think he's one of the greatest living writers, and he offered me (the play), 'The Pillowman,' and I read it and I'm going, 'Oh my god.' There's like a kid crucified on stage and I said, 'The darkness had finally overcome the light in your work,' and I didn't do it."
"Then I watched it and it was freakin' one of the greatest things I've ever seen onstage. I was like, 'I'll never turn down another Martin McDonagh anything."
Rockwell expressed his excitement to work with McDonagh when he said to RTE Entertainment, "I don't think I could say no to Martin, it would have to be pretty… I would have to be eaten alive by rats, and even then I might do it," Rockwell said.
"It would have to be pretty bad for me to turn down a Martin McDonagh movie. Don't tell Martin that because then he'll make up a story of me being eaten by rats, knowing Martin."
Characters are constantly aware of each others' disapproval, and nobody is shy about taking action.
McDonagh pulls the audience toward the screen with public violence, domestic abuse, suicide and the sight of a town literally burning to the ground. Knives, fire, gunshots, blood, love, loss and the abandonment of family.
These are all things we see, but can't seem to understand. There is little effort toward trying to decipher why these things are happening, but all of our attention is fixated on the characters as they suffer far more than we can imagine.
I refuse to give any more of the movie away, but I will warn you one last time: This film will confuse your sense of morality, constantly making you see every perspective from every character. You will find yourself unable to cheer for a single character all the way through or look back and recognize you were wrong about a character in the beginning.
McDonagh wrote this story with the intent of making the audience realize that not all characters are heroes, not every story has a villain and people are as unpredictable as life itself.
I promise that you will feel your heart in your throat.
I promise your hands will sweat as you lean forward in your seat.
I promise you'll smile at the screen but be too nervous to fully laugh at times.
I promise your view of the world will be changed by watching this film.